This is the follow up comparison to the 12V brushed head to head comparison between Bosch, DeWalt, Makita, and Milwaukee. A while back we took a look at their brushed motor 12V 3/8″ drills, today we will focus on their brushed motor 12V impact drivers. As I was saying in the last 12V comparison, 12V tools are my favorite platform as they are light, are great for working overhead, are tiny and can easily fit in your tool belt pouch, and have plenty of power for light tasks. They can easily sink typical fasteners such as screws with ease and one thing I like about impact drivers is that you have more control when driving screws. The impact force actually makes driving fasteners easier as you don't have to push as hard and there are is no wrist snapping torque jolts because the torque is not transferred back to your arm.
We will check out the latest brushed 1/4″ impact drivers from DeWalt, Bosch, Makita, and Milwaukee and put them head to head in a friendly competition so we can see how they compare to each other in terms of endurance (runtime), speed, power (torque), and features. Excluded from this competition were brushless 12V impact drivers such as the yet to be released Bosch 12V EC impact driver and Milwaukee M12 Fuel 2453-22 because it wouldn't be fair to these brushed impact drivers. All impact drivers selected were the latest 12V brushed impact driver from each company.
First lets start off with features. Unlike their 18v or 20v brothers, none in the group offered all the bells and whistles that are expected from premium brands such as these. For instance I highly value built in belt clips as they make life tremendously easier by placing the tool on your belt or hang off your pants pockets and is ready with you at all times instead of having to constantly set down and pick up your tool off the floor. Out of the group only DeWalt and Milwaukee offer belt clips. Another feature I highly value are built in fuel gauges. Call it OCD if you will but I like to check my fuel gauges often and is a feature I come to expect from power tool batteries. The reason for doing so is to gauge how much battery juice is left so I know if I have enough battery power to keep working or if its time to recharge the current pack and swap it out with a fresh one. The last thing I want is to start a project and have a battery die on me prematurely. Out of the four only Bosch and Milwaukee decided to include fuel gauges on their units. This is the same as the drill comparison as Bosch and Milwaukee have fuel gauges on many of their 12v tools while DeWalt and Makita don't offer any fuel gauges for their 12V lineup.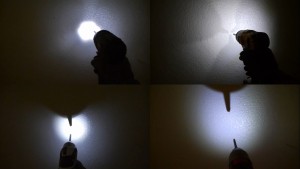 All have built in lighting with LED's that shine brightly, although lighting among the group differs. It boils down to 2 groups. In one group we have Makita and Milwaukee with a single LED light below the chuck and both offer a 10 second delay. What this means is that the light stays on for 10 seconds even after you let go of the trigger. I like this feature as you can set the tool down and use it as a temporary "10 second" flashlight. The other group with Bosch and DeWalt have 3 LED's around the chuck instead of one. This offers superior lighting as the additional 2 lights produce less shadows- removing the shadow you would see from a bit on a single LED light. Bosch concentrates all the light into a hotspot in the center – almost too bright, while the DeWalt lights up a wider area evenly. In terms of quality of light, DeWalt is the clear winner with Bosch closely behind. Although the 3 LED's found on Bosch and DeWalt are better in terms of quality of light, they don't offer the delay you would find on the Makita or Milwaukee.
While all the 1/4″ hex chucks look similar and work the same way in the sense that all hold bits securely, DeWalt is the only one with a true one handed chuck. What this means is that while holding the best impact driver, you can install and remove a bit with only your other hand. Bits slip in easily and automatically lock on as opposed to the other three you need to pull and hold the sleeve while you insert a bit into the chuck. And to remove a bit you can pull on the bit with one hand and it slides the bit forward and unlocks. From there you can remove the bit with the same hand used to pull on the sleeve. With the other 3 you need to pull and hold the sleeve with one hand while the other removes the bit.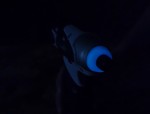 Like DeWalt, Makita also has a unique feature of it's own. So unique I gave it an award for unique feature of the group. This unique feature on the Makita impact driver is a glow in the dark ring behind the hex chuck. While at first it may seem gimmicky, it does work and makes the impact stand out in total darkness. Might just be what you need if you misplace your impact driver and need to retrieve it in an attic or crawl space.
Just like the drill comparison, the most compact impact driver in this comparison is again the Bosch unit. It offers the shortest head length in its class and is the only one in the group under 6 inches at 5.4″ length. It's also tied with Makita at 2.0 lbs making them the lightest in the group, although DeWalt and Milwaukee are not too far behind at 2.3 lbs.
If you look at all four 12 volt impact's you can easily spot one huge difference, the battery. Bosch, Makita, and Milwaukee all offer podstyle batteries that must be inserted into the handle making for a thicker handle, DeWalt is the only one in the group with a unique battery platform that strays away from the rest and instead uses a pancake style slide pack battery similar to 18/20V batteries. It even looks like a miniature 20V max battery and impact driver. This aids to the drill's design with the slimmest and most ergonomic handle of the group since the battery slides on the bottom of the handle instead of inside the handle, and because of the wide flat base can easily stand on its own.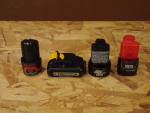 For the first test the endurance test, I decided to drive 3″ gold screws into 4×6 lumber and see how many screws each drill could drive on a full charge until the battery would run out of juice and call it quits. Seeing how each drill comes with with a different capacity battery, ranging from 1.3 ah to 2.0 ah, I decided to level the playing field with similar capacity battery packs of 1.5 ah each except for the Makita since it only has 1.3 ah battery packs in their 12V line because they have yet to upgrade their batteries with higher capacities like the rest in the group. So for all comparisons, I tested the Bosch, DeWalt, and Milwaukee drills with 1.5 ah battery packs and the Makita drill with a 1.3 ah battery pack. The results were: 1st place DeWalt with 83 screws driven, 2nd place Milwaukee with 68-7/8 screws, 3rd place Bosch with 66 screws driven, and 4th place Makita with 57 screws. Here we can see DeWalt has a big lead with 14 screws more than the next best impact driver. Not surprisingly the smallest capacity battery 1.3 ah from Makita got the least amount driven. When you look at the results from a different angle, per amp hour, we can see the results yield a slightly different story. Although the 1st-4th positions remain the same, looking at the screws driven per amp hour we can see that Bosch, Makita, and Milwaukee's per amp hour scores are very close ranging from 43.85 screws per amp hour (Makita) through 45.91 screws per amp hour(Milwaukee). In the 12V drill comparison DeWalt and Milwaukee were very close, almost identical yet somehow the DeWalt gets a huge lead of 55.33 screws per amp hour in this 12V impact drive comparison. That's 10 more screws per amp hour than second place! The clear endurance winner here is DeWalt.
One thing to note is that currently Bosch 12v power tools are sold with 2.0 amp hour batteries, with DeWalt 12V power tools it's a toss between 1.5 and 2.0 ah batteries so there's a 50/50 chance of getting either capacity, Makita 12V power tools only come with 1.3 ah batteries, and currently most Milwaukee brushed 12V power tools are sold with 1.5 ah batteries here in the USA. So your particular results may vary depending on what battery pack is included with your 12V power tool.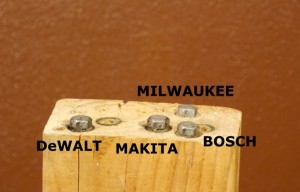 For the power or torque test, I first tested all four drills with large 8″ long 3/8″ lag screws. I chose these thinking these impact drivers weren't going to completely sink the lags and would measure how far each lag was sunk. To my surprise, 2 drills fully sank the long lag (Bosch and Milwaukee) and the other 2 (DeWalt and Makita) were less than an 1/8″ away from completely sinking their lag. Although Bosch and Milwaukee were able to finish the lag, their difference in performance was night and day. Milwaukee moved along at a steady quick pace and finished much sooner. In fact it never even flinched! Bosch on the other hand started to struggle towards the end of the lag, so the clear torque winner here is the Milwaukee impact driver. DeWalt and Makita came behind Bosch and were very close in torque performance with DeWalt in 3rd place and Makita in 4th place. I recommend you view the above YouTube video to see the results side by side.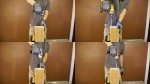 The final test is the speed comparison. In this challenge I decided to use a single screw instead of various screws to minimize any user error created by me. All drove a long 8″ long 1/4″ wood screw used for building decks, and the 1st place winner is Makita at 8:04 seconds, both DeWalt and Milwaukee tied in second place at 8:24 seconds which is right behind Makita at only fractions of a second. Bosch came in last place a little over 2 seconds later at 10:42 seconds to the finish line. After plenty of use I had a good feeling DeWalt was a bit quicker than the rest but side by side they all are very close in terms of speed with smaller fasteners. Had I done the test with 3 inch screws, performance would have looked identical with all four.
The test subjects: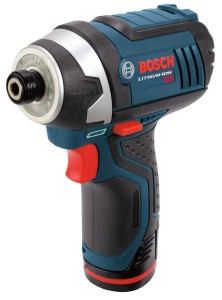 Bosch PS41 1/4″ Impact Driver
Torque: 930 in-lbs
0-2,600 RPM
0-3,100 IPM
2.0 lbs weight
5.4″ length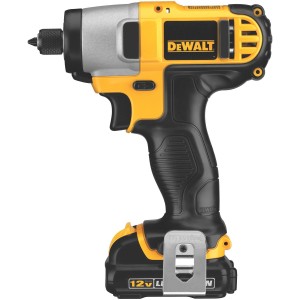 DeWalt DCF815 1/4″ Impact Driver
Torque: 950 in-lbs
0-2,450 RPM
0-3,400 IPM
2.3 lbs weight
6-1/4″ length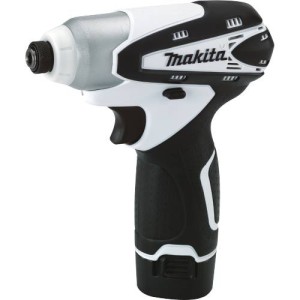 Makita DT01 1/4″ Impact Driver
Torque: 800 in-lbs
0-2,400 RPM
0-3,000 IPM
2.0 lbs weight
6-1/8″ length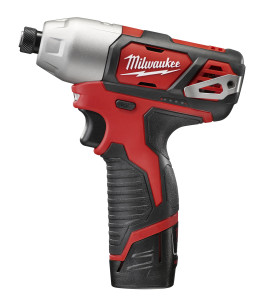 Milwaukee 2462-22 1/4″ Impact Driver
Torque: 1,000 in-lbs
0-2,500 RPM
0-3,300 IPM
2.3 lbs weight
6-1/2″ length


MILWAUKEE-2462-22 – $129.00
from: Acme Tools