In June we learned that a new tiny cordless 18V circular saw was coming out from Ryobi when the Ryobi 18V Multi Material Saw R18MMS-0 was spotted in the UK. Fast forward to today and that saw same saw is coming to the USA as the Ryobi 18V Multi Material Saw P555. The name stayed the same while the model number changed which is typical of USA Ryobi tools compared to their foreign market counterparts.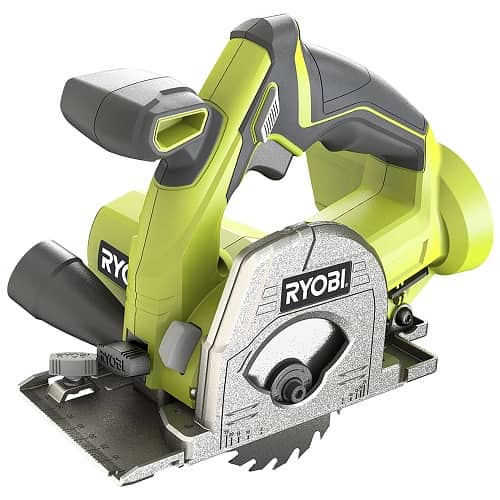 It appears to be the same saw as it's UK counterpart except for the model number of course. Back then we didn't know how small the blade was but I guestimated it to be 3″ or smaller. I was pretty close as the blades that come with it are 3-3/8″ and it's said to come with three of them, one for cutting wood, one for tile, and one for cutting metal all the same size. It almost sounds like it's based on a cut off tool since it uses close to 3″ wheels and is said to offer multi material cutting like cut off tools do however while cut off tools run on very high RPM, in the tens of thousand range, this multi material saw's RPM's are more in line with regular circular saws at 4,200 RPM. This slower speed should lend to stronger torque when cutting (at least in theory).
Just like the UK model, this doesn't appear to do bevel cuts so don't count on bevel cutting. It also doesn't have a lower blade guard so the cutting end of the blade will not be guarded to protect the user so be careful when using. It's designed to be able to plunge as it cuts with a cutting depth up to an inch which is good for sheet goods but don't expect to cut 2×4 in one pass. It does come with a built in vacuum port for less dust when cutting.
It looks like a good option for someone that wants a very small circular saw that doesn't weigh much (although no weight numbers were listed) and plans on cutting sheet goods and doesn't plan on cutting dimensional lumber and may want to cut metal and tile occasionally. It will be available August 2020 for $99 as a baretool.
A big thanks to DrewBHAM for spotting and Ryobi USA for sharing this info!


DISCLOSURE:
We are a participant in The Home Depot Affiliate Program, an affiliate advertising program designed to provide a means for us to earn fees by linking to homedepot.com. Tool Craze does not sell this product or any product on the Tool Craze website. Tool Craze does not handle the sale of any item in any way. If you purchase something through a post on the Tool Craze site, Tool Craze may get a small share of the sale. Please refer to the About section for more info.