A new Ryobi 18V 1 Gallon Wet Dry Vacuum has been announced today. Let's check it out.
Disclosure: This is tool news. Tool Craze cannot guarantee the accuracy of the information of any tool listed in this article. Manufacturer marketing claims may not always meet expectations. Tool Craze is not responsible if products do not live up to claimed expectations. Please do your full research before buying any products. Tool Craze is an Amazon Associate. Also an affiliate with the Home Depot, Acme Tools, Ohio Power Tool, Tool Nut. As well as an affiliate with Lowe's, Ebay, and Walmart and places affiliate links to these retailers. If you purchase through a link on this site, we may get a share of the sale.
Ryobi 18V 1 Gallon Wet Dry Vacuum – Features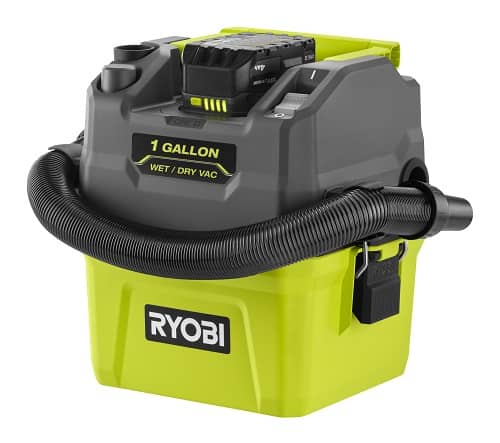 This new battery powered 18V vacuum offers a smaller 1 gallon capacity. 1 gallon may not sound like much but it is nice to have a new smaller model for smaller projects. Ryobi has larger 3 gallon and even 6 gallon models if you need something bigger.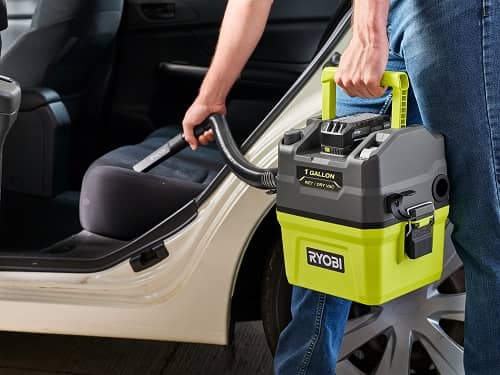 The smaller size makes it easy to carry and very portable. That makes it great as a vac to clean up your vehicles interior for example.
Performance is good as this little vac is rated for 50 CFM of suction. That makes it pretty strong for a little vac and actually beats the larger Milwaukee M18 2 Gallon Vac by a bit. At least on paper.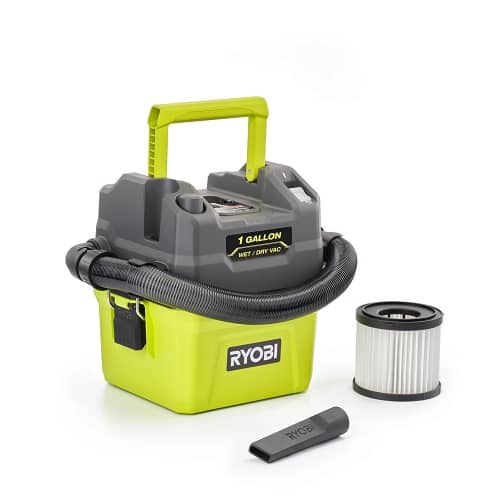 It comes with a 6' x 1-1/4" flexible and several accessories. They include a utility and crevice nozzle and reusable and replaceable small cylinder pleated filter. The included accessories can be stored on the tool itself when not in use.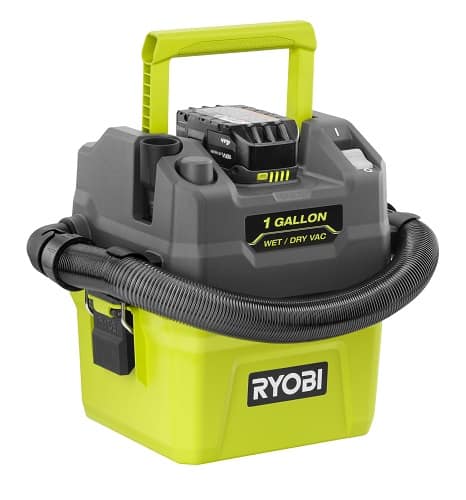 At the top is a fold out handle. That is where you'll find the battery holder. The battery is not covered meaning it is exposed to the elements.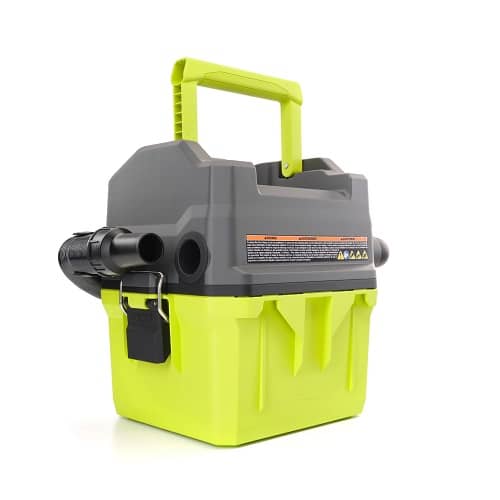 At the rear you'll find some interesting slots. What are they there for?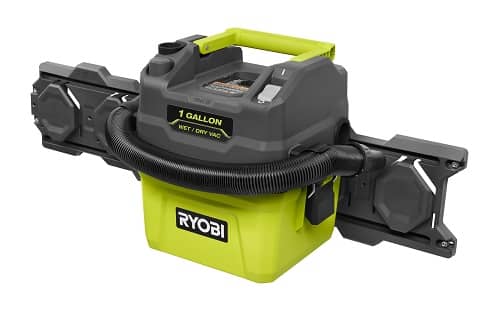 The rear slots help wall mount this little guy onto Ryobi Link wall rails. Pretty cool right? So technically this new little vac is part of the Ryobi Link storage system.
Other features include a blower port and a 2 speed switch for full power or better runtime.
Ryobi 18V 1 Gallon Wet Dry Vacuum – Pricing & Availability
You can expect it to be available in March 2023. MSRP is $79 for the baretool and $129 for the kit. However I saw that the Kit was priced $10 more than MSRP at $139 at the time of writing. A big thanks to DrewBHAM for also spotting!
Ryobi 18V 1 Gallon Wet Dry Vacuum
Powerful and versatile cleaning with up to 25% more suction power
RYOBI™ LINK™ Modular Storage System Compatible (Wall Rails and Mobile Storage sold separately)
Designed for easy portability
Blower port for increased versatility
High/low switch for variable cleaning applications
50 CFM and 46 Inches of Water (IOW)
Integrated storage for accessories and hose
6' x 1-1/4" hose for added flexibility and reach
Crevice tool is ideal for cleaning tight spaces
Utility nozzle provides a wider cleaning path
Sturdy latches for improved durability
Filters available online:

Standard Filter (A32VC05)
HEPA Filter (A32RF08)
Foam Filters (A32WF03)

Available Accessories Include:

6' x 1-1/4" Hose (A32VH03)
1-1/4" 2PC Wet/Dry Accessory Kit (A323G01)

Part of the RYOBI ONE+ System of over 280 Cordless Products
3-year manufacturer's warranty
Includes: 18V ONE+™ LINK 3 Gallon Wet/Dry Vacuum, 6' x 1-1/4" Hose, Crevice Tool, Utility Nozzle, Cartridge Filter, and Operator's Manual
PCL734K Includes: 18V ONE+™ LINK 3 Gallon Wet/Dry Vacuum, 18V 4Ah Lithium Battery, Charger, 6' x 1-1/4" Hose, Crevice Tool, Utility Nozzle, Cartridge Filter, and Operator's Manuals
This tool will be available in both a tool-only and kit configuration exclusively at The Home Depot and HomeDepot.com.
18V 1 Gallon Wet Dry Vacuum PCL733B Baretool

Ryobi 18V 1 Gallon Wet Dry Vacuum PCL733K Kit


DISCLOSURE:
We are a participant in The Home Depot Affiliate Program. It is an affiliate advertising program designed to provide a means for us to earn fees by linking to homedepot.com. Tool Craze does not sell this product or any product on the Tool Craze website. Also Tool Craze does not handle the sale of any item in any way. Please refer to the About section for more info.
This vacuum isn't Ryobi's only new announcement for today. They also announced 2 other vacuums. A 18V 6 gallon wet dry vac and a new 18V 3 gallon wet dry vacuum. You can check them out below.