Announced today is the Ryobi 18V 6 Gallon Wet Dry Vacuum. It appears to be an updated version of the original. Let's check it out.
Disclosure: This is tool news. Tool Craze cannot guarantee the accuracy of the information of any tool listed in this article. Manufacturer marketing claims may not always meet expectations. Tool Craze is not responsible if products do not live up to claimed expectations. Please do your full research before buying any products. Tool Craze is an Amazon Associate. Also an affiliate with the Home Depot, Acme Tools, Ohio Power Tool, Tool Nut. As well as an affiliate with Lowe's, Ebay, and Walmart and places affiliate links to these retailers. If you purchase through a link on this site, we may get a share of the sale.
Ryobi 18V 6 Gallon Wet Dry Vacuum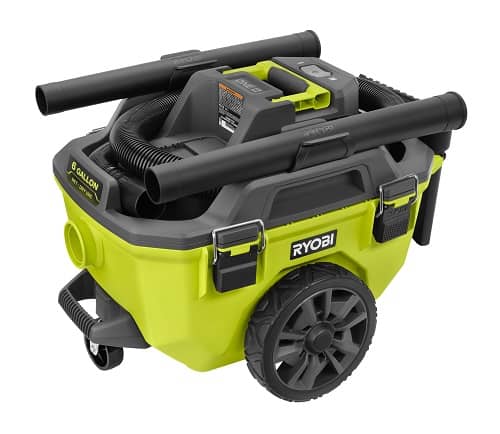 If this model seems familiar to you, it's because it is. Back in 2017 Ryobi came out with the original 6 gallon wet dry vacuum model P770. Fast forward nearly 6 years and Ryobi is announcing it again. Or so it seems. This new one has a different model number, now PCL733 with two variations. PCL733B for the baretool and PCL733K for the kit with 4ah battery and charger.
So what makes this new model any different? The short answer is not much from what we can see. It appears to be the same overall unit as the original but with a few tweaks throughout. None of which make it a vastly different machine but one is a refinement that should have been there from the beginning.
Above we can see the new and old side by side. The new on the left and the old on the right. At a quick glance they appear identical but a closer inspection shows several subtle differences throughout. The wheels and tires are different, the front and top handles are different, and so are the latches.
The biggest differences functionally are the holders for the extension tubes and top handle. On the old unit, the extension tub holders where just cords. This seems like a cheap way to hold them and is something that can easily fail in the future. The new model fixes this with proper plastic holding slots. This should not only be miles easier to install but should last much longer too.
The top handle was fixed on the old and folding on the new. The new model also features 2 speeds for either full power or better runtime.
Ryobi 18V 6 Gallon Wet Dry Vacuum – Features
This vacuum features a 6 gallon rated capacity. It uses a brushed motor that puts out very a very strong 80 CFM of suction. That makes it similar in rated suction in CFM compared to the original. However Ryobi is saying that the new model offers up to 30% more suction power than the previous model. I'm not sure how that's possible since they both are rated the same 80 CFM of suction.
Even though rated the same as before, 80 CFM of suction is very strong, especially for a cordless vacuum. Most cordless vacuums are far less in terms of suction. Some of the better ones achieve up to 45 CFM's. So this vacuum though battery powered gets performance similar to some corded models.
This vacuum is cordless and runs on Ryobi 18 volt ONE+ batteries.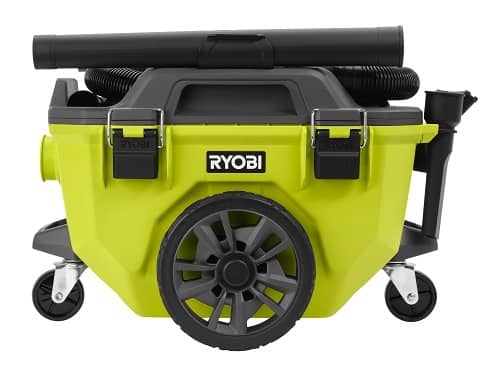 This is not a small battery powered tool and as such has 4 wheels to roll it around. Two large wheels on the sides and two 360 degree castors in front and back. We can see the latches have been redesigned with metal clasps atop.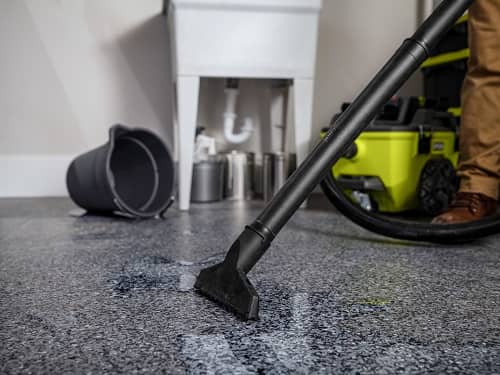 Being a wet dry vacuum means that you can suck up the usual dry messes. As well as picking up liquids and spills.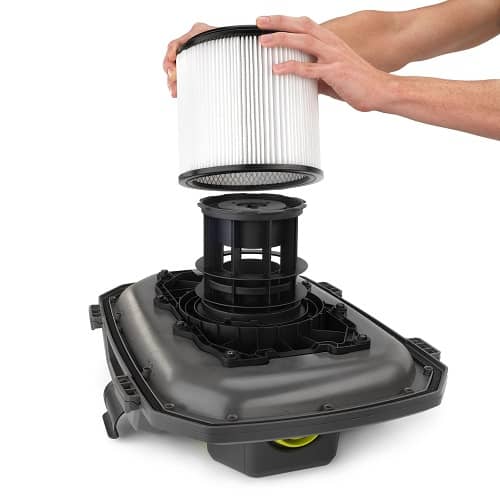 It includes a reusable and replaceable medium sized pleated filter.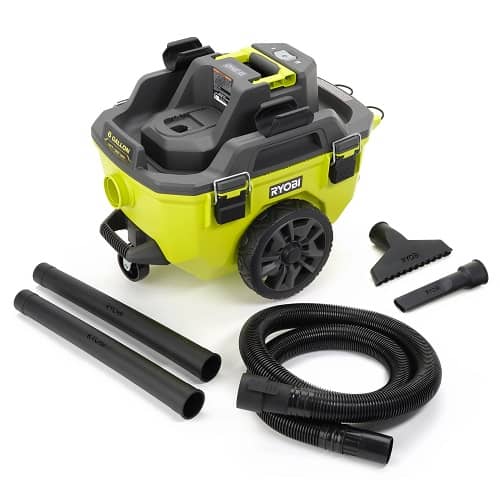 Besides the included filter, it also comes with a 7'x1-7/8″ flexible hose, two extension tubes, and two nozzles. A utility/floor and a crevice nozzle. As shown above, the battery holder is not covered and the battery is exposed to the elements. It seems the cords to store accessories are not completely gone as the rear has cords to store the two nozzles. I think Ryobi should've also replaced these as well. Maybe we'll see this on the Gen 3 model.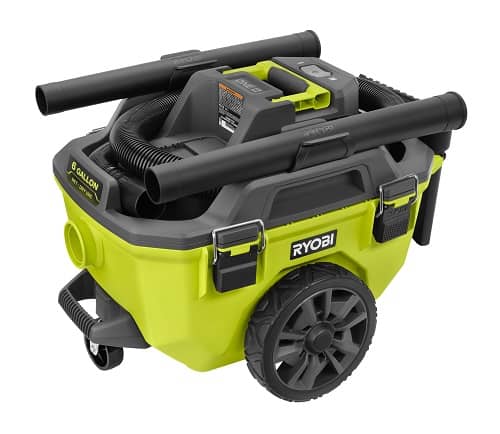 All of the accessories can be store on the vacuum. Including the hose which wraps around the top section when not in use.
Other features include a 2 speed switch and a blower port.
Ryobi 18V 6 Gallon Wet Dry Vacuum – Pricing & Availability
This will be available in Summer 2023 and will be priced at $149 as a baretool. This makes it $10 more than the original at the current prices. The kit price is $199. A big thanks to DrewBHAM for also spotting!
Ryobi 18V 6 Gallon Wet Dry Vacuum
Powerful jobsite cleaning with up to 30% more suction power
All-terrain wheel design for added stability and mobility
Blower port for increased versatility
High/low switch for variable cleaning applications
80 CFM and 36 Inches of Water (IOW)
Integrated storage for accessories and hose
7' x 1-7/8" hose for added flexibility and reach
Crevice tool is ideal for cleaning tight spaces
Floor nozzle provides a wider cleaning path
Extension wands provide additional reach for hard-to-access areas
Sturdy latches for improved durability
Filters available online:

Standard Filter (A32RF06)
HEPA Filter (A32RF07)
Foam Filters (A32WF02)

Accessories available online:

7' x 1-7/8" Hose (A32VH02)
1-7/8" 4PC Wet/Dry Accessory Kit (A326G01)
1-7/8" 6PC Wet/Dry Accessory Kit (A3210G01)

Part of the RYOBI™ 18V ONE+™ System of over 280 Cordless Products
3-year manufacturer's warranty
PCL735B Includes: 18V ONE+™ 6 Gallon Wet/Dry Vacuum, 7' x 1-7/8" Hose, Crevice Tool, Floor Nozzle, (2) Extension Wands, Cartridge Filter, and Operator's Manual
PCL735K Includes: 18V ONE+™ 6 Gallon Wet/Dry Vacuum, 18V 4Ah Lithium Battery, Charger, 7' x 1-7/8" Hose, Crevice Tool, Floor Nozzle, (2) Extension Wands, Cartridge Filter, and Operator's Manuals
This tool will be available in both a tool-only and kit configuration exclusively at The Home Depot and HomeDepot.com.


DISCLOSURE:
We are a participant in The Home Depot Affiliate Program. It is an affiliate advertising program designed to provide a means for us to earn fees by linking to homedepot.com. Tool Craze does not sell this product or any product on the Tool Craze website. Also Tool Craze does not handle the sale of any item in any way. Please refer to the About section for more info.
This vacuum isn't Ryobi's only new announcement for today. They also announced 2 other vacuums. A new 18V 1 gallon wet dry vac and a new 18V 3 gallon wet dry vacuum. You can check them out below.