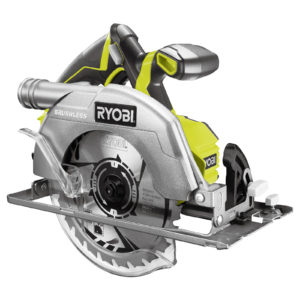 Last week we learned about a new Ryobi 18V brushless angle grinder which is impressive news from Ryobi. They are in a relentless mission as are other manufacturers to make more and more cordless tools with brushless motors, which brings us to today's article in which a new RYOBI 18V 7-1/4″ brushless circular saw has been spotted over in Australia!
Full disclosure: This is not a review, this is tool news. Tool Craze cannot guarantee the accuracy of the information/specifications/features of any tool listed in this article. Manufacturer marketing claims may not always meet expectations. Tool Craze is not responsible if products do not live up to claimed expectations. Please do your full research before buying any products. Tool Craze is an Amazon Associate and places paid links including those from other retailers that Tool Craze is an affiliate partner with. If you purchase something through a link on the Tool Craze site, Tool Craze may get a small share of the sale.
I was wondering when Ryobi would make a brushless cordless circular saw and one that had a full size 7-1/4″ blade in it and it's nice to see that both features made it a reality. It's not a surprise though as it is totally possible now that Ryobi has a cordless 10 inch miter saw in the works and has made several cordless tools as brushless versions.
The new brushless circular saw looks pretty cool, but looks are not the main reason we buy tools. It features a LED light like most circular saws do nowadays and the brushless motor is said to change current based on material to optimize cutting performance. I think the best feature besides the brushless motor is that it takes regular 7-1/4″ blades. Not only are they cheaper than 6-1/2 inch or smaller blades, they're easy to find. Often times the stores don't offer the Diablo blades I want in smaller sizes, but are easy to find in 7-1/4 inches. The added blade size also increases cut capacity up to 60mm which is 2.36 inches at 90 degrees which is more than plenty at cutting 2×4 lumber.
As far as materials used to make the saw, we can't expect the best of the best materialswise since it is a Ryobi tool. I see a stamped steel shoe which is ok but not premium like an aluminum or even magnesium shoe of more expensive brands. It's hard to tell what the upper blade guard is made of. It looks like it might be metal but I doubt it considering their other cordless saws use plastic upper and lower blade guards so it's probably plastic with a metalic paint. Clearly the bottom blade guide is plastic. I do like that they added a rear ejection port where you can attach a vacuum but this feature is only found on circular saws outside of the USA. Great for the other countries but unfortunate for us in the USA.
It appears the model number is R18CS7 and is for the Australian market. I don't know if we'll get one of these here in the USA but I'm almost certain we'll get a USA variant of some sort with a different model number and without the rear ejection vac port.
A big thanks to Daniel for sharing this news with us.
Features include:
184mm (7 ¼") blade diameter
60mm cut capacity (flat)
44mm cut capacity (45 degree bevel)
Adjustable bevel angle 0-56mm
Built-in LED work light
Variable current based on materials for better cutting performance.
The 18V ONE+ brushless circular saw fits right in with your existing ONE+ range of power tools and your ONE+ universal battery platform.
More runtime and 30% faster cutting speed vs brushed