Ryobi now has another cordless 18V miter saw with the Ryobi 18V CORDLESS 216MM SLIDING MITRE SAW R18MS216-0 .
Full disclosure: This is not a review, this is tool news. Tool Craze cannot guarantee the accuracy of the information/specifications/features of any tool listed in this article. Manufacturer marketing claims may not always meet expectations. Tool Craze is not responsible if products do not live up to claimed expectations. Please do your full research before buying any products. Tool Craze is an Amazon Associate and places paid links including those from other retailers that Tool Craze is an affiliate partner with. If you purchase something through a link on the Tool Craze site, Tool Craze may get a small share of the sale.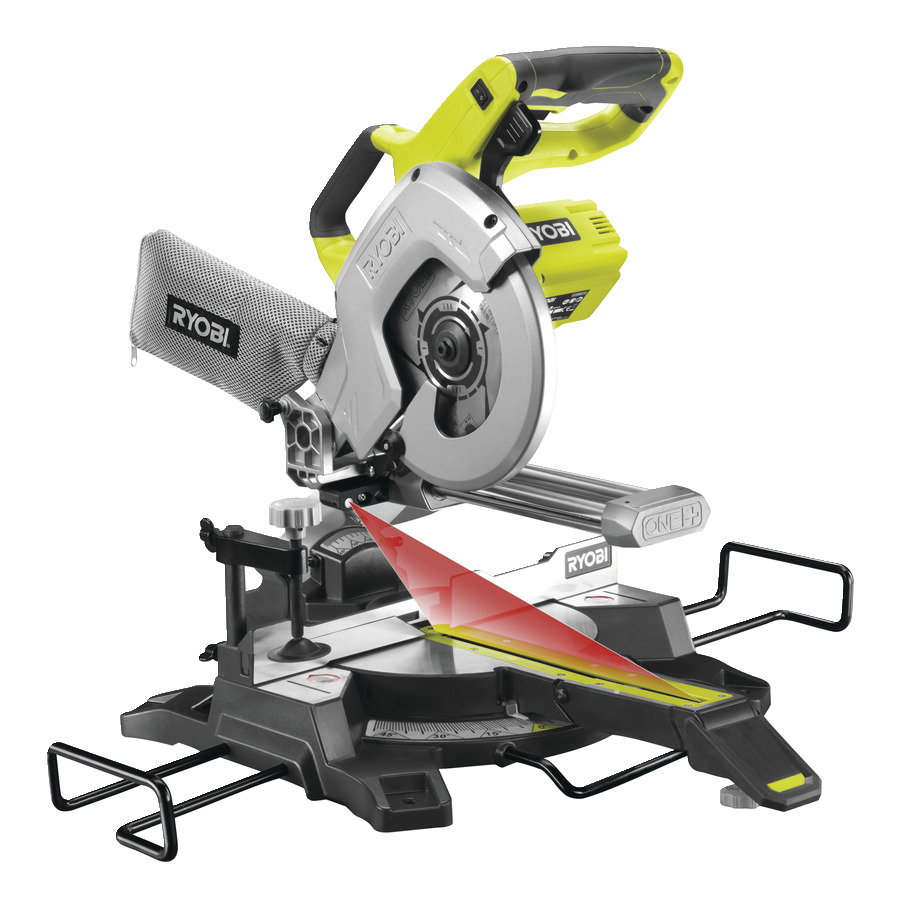 The new Ryobi 18V CORDLESS 216MM SLIDING MITRE SAW R18MS216-0 model was spotted in Europe by DrewBHAM and appears to be the second cordless miter saw by Ryobi that's a sliding model. Unlike the USA spec cordless sliding miter saw, the Euro spec R18MS216-0 model uses a smaller 216mm blade which translates to about 8.5 inches which is still larger than traditional 7-1/4″ circular saw blades. Also unlike the USA spec model that is actually a 36V model that requires two 18V batteries, the Euro spec R18MS216-0 model is a true 18 volt model as it uses only one 18V battery at a time.
Other features include a fixed right side mounted rail system. Since the rails are fixed meaning the motor and blade are the parts that move, this means that you can place the rear of the saw up to a wall without having to worry about banging into the wall when sliding. A laser is included to mark lines on the work piece. The saw has extensions on both sides and includes one material clamp. It appears the saw is a single bevel saw and only bevels to the left and can't to the right since the rails are on the right side. Up 315 cuts can be made with a 5.0 ah battery which is very good runtime for not being brushless. I also noticed that Ryobi ditched the twist miter lock knob on this model for a cam lock handle.
No word on if or when this will show up here in the USA but I'll keep you guys posted if they do.
Cordless sliding mitre saw cuts up to 70x270mm at 90⁰
Pre selected miter angles to 45⁰ and bevel from 0 to 45⁰
Premium thin kerf 216mm blade with 48 carbide tipped teeth provides superb performance and cut quality
Premium cast aluminium table base provides a perfectly flat cutting surface
On board laser for maximum visibility of cut line
Make up to 315 cross cuts in 2 x 4 timber (50mm x 100mm) timber with the Lithium+ 5.0Ah battery RB18L50
Includes 1 x 48 TCT blade, 1x clamp, dust bag, wrench


Free 2 day shipping – Try Amazon Prime 30-Day Free Trial

DISCLOSURE:
Tool Craze does not sell this product or any product on the Tool Craze website. Tool Craze does not handle the sale of any item in any way. If you purchase something through a post on the Tool Craze site, Tool Craze may get a small share of the sale. Please refer to the About section for more info.