Announced is a new Ryobi 18V garden hoe. This traditionally manual powered tool is now motorized to help do the some of the work for you. Let's check it out below. Also a big thanks to DrewBHAM for spotting!
Disclosure: This is tool news. Tool Craze cannot guarantee the accuracy of the information of any tool listed in this article. Manufacturer marketing claims may not always meet expectations. Tool Craze is not responsible if products do not live up to claimed expectations. Please do your full research before buying any products. Tool Craze is an Amazon Associate. Also an affiliate with the Home Depot, Acme Tools, Ohio Power Tool, Tool Nut. As well as an affiliate with Lowe's, Ebay, and Walmart and places affiliate links to these retailers. If you purchase through a link on this site, we may get a share of the sale.
Ryobi 18V Garden Hoe – Features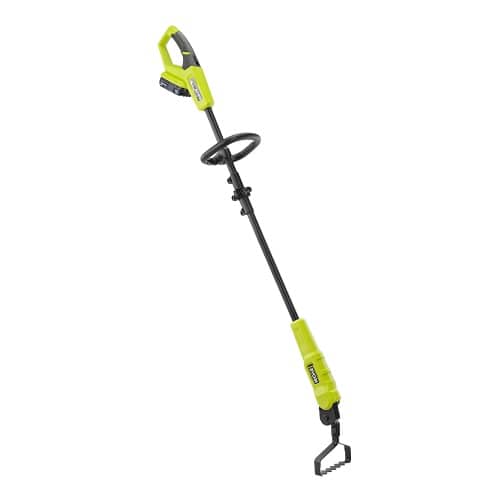 They are saying it's the industry's first 18V garden hoe. There are many types of hoes and this model is using an action hoe design. This means that it's good for both weeding and cultivating soil.
Historically, this tool has been a manual powered tool but Ryobi has turned it into a power tool. (Maybe next they'll make a Ryobi USB Lithium spoon and fork to make the arduous task of eating easier! That's a joke.)  They've accomplished an 18V hoe thanks to an oscillating blade design that appears to oscillate on the same "pivot" point of a traditional action hoe. The blade oscillates at about 350 oscillations per minute.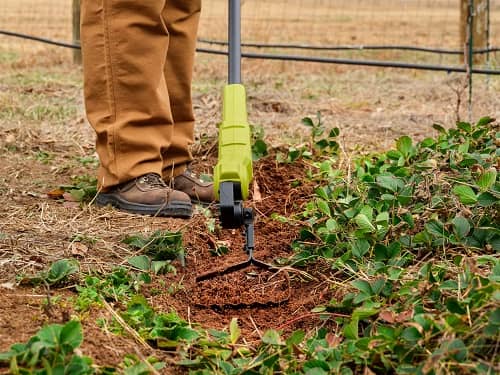 This oscillating action will aid in weeding and cultivating. The user will still have to work the tool forward and back where need so some manual power will still be required.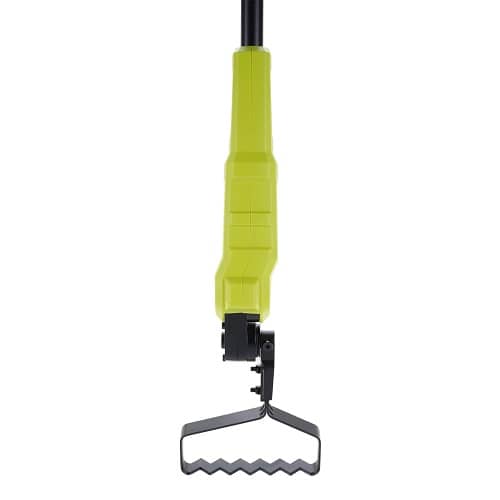 Above you can see the action hoe style blade. The blade has serrated like teeth on it which will no doubt help when weeding.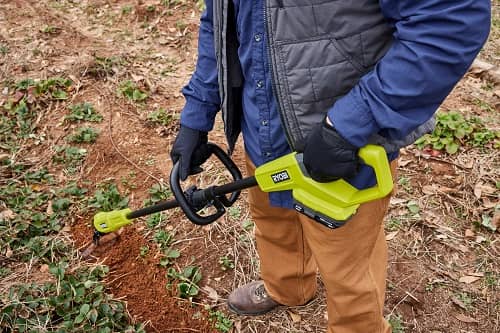 The overall shape mimics that of a string trimmer with shape and the way it's meant to be held. Even down to the second handle.
Ryobi 18V Garden Hoe – Runtime
Runtime is said to be up to 150 feet per charge when paired with a 2ah battery.
Ryobi 18V Garden Hoe – Pricing & Availability
It will be available April 2023 as a baretool for $149. The kit is available at the time of writing for $199 and includes a 2ah battery and charger.
Ryobi 18V Garden Hoe
Battery powered oscillating blade replaces manual clearing
Up to 150 sq ft. per charge* *When using a RYOBI PBP006 2ah 18V ONE+ lithium battery
Cultivate soil and remove weeds
Perfect for maintaining flower beds and harvesting crops
Rectangular shaped blade to dig out stubborn weeds
350 blade head oscillations per minute
Front handle for controlled operation
Blade Width: 6.5″ Blade Height: 3.5″ Shaft Length: 31″
Part of the RYOBI 18V ONE+ System of over 280 Cordless Products
3-year manufacturer's warranty
P29013BTL Includes: 18V Garden Hoe and operator's manual.
This product will be available exclusively at HomeDepot.com.


DISCLOSURE:
We are a participant in The Home Depot Affiliate Program. It is an affiliate advertising program designed to provide a means for us to earn fees by linking to homedepot.com. Tool Craze does not sell this product or any product on the Tool Craze website. We do not handle the sale of any item in any way. Please refer to the About section for more info.
You may also like: