Here is tool news, Ryobi 18V mud mixer and handheld tile saw are coming soon. We can expect both of these in Summer of 2023.
Disclosure: This is tool news. Tool Craze cannot guarantee the accuracy of the information of any tool listed in this article. Manufacturer marketing claims may not always meet expectations. Tool Craze is not responsible if products do not live up to claimed expectations. Please do your full research before buying any products. Tool Craze is an Amazon Associate. Also an affiliate with the Home Depot, Acme Tools, Ohio Power Tool, Tool Nut. As well as an affiliate with Lowe's, Ebay, and Walmart and places affiliate links to these retailers. If you purchase through a link on this site, we may get a share of the sale.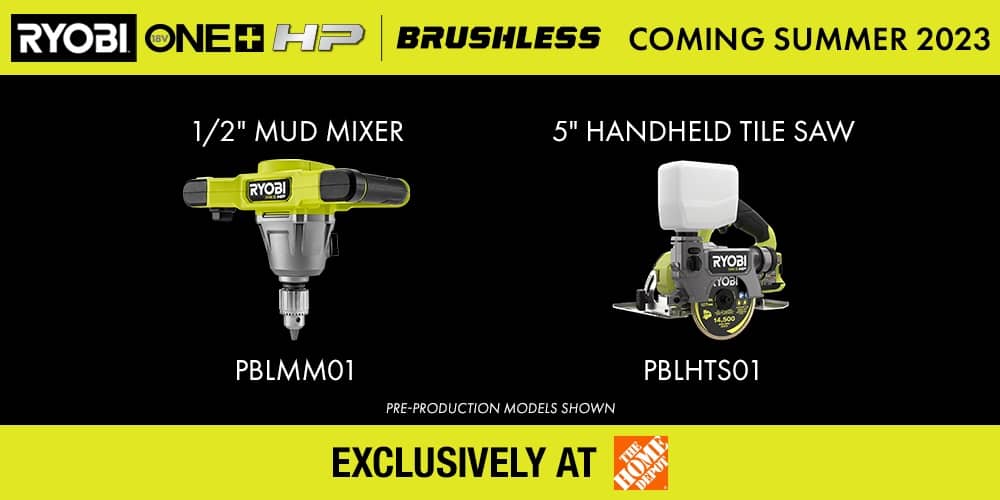 The above banner is about as much info that we have at the moment at the time of writing. There we see both model images and both are 18 volt tools.
The first one is a 1/2″ mud mixer model PBLMM01 and the second is a 5″ handheld tile saw model PBLHTS01. We will have to wait for additional info as it trickles from Ryobi. We also want to  keep in mind that the above images are pre-production models so there might be some slight changes when they launch.
Ryobi 18V Mud Mixer
There's not much to say about the mud mixer, it has the typical workings of a mud mixer. A 1/2″ keyed chuck and two large handles. The battery bay is on top. It looks like a dial is on the right and a trigger on the left trigger. These are good for mixing drywall mud and thinset among other things.
Ryobi 18V 5″ Handheld Tile Saw
The tile saw has 5 inch on the title which may allude to the size of its blade. However the blade looks a bit smaller than 5 inches. It looks more like 3 to 4 inches like those small cut off wheels but I could be wrong. It has a form factor similar to a circular saw with a shoe that can bevel. The upper blade guard holds a water reservoir to water cool the blade as it cuts. Water also helps cut down on airborn dust. It also appears to have an opening at the rear of the blade guard.
That's about all I can gather from these images so let's stay tuned for more info from Ryobi.
Check out these other articles:
Ryobi RYI1802B6 40V 1800 WATT POWER STATION (1600 Actual Running Watts)
New 46″ & 42″ Ryobi 80V HP Brushless Lithium Electric Riding Lawn Tractor
New Ryobi 40V HP Brushless Whisper Series 2000 PSI 1.2 GPM Pressure Washer RY40306BTLVNM