The Ryobi 18V Verse Clamp Speaker has just been announced. Let's check it out below.
Disclosure: This is tool news. Tool Craze cannot guarantee the accuracy of the information of any tool listed in this article. Manufacturer marketing claims may not always meet expectations. Tool Craze is not responsible if products do not live up to claimed expectations. Please do your full research before buying any products. Tool Craze is an Amazon Associate. Also an affiliate with the Home Depot, Acme Tools, Ohio Power Tool, Tool Nut. As well as an affiliate with Lowe's, Ebay, and Walmart and places affiliate links to these retailers. If you purchase through a link on this site, we may get a share of the sale.
Ryobi 18V Verse Clamp Speaker – Features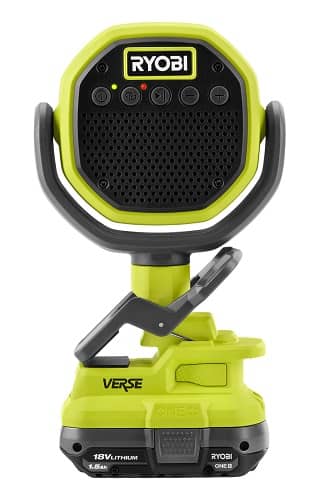 The new Ryobi 18V battery tool is a wireless bluetooth speaker. Ryobi already has bluetooth speakers so what makes this special? It's small for portability and has a built in clamp. What for? So it can conveniently clamp onto stuff.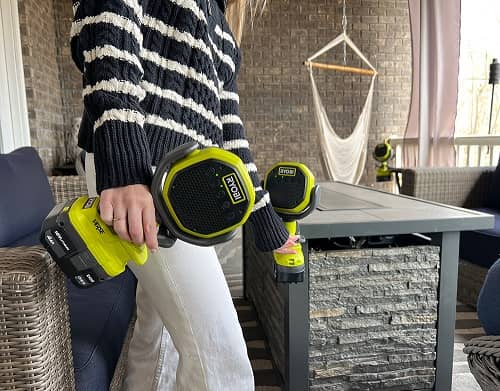 Why place it on a desk when you can clamp it on the edge of a desk?! For style points of course.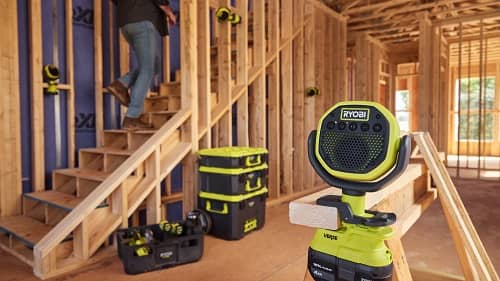 The clamp has 1-3/4″ of capacity meaning you can clamp it on 2x lumber. Perfect to clamp it during the framing stage. The head is on a base and can rotate sideways and pivot to aim sound where you want it.
But that's also not it's only standout feature. Have you noticed that each image above shows several of these speakers per image? That's because these speakers can pair with others to form a grid of sound.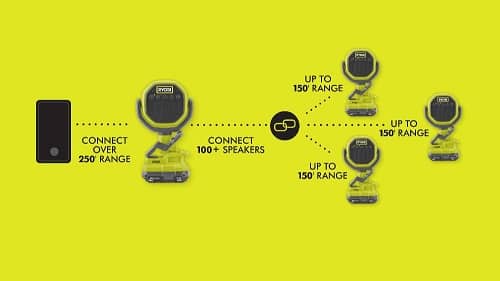 In fact, it can pair with up to 100+ speakers. This is perfect for house parties for example so you can have sound in every room and the front and backyard when entertaining. And the wireless range is pretty good too. The primary speaker has a bluetooth range of around 250 FT with the source device. Any other speakers that pair with the primary speaker can branch out for an additional 150 ft.
Ryobi says that additional speakers are easy to synchronize. Volume can be adjusted independently or synchronized by the user's device.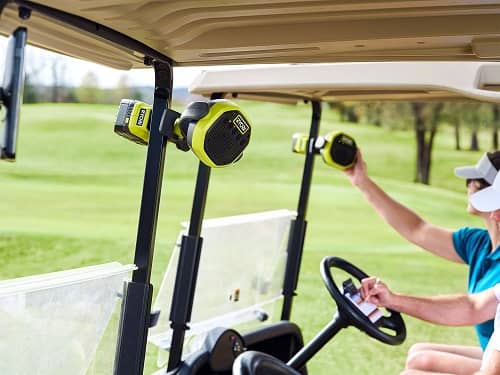 This wireless system makes it easy to share wireless sound with your buddies and listen to your tunes when riding in golf carts in between holes.
Runtime is said to be good for just over 32 hours when paired with a 4ah battery (not included). I must say that if you buy the kit, it comes with a much smaller 1.5 ah battery. So expect runtime to be considerably lower than 32 hours with the included battery in its kit. Expect a 1.5ah battery to get about 3/8 the runtime of a 4.0ah battery.
Ryobi 18V Verse Clamp Speaker – Pricing & Availability
They are set to be available May 2023. Pricing is $59 for one speaker by itself PCL615B. The one speaker kit PCL615K1 is priced at $99 and comes with a 1.5ah battery and charger. There's also a two-speaker only set PCL6152P for $99.
Ryobi 18V Verse Clamp Speaker – My Thoughts
It's pretty cool to see Ryobi come up with new ways to add clamps to existing 18V tools. They've already added clamps to fans and lights. They've even had 18V bluetooth speakers that had the ability to pair with more in the past as well with their Score speakers. So this new Verse speaker is not a new idea. However when I reviewed the Score speaker system, while my experience was overall positive with them, I still thought they were pretty pricey. A two speaker set was $199 and additional add-on speakers with limited functionality were $99 each. And to make matters worse, they didn't come with a battery or charger for those prices, yikes! Fortunately they did come with ac adaptors, but still.
I think these new Verse speakers are very similar to the idea of the Score speakers but at a more reasonable price. They are smaller than the score speakers so probably aren't as loud. And they don't have an LCD display like the primary Score speaker but at $59 each the features are decent for the price. And while the clamp may seem gimmicky, it does add some new functionality to clamp onto something when not convenient to rest on a surface.
I find them to be interesting.
Ryobi 18V Verse Clamp Speaker
Connect 100+ VERSE Clamp Speakers or utilize each speaker individually
Best-in-class BLUETOOTH range streaming; over 250′ between primary speaker and device
Stay connected up to 150′ between speakers
Quick and easy speaker synchronization, no app required
Speaker volume can be adjusted independently, or synchronized by user's device
Crisp, clear sound for an enhanced listening experience
Over 32 hours of runtime for all-day listening

*runtime based on utilizing a RYOBI 18V ONE+ 4Ah HIGH PERFORMANCE Lithium battery

Pivoting head and a rotating base for precise audio placement
1-3/4″ clamping capacity to mount anywhere
Part of the RYOBI 18V ONE+ System of over 280 cordless products
3-year manufacturer's warranty
PCL615B Includes: (1) PCL615 18V ONE+ VERSE Clamp Speaker and Quick Start Guide
PCL615K1 Includes: (1) PCL615 18V ONE+ VERSE Clamp Speaker, 18V 1.5Ah Lithium Battery, Charger, and Quick Start Guide
PCL6152P Includes: (2) PCL615 18V ONE+ VERSE Clamp Speakers and Quick Start Guide
This tool will be available exclusively at The Home Depot and HomeDepot.com.


DISCLOSURE:
We are a participant in The Home Depot Affiliate Program. It is an affiliate advertising program designed to provide a means for us to earn fees by linking to homedepot.com. Tool Craze does not sell this product or any product on the Tool Craze website. We do not handle the sale of any item in any way. Please refer to the About section for more info.
If you like this article, check out these other tools.