4/8/2019 Over a month ago I wrote about the RYOBI RYi300BG 300 Watt 40V Battery Powered Inverter Generator and thanks to DrewBHAM, he found the manual to this new inverter and it reveals a couple of new interesting facts about the inverter with one of them being a new name change, or possible name change. The manual calls it a power source, so it should read as the RYOBI RYi300BG 300 Watt 40V Power Source now although I am not sure if the difference in name in the manual means the product itself will get a complete name change. It makes sense that they may have changed the name and omitted the generator part of the name since it's not a generator at all since it's not producing "new" power. They also may have changed the name to make Drew Morgan happy since he was very vocal against the "generator" portion of the name 🤣.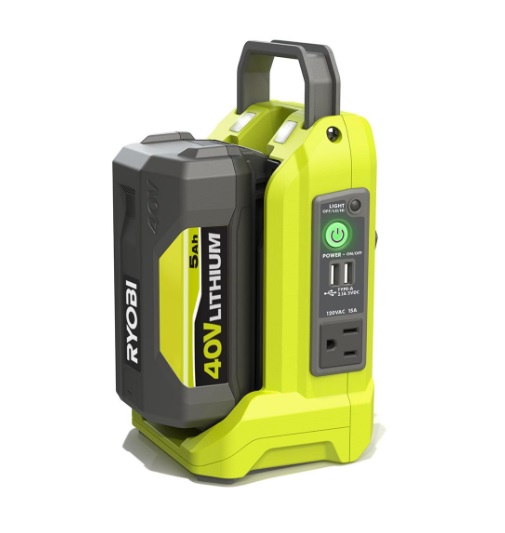 There wasn't too much info regarding what type of waveform they used on this inverter but now we know that it's outputting pure sine wave which is a big deal as it's now compatible with more AC products that require pure sine wave to run. Also they added a USB C along with the USB A up to 3 amps via each USB. USB C is important because it allows the ability to output up to 20V at up to 3 amps however the USB ports share internal circuitry. If USB-A is in use, USB-C will supply 5V
output only. The single 120 volt outlet is only 2.5 amps.
Previous Info From 2/22/2019
Whats interesting about the new RYOBI RYi300BG 300 Watt 40V Battery Powered Inverter Generator – now known simply as the Ryobi RYi300BG 300 Watt 40V Power Source is that it's Ryobi's answer to Ego's Nexus inverter. It takes Ryobi 40V batteries to put out 300 watts of AC power for low consumption household appliances that plug in through the single 120V AC port. It also includes two USB ports, handle and a dual LED light making this a great handy little unit for camping. It will be available soon and it's going to retail for $99 as a baretool.
A huge thanks to DrewBHAM for spotting and sharing!


Free 2 day shipping – Try Amazon Prime 30-Day Free Trial

DISCLOSURE:
Tool Craze does not sell this product or any product on the Tool Craze website. Tool Craze does not handle the sale of any item in any way. If you purchase something through a post on the Tool Craze site, Tool Craze may get a small share of the sale. Please refer to the About section for more info.