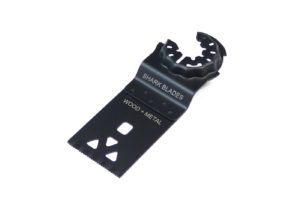 When Bosch and Fein released the new Starlock Mount for their oscillating multitools there was always a good selection and variety of accessories to choose from for the new mount but it was only limited to Bosch and Fein branded accessories. Later Diablo joined the group making Starlock Multitool blades and accessories although they appear to all be rebranded Bosch accessories. Now we have another brand join the Starlock mount with their own blades from Shark Blades.
If you are in the USA like I am then you've probably never heard of them and that's because Shark Blades is from the UK or at least that's were I've spotted their online website and were I've found their items to be sold at.
If you're in the UK then you can now rejoice as there is another player in the Starlock mount which in my opinion is best at the moment as they are the fastest and easiest way to change oscillating multitool accessories. Shark Blades appear to be half of what Bosch sells their starlock blades for so Shark Blades appears to sell for a good value or at least a better lower price. What's also interesting about the Shark starlock blades is they have an open section where the mount is, they don't explain why it's there but I would assume that it's so you can use it on other multitools that are able to use open ended blades such as Dewalt's multitools. And yes you can use starlock mount blades and accessories on non starlock mount multitools but not the other way around. This is because of the special recessed 3d shape of the mount that prevents starlock multitools from using non starlock flat mount blades.



Free 2 day shipping – Try Amazon Prime 30-Day Free Trial

DISCLOSURE:
Tool Craze does not sell this product or any product on the Tool Craze website. Tool Craze does not handle the sale of any item in any way. If you purchase something through a post on the Tool Craze site, Tool Craze may get a small share of the sale. Please refer to the About section for more info.