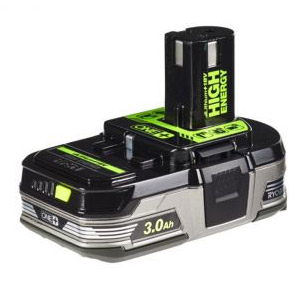 We've heard about the new Ryobi 6.0 ah, 9.0 ah and new compact 3.0 ah batteries in other parts of the world but we were left scratching our heads on when we would get them here in the USA. We have news that they will finally hit USA shelves. This is all thanks to Dave G for spotting them over at the Home Depot website.
HD has a listing for the new battery, or should I say battery 2-pack as the only listing so far is for a 2 pack of the new compact 3.0 ah batteries. The new model number for these are P191 and you can get the 2 pack for $139. I want to mention that the picture that Home Depot shows in their listing at the time of writing is incorrect as they show the picture of a 4.0 ah battery however the listing itself is talking about the new 3.0 ah batteries. The picture I used to represent the compact 3.0 ah battery is not the one we'll be receiving in the USA, this picture is of the same 3.0 ah battery but the version the rest of the world will get. Ours might differ slightly than the one pictured but will have the same shape and form factor and will also include a fuel gauge. The USA model should have the initials "HP" on the labeling and not the "High energy" labeling.

What's great about the new compact 3.0 ah batteries is that they are compact batteries with the high capacity of 3.0 ah while in the same physical size and shape of the compact 1.5 ah batteries.
Built-in 4-bar illuminated charge indicator to warn of diminishing charge
Stands up to frigid weather conditions
Lithium-ion chemical composition resists drainage when idle
Recharge on any 18-Volt ONE+ dual-chemistry charger
Easily snaps into place and detaches with quick-release button
Lightweight composition results in less user fatigue
Fade-free power for maximum performance
Battery delivers superior runtime, power and performance
Includes: 2 P191 18-Volt lithium plus HP 3.0Ah batteries
Although listed on the HD website, they are listed as unavailable at the time of writing. This means they will be available soon, just not sure exactly when.
DISCLOSURE:
Tool Craze does not sell this product or any product on the Tool Craze website. Tool Craze does not handle the sale of any item in any way. If you purchase something through a post on the Tool Craze site, Tool Craze may get a small share of the sale. Please refer to the About section for more info.