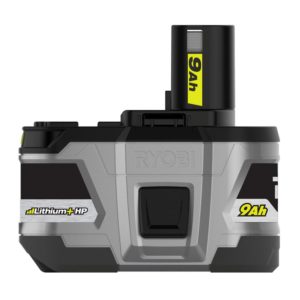 HD just listed the USA variant of the long awaited Ryobi 9.0 ah 18 volt battery P194. It is no longer a myth, it is now a real item we can get our hands on! The new Ryobi 9.0 ah battery joins the ranks of it's 6.0 ah and compact 3.0 ah siblings as part of the new batteries Ryobi labels as Lithium+ HP series batteries.
Most of you guys already know this but for those that don't know – this 9.0 ah battery gets it's extra large capacity because it houses a total of 15 individual battery cells in three rows of 5 cells stacked. Therefore this battery pack is physically considerably larger and heavier than even the current 4.0 ah battery from Ryobi.
The new Ryobi 9.0 ah battery is finally here although as usual HD protocol, they have listed it on their site although it is not available to buy – yet. This is standard procedure for them but I can assure you it will be available some time soon. What I can tell you is that it is listed for $139 for one battery which is considerably less expensive than a Milwaukee M18 HD 9.0 ah battery which retailed new for $199 at launch.
A big thanks to Rob Johnson for spotting this!
Ryobi ONE+ introduces the latest in 18-Volt battery technology: Lithium+ HP batteries are designed with High Performance electronics for maximum power. For even more performance, use with Ryobi Brushless tools. The P194 ONE+ 18-Volt 9.0Ah Extended Capacity Lithium+ HP battery gives you maximum performance with up to 9X runtime compared to standard Ni-Cd batteries. Built for extreme weather performance, this battery can withstand frigid weather conditions down to 14F (-10C) and is engineered to deliver fade-free power for maximum performance until the battery is dead. See below for more information.
P194 ONE+ 18-Volt 9.0Ah extended capacity lithium and HP battery provides up to 9X the runtime of Ni-Cd
Lithium and HP batteries are designed for maximum output, especially when paired with Ryobi brushless tools
Communicates directly with Ryobi brushless tools to deliver the optimal level of power for best performance
Works with over 70 great Ryobi ONE+ 18-Volt tools
On-board fuel gauge allows you to easily check the remaining charge and see the battery life
Extreme weather performance allows the battery to work down to 14F (-10C)
Advanced electronics protect the battery during heavy-duty use
Fade-free power for maximum performance
Easily snaps into place and detaches with quick-release buttons
Recharge on any Ryobi 18-Volt ONE+ dual-chemistry charger (sold separately)
Any 18-Volt ONE+ blue or green tool works with any 18-Volt ONE+ battery
3-year limited warranty
Includes: 1 P194 ONE+ 18-Volt 9.0Ah extended capacity lithium and HP battery
DISCLOSURE:
Tool Craze does not sell this product or any product on the Tool Craze website. Tool Craze does not handle the sale of any item in any way. If you purchase something through a post on the Tool Craze site, Tool Craze may get a small share of the sale. Please refer to the About section for more info.