Wilton, A Leading Manufacturer of American-Made Vises And Other Equipment, Celebrates 75th Anniversary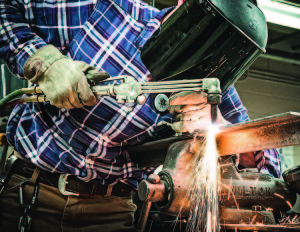 La Vergne, TN – The year was 1941, the U.S. was at war, Jimmy Stewart and Ginger Rodgers won Academy awards for the movie Rebecca, and Hugh W. Vogl, a Czechoslovakian immigrant, founded Wilton®, the vise manufacturing company. This year, Wilton celebrates its 75th anniversary and its American-made Bullet Vise.
Vogl designed a 4-in. machinists' vise shaped like a bullet. The patented American- made Wilton Bullet Vise features a fully-enclosed design which keeps lubrication in and contaminants out for smooth operation. The innovative horizontal spindle nut creates an even central pull, which eliminates dead motion and unnatural strain on the nut. The safe, durable, long lasting vise was considered a leader in its class.
Today, the Wilton Bullet Vise is still proudly made in the U.S. and available in several configurations and sizes and maintains the same high quality, structural integrity that it did in 1941. The Wilton Bullet Vise continues to be a mainstay in most manufacturing facilities throughout the U.S. These vises are used routinely in the automotive, construction, metal fabrication, service and MRO, tradesmen and utility industries.
From 1941 to 1945, the Wilton Bullet Vise was manufactured in Chicago and sold exclusively to the U.S. Government for use in WWII munitions and other military equipment plants.
In the 1950's, Wilton expanded its product line by introducing carriage and machinists' clamps. These stout clamps were tested with tensile strength at 80,000 psi. The clamps' spindles were machined from high quality cold rolled steel with precision ground acme threads and then fitted with proportioned handles. In the early 1950's, Wilton set out to build a solid distribution network. By 1965, Wilton became the preferred vise brand in the industrial market.
"The Bullet Vise was a significant product development during the war years, made a vital contribution and put Wilton on the map," said Tim Onello, Wilton's Senior Director of Product Management. "Product expansion, development and Innovation continued over the years as we introduced the B.A.S.H Unbreakable Handle technology in striking tools and the ATV truck hitch vise."
Celebrating 75 years, Wilton will honor the brand throughout the year with promotions and giveaways taking place through the company's website, www.wiltontools.com and
Wilton Timeline
1941 – Wilton introduced world's first bullet-designed machinists vise
1941-1945 – Wilton's Bullet Vise was used in the war effort in U.S. government munitions and military equipment factories
1950's – Wilton vise became the brand of choice during the automotive boom
1957 – Wilton moved its manufacturing facility from Chicago to Schiller Park, IL
Late 1950's – Pow-R-Arms were introduced to Wilton's product line. They represented a modern method of positioning bench work to speed up assembly lines. They allowed operators to work steadily and hands-free with greater accuracy.
1960's – Wilton invented and patented replacement Perma Pads, which allowed users to replace clamp pads as opposed to replacing the entire clamp. Also in the 60's, Wilton expanded its product line to include hydraulic clamps and milling machine vises.
1970's – Wilton opened a retail a manufacturing facility in Winchester, TN to produced vises for hobbyists and do-it-yourselfers. The facility also manufactured a line of metalworking drill presses and bandsaws.
1990's – Wilton introduced Tradesman Vises and in the late 1990's acquired the Warren Tool Group. The Columbian Vise manufactured in Cleveland, OH also was included in the Warren Tool Company merger.
2002 – The Wilton Tool Company and Warren Tool were acquired by WMH Tool Group (Walter Meier Holding Company AG). Wilton's manufacturing plant of industrial vises was moved from Schiller Park to Carpentersville, IL, where the industrial vises are still manufactured today.
2011 – B.A.S.H® Unbreakable® Handle Sledge Hammers are introduced as the world's most durable sledge hammer.
2014 – Wilton introduced the ATV All-Terrain Vise allowing a vise to be used in a truck hitch.
2016 – Wilton Celebrates its 75th Anniversary
About JPW Industries, Inc.
Headquartered in La Vergne, Tennessee, JPW Industries, Inc.® manufactures and markets a wide range of machinery and equipment under the JET, Powermatic and Wilton brands. In addition to its La Vergne headquarters, the company has operations in Switzerland, Germany, Russia, France, Taiwan and China. JPW Industries sells through a vast network of distributor partners worldwide. Visit JET Tools at www.jettools.com; Powermatic at www.powermatic.com or Wilton at www.wiltontools.com