Rockwell has recently come out with an assortment of 20V Max brushless power tools including a compact drill & hammer drill, impact driver, 3 speed impact wrench, and 3 speed impact driver. I recently reviewed the brushless compact drill and impact driver and was pleased to see what Rockwell had to offer as they were well featured and offered excellent performance in their respective categories. Now with the Rockwell 20V Max 3 Speed Impact Driver RK2868K2 about to hit the scene I was able to get my hands on one for review.
First off, if you've seen and or picked up the Rockwell 20V brushless single speed impact driver, you're already familiar with the Rockwell 20V Max 3 Speed Impact Driver RK2868K2 model as their 99.9% identical. It has the same shape, form factor, dimensions, weight, and the same performance as the previous model – which is a good thing because the single speed model was a great performer. The main difference on the new model is the additional 2 speed settings which tone down all that power on setting one and two. Speed 1 gives you the lowest power with reduced torque, RPM, and IPM so you can fasten delicate fasteners. This is great if you're working with puny screws and machine screws as full power would cause damage to the fastener or the material being fastened into. Speed setting number 2 gives you middle ground performance for greater control of typical fasteners when full speed isn't ideal. This impact driver has 1,550 in-lbs of torque and at times can be too much for the fastener or the user to handle and speed setting 2 offers a good balance of speed, power, and control. Speed 3 ofcourse gives you full power to take on the toughest jobs.
Other than the obvious 3 speed settings, I did notice a couple of extremely minor differences. Something I doubt any one that's picked up both would notice. One – the motor side vents on the head of the tool were opened up just a bit more than on the single speed, and the batteries, although identical in appearance, no longer remain lit for a few seconds on their own after you let go of the fuel gauge button. They stayed lit for a few seconds on the single speed model even after being pressed. These differences were minor and don't affect anything.
Ofcourse being almost the same tool as the single speed, other than the main 3 speeds, my thoughts from the previous model stay the same on the new 3 speed model. I like that it's a compact tool, lightweight at only 3.1 lbs, features most of the bells and whistles I'm looking for in a cordless power tool such as a belt clip, fuel gauge, LED light with a delay, and great performance, although it doesn't come with a single handed bit change chuck. Having the same stats as the previous model, it was no surprise it performs the same as the single speed model on speed setting 3 with the only difference in performance on speed settings 1 and 2. I mentioned in the previous review that the single speed model offered excellent performance but what I later found out when I compared several impact drivers head to head, I noticed that it's performance was one of the better performing models. In the video you can see several impact drivers side by side driving a 3-1/2″ long 5/16″ lag screw and the Rockwell brushless impact driver tied first place with high performance original 1st gen Milwaukee M18 Fuel impact driver. This was also impressive considering all models except for the Rockwell and Bosch were running high capacity batteries.
So this 3 speed impact driver along with the other Rockwell 20V max brushless models I've tried are excellent performers in a compact lightweight package. The brushless motor paired with it's included 2.0ah batteries will assure you get more runtime per charge compared to brushed power tools with 1.5 ah batteries and will last longer due to the nature of brushless motors. One thing that stands out with Rockwells latest brushless power tools including this 3 speed impact driver, is its impressive 20 year warranty, not just on the tool itself but also for the batteries. Just as long as the user registers the tool right away to gain access to the long warranty program.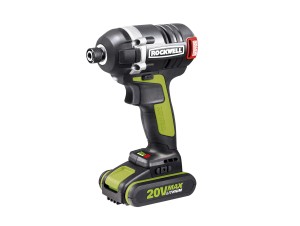 Features & Specifications:
3 speed variable speed brushless motor
Max Torque 530/930/1550 in-lbs
0-1,300/2,100/2,900 RPM
0-1,600/2,900/3,200 IPM
5-3/4″ length
3.17 lbs weight with battery
Charging time 60 minutes
20 year warranty
MSRP $219.99 USD