Three new Ryobi 18V outdoor power tools have been spotted in the UK with 2 new brushless 18V mowers 40cm (15.7″) RY18LMX40A-0 & 37cm (14.56″) RY18LMX37A-0 and a new 18V brushless scarifier/aerator RY18SFX35A-0.
Their two new Ryobi mowers while not the largest in the 18 volt segment at 40 cm RY18LMX40A-0 and 37 cm RY18LMX37A-0 (15.7″ and 14.56″ respectively) do offer a brushless motor for better runtime and sometimes better performance. These new UK models do differ from the USA models so they appear to be entirely new models with brushless motors. Both are similar except for size and slight cosmetics. Both can do mulching and bagging. It appears both can accept one or two 18V batteries with the 40cm model mentioning the ability for added runtime while the 37cm model makes no mention of this feature however you can see the dual battery slots in the manual but still no mention of here either. Both models use those pesky keys that need to be inserted in order to operate. I wish they would do away with these as they are completely unnecessary and add extra unneeded steps to run a mower. Because they are battery operated means easy push starting and no hassle of gas and fumes and the maintenance that goes along with a gasoline engine, including pull string starting.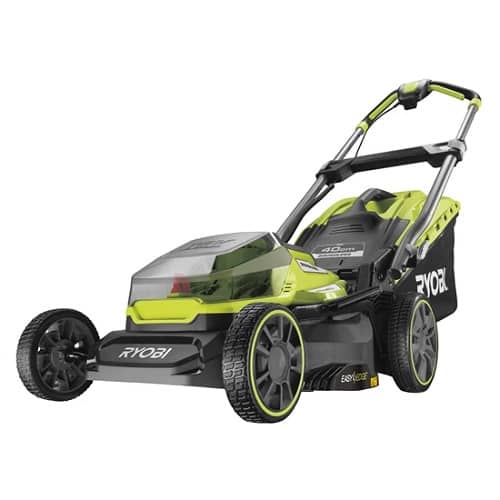 40 cm RY18LMX40A-0 Model features
Brushless motor for high cutting and bagging performance
Powered by a single ONE+battery, with the option to add a second battery for a power boost and extended run time
40cm cutting path with metal blade for excellent cutting and mulching
Telescoping, ergonomic handles provide a comfortable mowing experience for users of all heights
Collapsible handles and grass catcher for easy storage
50L grass catcher capacity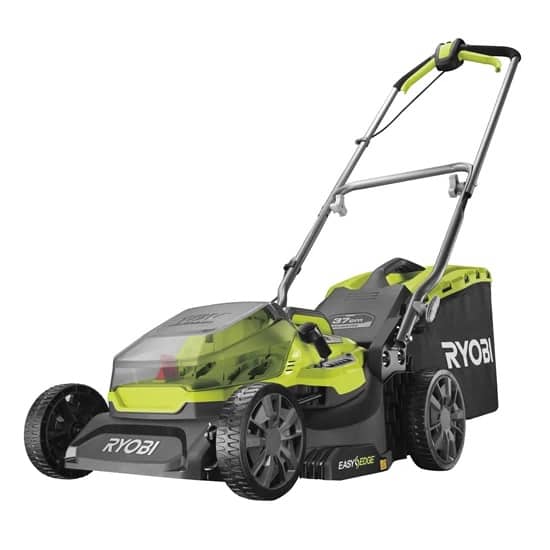 37 cm RY18LMX37A-0 model features
37cm cutting path designed for easy manoeuvrability around the garden
Brushless motor for high cutting and bagging performance
Robust 6-position, single-point cutting height adjustment from 25-70mm
Mow right to the perimeter of your garden with the EasyEdge™ grass comb feature
Ergonomic folding handles and collapsible grass catcher for easy compact storage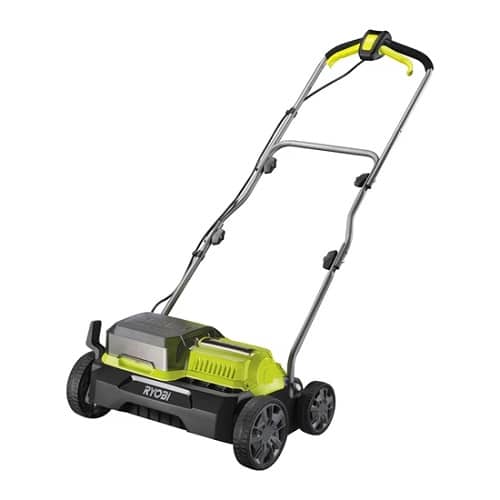 The Ryobi 18V scarifier/aerator RY18SFX35A-0 is similar to a dethatcher in the sense it does the same thing as dethatching but while a dethatcher works above the soil, a scarifier works also beneath the soil. Like the 2 above mentioned mowers, the scarifier is also brushless. The Scarifying drum comes with 16 stainless steel blades and has an operating width of 35cm or 13.77 inches. The unit comes by itself however a separate debris catcher and aerator reel available as optional accessories. It might make sense to purchase the debris catcher if you don't want to rake afterwards.
High performance Brushless motor powered by two ONE+ batteries for optimal runtime and power
Four working depths for easy thatch and moss removal
Folding handles for easy storage
Scarifying drum with 16 stainless steel blades
Separate debris catcher and aerator reel available
Keep in mind these were spotted in the UK and have overseas specific model numbers. As you'll remember, USA Ryobi cordless tools usually have a model number starting with "P" and followed by 3 or 4 digits. We don't know when or if they'll make their way to the USA although I know people will ask anyway however I may update this post or make a new one if I know of the USA release, but until then I don't know when or if they will come to the USA.
A big thanks to DrewBHAM for spotting these!
I know these aren't available in the USA but I'll throw a link below so you can browse what we do currently have in the USA that's Ryobi related and if you want to help support the site by doing so. Thank you!


DISCLOSURE:
We are a participant in The Home Depot Affiliate Program, an affiliate advertising program designed to provide a means for us to earn fees by linking to homedepot.com. Tool Craze does not sell this product or any product on the Tool Craze website. Tool Craze does not handle the sale of any item in any way. If you purchase something through a post on the Tool Craze site, Tool Craze may get a small share of the sale. Please refer to the About section for more info.