Bosch has announced a new GAL18V-160C 16 Amp Battery Turbo Charger for their 18 volt batteries.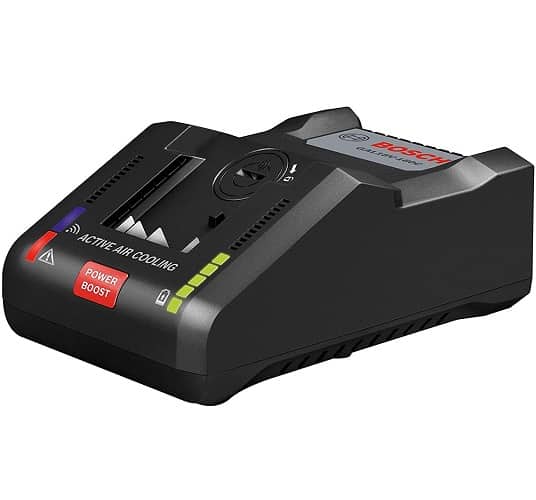 The new turbo charger as they call it outputs 16 amps which is plenty to make short charge times of larger batteries. For example they say the new Bosch turbo charger offers a Power Boost Mode that charges a CORE18V 8.0Ah Lithium-ion battery to 50 percent charge in 15 minutes or to 80 percent in 26 minutes.
The new Bosch turbo charger is also bluetooth ready and true to the Bosch bluetooth connectivity legacy, it does not have bluetooth connectivity out of the box but a separate bluetooth module must be purchased separately if you want that feature.
It can connect via Bluetooth Connectivity Module (GCY42 sold separately) to a smart device to enable more control over charging preferences and allow the user to monitor charging levels and status. Two additional charging functions – Max Lifetime and Storage modes – are available through Bosch's Toolbox App to help pros get the most out of each battery's lifetime. With the help of the connectivity module, a user has to option to stay notified and informed on all charging activities.
The new charger also achieves fast charging via air cooling. It is said to be available now however I see it as preorder at the time of writing.


Free 2 day shipping – Try Amazon Prime 30-Day Free Trial

DISCLOSURE:
Tool Craze does not sell this product or any product on the Tool Craze website. Tool Craze does not handle the sale of any item in any way. If you purchase something through a link on the Tool Craze site, Tool Craze may get a small share of the sale. Please refer to the About section for more info.