In this article we will be reviewing the completely new X-Lock angle grinder mount and also the new Bosch GWX18V-50PC GWX18V-50PCN 18V Brushless angle grinder featuring the new X-Lock mount. As a full disclosure, Bosch was kind enough to send me a product sample of the Bosch GWX18V-50PC angle grinder with new X-Lock Mount and several X-Lock mount wheels at no cost to me and as always I will provide my honest unbiased feedback. I am not paid or swayed in any way to give a positive review.
Why X-Lock?
X-LOCK wheel change – features snap-on mounting and grinder lever wheel release for change-out that's up to five times faster

Tool-free disc swap – the wheel mounts properly without the need for a spanner wrench or flange nuts for no losable parts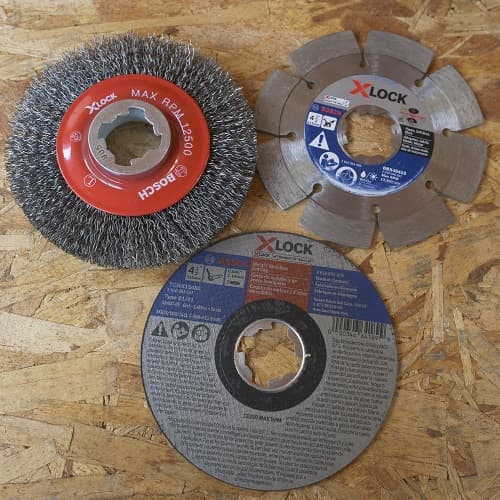 So what makes the X-Lock mount so great? If you look at other types of tools like reciprocating saws, jigsaws and even oscillating multitools, in their beginnings their blade interface started off requiring tools to install. Then eventually they offered a way to replace blades without the need of tools. We call this progress and moving forward to simplify something that has to be done often. Going back to the angle grinder mount we have today, changing wheels still requires the use of a tool, namely a spanner wrench to install and a remove by tightening and untightening a locknut to replace wheels. You also need to press a locking button on top of the angle grinder to lock the wheel as it's being replaced. The X-Lock mount does away with all of this and doesn't require a spanner wrench for a completely tool-less wheel change but they also simplify the entire process. You also don't need to tighten a locknut, you don't have to press the lock button atop the grinder, actually you don't have to tighten anything at all. They oversimplified the entire wheel changing process to the point that all you have to do to install a new wheel is to snap it into place, literally. And to remove the wheel, you pull on the lever on top of the grinder head and the wheel pops off. It doesn't get any easier than this folks.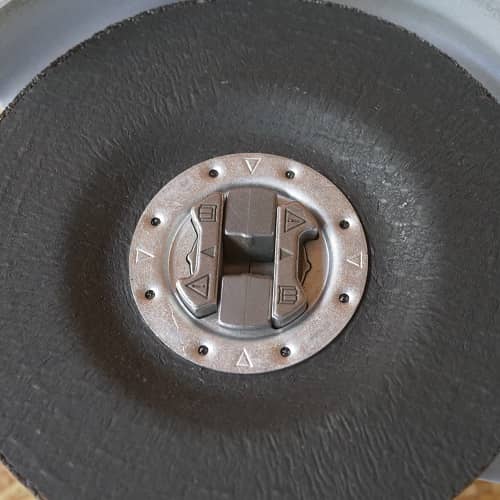 Bosch actually created the X-Lock mount and what's interesting is that the design they used is very similar to the Starlock mount found on oscillating multitools, which was also co-developed by Bosch along with Fein. In it's simplest form, the X-Lock mount is the same as the Starlock mount in the way that both have "teeth" in the center of the mount that are closed when no accessory has been mounted and these teeth open up and grip the accessory opening to lock into place. Both mounts also offer a lever to remove the installed accessory. The main difference is the opening of the mount as X-Lock and Starlock mounts have different shapes.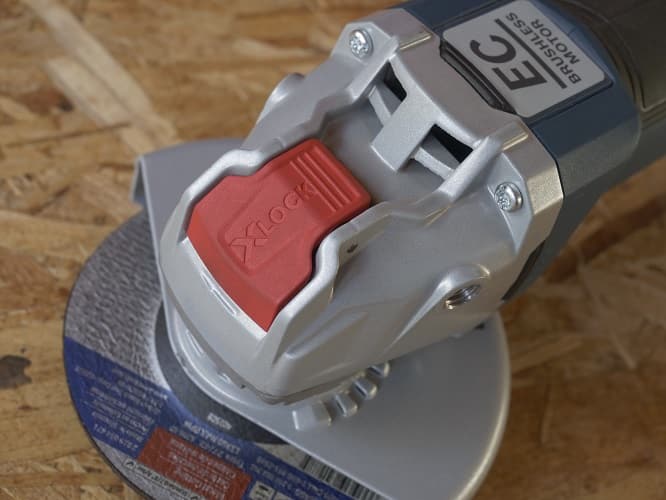 Those that swap angle grinder wheels often are the ones that will benefit the most from the new mount as wheel changes are as easy as snap on and snap off. I've even heard of users using two separate grinders on a project simply so they wouldn't have to swap out wheels and with the X-Lock mount you wouldn't need to as wheel changes are so darn fast and easy – unless you fancy using two grinders on a project.
I know there are some or many out there that don't need to use a spanner wrench to remove grinder wheels and they might think the new X-Lock mount is pointless or has little benefit since many can swap out grinder wheels without the use of any tools. That's because they either have tool-less locknut's like Milwaukee's Fixtec Locknut for example which doesn't require a spanner wrench to remove wheels. Then there are those that change wheels simply by holding onto the wheel and tightening and untightening by hand. Many people do this and it's an easy tool-free way of removing wheels so for people like this the new X-Lock mount might seem pointless. However even with this hand tightening method, it still takes some time and effort to swap wheels which the X-Lock mount minimizes with it's snap on and snap off efficiency. Then we have to remember there are a couple of downsides of hand tightening such as you can't fully tighten a wheel by hand as it will eventually keep turning until you use a spanner wrench to fully tighten – something you don't have to worry about on the X-Lock as the X-Lock mount doesn't require tightening. The other issue of hand tightening is actually a safety hazard, for example let's say you're installing a cut off wheel and some of these wheels are almost paper thin, when they are being manually hand tightened, there's not much to hold onto and it's so easy to bend these as you turn them and bending them runs the risk of fracturing them. A fractured wheel is a huge safety hazard as it can break when in use and fly off and shards can fly anywhere including your face or body and cause serious harm. You don't run that risk with the X-Lock mount because wheels are inserted and locked into place rather than tightened. Another safety benefit of the X-Lock mount is that you don't need remove wheels by hand. For example, while regular grinding and cut off wheels cool off quickly after use and can be handled with bare hands and not get burned, a diamond wheel for cutting masonry (tile, stone, etc) can remain hot and burn your hand if you are removing them without a glove. Because the X-Lock mount ejects wheels, you won't have to worry about handling hot wheels.
So not only is the X-Lock mount faster, easier and tool-less compared to the traditional angle grinder mount, it also offers always fully tight wheel connections and no safety risks of fracturing paper thin cut off wheels as compared to manual hand tightening and also handling hot wheels such as diamond wheels since they are eject with an X-Lock mount grinder.
Another benefit of the X-Lock system is that X-Lock wheels are backwards compatible with regular angle grinders. This means that even if you don't have an X-Lock grinder right now, you can go out and purchase X-Lock mount wheels and use them on your current grinder(s). This way you can build up your X-Lock collection so you'll be ready for when you do buy a new grinder with the X-Lock mount.
X-Lock Perfect?
So is the new X-Lock mount perfect? Like most things, it is not perfect. While the X-Lock wheels are backwards compatible, the X-Lock mount itself is not backwards compatible meaning your regular angle grinder wheels won't work. That's because of the special shape of the X-Lock mount is larger than the opening of regular grinder wheel arbor holes. This means you will have to buy a new set of X-Lock wheels to replace each wheel you have over to the new mount which means more money to start.
I also noticed that the special mount shape for the X-Lock is one sided, meaning that only one side of each wheel will fit. Most wheels have the label side facing up which makes finding the correct side to install on very easy however some wheels have the label side facing down which can confuse you into figuring out which side to install on.
X-Lock Availability
At the time of writing in the USA there are only 5 X-Lock angle grinders you can purchase and all are from Bosch. They offer one cordless 18V and 4 corded models ranging from $99 all the way to $199. Currently, Bosch is the only brand in the USA that offers X-Lock grinders, however Makita also offers an X-Lock mount angle grinder but it's not available here in the states at the time of writing.
As far as X-Lock wheels and accessories are concerned, Bosch offers a huge assortment of X-Lock wheels and the good news is that they are priced about the same as non-X-Lock grinder wheels so you won't have to spend more to get X-Lock. Diablo also offers X-Lock wheels although not a wide variety like that of Bosch and also Makita makes X-Lock mount wheels as well with what seems like a wide assortment, however Makita's X-Lock wheels aren't sold in the USA at the time of writing. At the time of writing, unfortunately you can't walk into a brick and mortar store to purchase anything X-Lock related, either grinder or accessories as you still have to order them online but Amazon and Acme Tools have a nice selection of X-Lock grinders and wheels.


Free 2 day shipping – Try Amazon Prime 30-Day Free Trial


Bosch GWX18V-50PCN cordless 18V brushless 4-1/2 – 5″ angle grinder Review
Since I was provided a Bosch X-Lock grinder to test out the mount, I might as well provide a review for it as well. The model I was provided for review is the Bosch GWX18V-50PC cordless 18V Brushless 4-1/2 – 5″ angle grinder. Besides having the brand spanking new X-Lock mount that offers super fast and easy wheel changes that snap in and snap off, this grinder offers a nice assortment of features for a cordless model. Features include a powerful brushless motor for more power and runtime than brushed motor grinders, a slim profile handle that's easy to grip and wont tire you out as much with long uses. It comes with a single grinding wheel guard and it's tool-less to rotate which is nice. Something strange and interesting was the lever to rotate the wheel guard is on the body and not the guard. Nothing bad just different. This grinder is also a braking grinder meaning that it's equipped with an electric brake that stops the wheel in a second or two after the trigger is released. This specific model uses a paddle trigger with safety latch.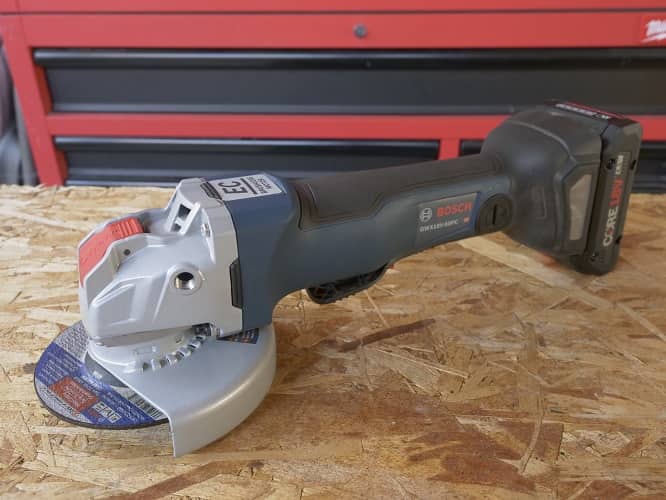 This new Bosch 18V grinder is also a bluetooth connectivity READY model, which means that out of the box doesn't have any slick bluetooth functions or connectivity but has a slot on the side of the tool, which makes it look like a brushed motor grinder, but is actually a slot to install the bluetooth module if you want to add bluetooth. This means that you have to fork out more cash if you want bluetooth. Other brands that offer bluetooth have it built in so I find this strange as to why Bosch makes their "bluetooth" tools "ready" instead of offering it outright as built into the tool. But in the Bosch world this is normal for them as they rather have you buy Bluetooth as a separate purchase.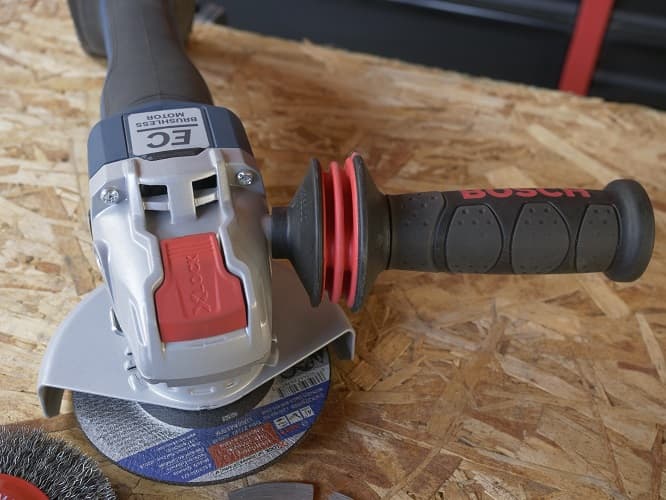 It only comes as a baretool at the time of writing and includes only the grinder, grinding wheel guard, vibration reduction side handle and cardboard box and paperwork and is priced at $199 which is pricey for a baretool cordless grinder. For example, Makita offers several 18V cordless angle grinders and they have a brushless model as low as $119 baretool which is almost half the price of the Bosch. This Bosch does have the spiffy new X-Lock mount but still priced much higher. Though this Bosch grinder offers additional features like an electric brake and tool-less to rotate wheel guard.
Performance
As far as performance is concerned, I've tried out Milwaukee's and Makita's cordless brushless models in the past and those were very good performers with lots of power under pressure and don't bog down easily. The reason I mention those is because I have something to compare this new Bosch model to and after testing it out, I can say that it's just as strong as the Makita and Milwaukee competition. Under side by side tests with the same cut using the same wheel and material, the Bosch performed just as well as it's competition meaning strong power to be able to push hard during cuts and grinding without having to worry about the tool bogging down. Just like other brushless cordless grinders, it too offers corded like performance similar to a low power 4-1/2″ corded grinder. I was able to cut small pipe and even a metal stake which was a thick piece of metal and the Bosch GWX18V-50PC handled it like a champ. I also noticed that while it has the same kind of cutting performance power and speed of cut as the Milwaukee M18 Fuel model I tested side by side, I found the Bosch to cut noticeably smoother which made it a more refined tool to work with. Otherwise had the same kind of power as similar brands.
Overall the Bosch GWX18V-50PC cordless 18V brushless grinder is a solid 4-1/2-5″ cordless angle grinder with solid performance and features and not to mention that spiffy new X-Lock mount with crazy fast and easy wheel changes although priced a bit higher than it's competition in the 4-1/2-5″ cordless brushless angle grinder segment.
X-LOCK wheel change – features snap-on mounting and grinder lever wheel release for change-out that's up to five times faster

Tool-free disc swap – the wheel mounts properly without the need for a spanner wrench or flange nuts for no losable parts

Powerful cordless, connected-ready grinder – engineered with next-gen user control and advanced electronics

EC Brushless motor – provides greater efficiency that maximizes runtime and productivity

X-Brake – helps provide a rapid stop of the wheel when the switch is turned off

Drop control – helps shut the grinder off after accidentally dropping the tool on the floor

KickBack Control – helps shut off the tool if the wheel gets into a bind situation

Restart protection – helps prevent accidental tool startup if the supply of power is interrupted


Free 2 day shipping – Try Amazon Prime 30-Day Free Trial



DISCLOSURE:
Tool Craze does not sell this product or any product on the Tool Craze website. Tool Craze does not handle the sale of any item in any way. If you purchase something through a post on the Tool Craze site, Tool Craze may get a small share of the sale. Please refer to the About section for more info.