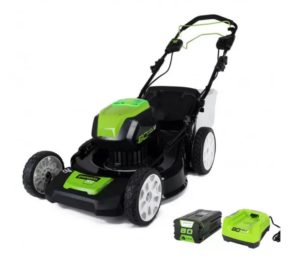 Greenworks adds a new battery powered mower to their cordless 80V line with a new brushelss self propelled model MO80L510. As with all battery powered outdoor power equipment, they feature easy push button starting, they start everytime, less noise than gasoline engines, less maintenance, and no gas fumes.
It looks like they took their current 21 inch brushless 80V model and added the new self propelled feature as the new model looks identical to the current one.
What's great about the self propelled feature is that a mower with this feature pushes itself meaning all you have to do is guide the mower and there's less strain and effort involved from the user as you no longer have to push the full weight of the mower.
Using the self propelled feature sips more battery juice because the battery has to power both the blade and also the wheels to move the mower. To help out with runtime, Greenworks adds a larger 5ah battery if you buy the mower as a kit and the larger 5ah battery is said to give the mower up to 70 minutes of runtime.
I haven't tried this model but from what I can see I like it's design as it looks more like a traditional gasoline mower and even has a steel deck. I currently use the Ego 56V 21″ self propelled mower and even though it resembles a mower, it looks like it could also be a transformers robot.
One thing the Greenworks mower is missing that my Ego mower has are LED headlights meaning you won't be able to mow when there's no light out with the Greenworks. I usually mow my lawn during the day because I want to relax later at night but it's totally possible to mow at night if your cordless mower has headlights especially considering how quiet battery powered mowers are.
The Greenworks mower has nice big oversized wheels and includes a bag for grass clippings so you don't have to rake them up after. It's a 3 in 1 mower meaning you can also mulch and side discharge if you choose to.
The Greenworks mower appears to be out now and has an MSRP of $649 which makes it very competitive compared to other lower voltage self propelled mowers.

Up to 70 minutes of run time with fully charged 5.0AH Battery, battery and charger included

Brushless motors are more reliable and delivers gas equivalent performance to a 160cc gas engine

Smart Cut(TM) Load sensing technology

3-in-1 Mulch, rear bag, and side discharge

3-in-1
7 Position

80V 5AH li-ion battery and rapid charger included, compatible battery and charger models GBA80200, GBA80400 and GCH8040