In this article we will be reviewing two new ISOtunes bluetooth noise isolating earbud models, the ISOtunes Pro 2.0 model and the Free model. As a full disclosure, ISOtunes was kind enough to send me a product sample of the ISOtunes Free and Pro 2.0 models at no cost to me and as always I will provide my honest unbiased feedback. I am not paid or swayed in any way to give a positive review.
ISOtunes has made a name for themselves by offering earbud headphones that double as hearing protection for the job by offering very good noise isolation (not to be confused with noise cancelling). They've come out with several models and updates that have improved their offerings over the years.
Noise isolation/reduction on these two models is so good, they are rated for noise reduction of 27 decibels for the Pro 2.0 model and 22 decibels of noise reduction for the ISOtunes Free model. As mentioned above, these don't offer any advanced circuitry for noise cancelling but they do offer effective noise REDUCTION by the use of a practical solution of using memory foam eartips that help block out noise and actually improve sound quality a bit when compared to silicone tips.
Both the Free and Pro 2.0 models offer a bluetooth connection for wireless audio streaming while the Pro 2.0 has the traditional ISOtunes earbud design of a wire connecting both earbud pieces and essentially looks identical to the original Pro version. What's completely new for ISOtunes for the Free version is that this is a set of TWS or true wireless earbud headphones with absolutely no wires connecting each earbud, similar to Apple's Airpods.
Now with the basics of the two new models out of the way, lets get started with the review – starting out with the ISOtunes Free model.
ISOtunes Free True Wireless Earbuds Review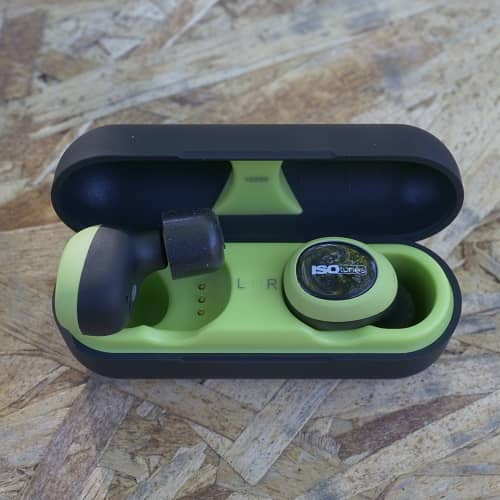 I've reviewed and tested several ISOtune models in the past and all have something in common, while many are bluetooth wireless, they have a wire connecting both earbuds. I've never been a fan of these types of bluetooth headphones as the whole point (at least in my opinion) of wireless bluetooth headphones was to be wireless and with that in mind I've always preferred the traditional headphone design with a hard band that connects both speakers and wraps over the top of your head. And with true wireless earbuds being all the rage lately, I was stoked when I learned that ISOtunes created a truly wireless set of earbuds with the Free model. The ISOtunes Free model are two small earbuds that are completely wireless and each has it's own bluetooth connection so they pair up with each other and together they pair with your electronic device. Both earbuds have their own built in battery and charge independently. Included with the set is a small pill shaped case that also doubles as the charger for each earbud. Battery runtime for each earbud is rated at 7+ hours plus you get an additional 14 hours of runtime from the charging case. Tested runtime with 70% to max volume came out to 5 hours and 41 minutes for the right earbud and 7 hours exactly for the left earbud which is better than most truly wireless earbuds on the market that average 4 hours but still not quite the rated 7+ hours. My guess for the difference in runtime between the right and left buds was because the right earbud is the main earbud and has to connect to the electronic device and also to the left bud. So basically it's running two wireless connections at the same time while the left bud only has to connect to the right bud thus using less battery juice in the process.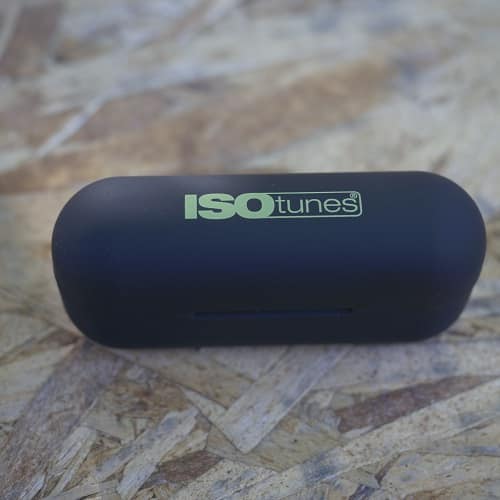 I liked that they earbuds magnetically connect to the case and snap in place and they also auto-pair with your phone when removed from the case and auto turn off when stored inside the case. One thing missing from the charging case is the ability to use the case as a power bank. It can only charge the two wireless earbuds but it does not act as a power bank to charge your cell phone on the go. That would have been an excellent feature to include. Hopefully ISOtunes can make a power bank charging case on the next model update.
The sound reduction on these is rated at 22 decibels and I tested them out while doing some yard work running a cordless string trimmer and mower. While not playing any music, the earbuds did a decent job at noise reduction. I could still hear the mower and string trimmer running and other environmental noises in the background but they were reduced. The sound reduction wasn't as good as a regular pair of earmuff hearing protection but much better than nothing at all. I also tried playing music at medium high volume and you could still hear the equipment I was running but not very noticeable.
Since these are headphones we all want to know how well they sound. In the past, ISOtunes has never impressed me with their sound quality with the original models sounding decent at best but with distortion at times and the next set of models offering improved audio quality and getting rid of the distortion but as good as they sounded, they didn't wow me. It appears ISOtunes listened to my reviews in the past and have improved the sound quality once again. At first, I didn't care for the audio quality of these headphones. There wasn't any distortion at high volumes but details were lacking at times and the drivers weren't able to successfully reproduce vocals and instruments. The average person would probably have thought they were fine but I'm accustomed to audiophile headphones but as I kept testing these for runtime, I noticed that after a few hours, the issues I found with these headphones weren't there anymore. So I suspect there is a break in period after they "warmed up" since they now sound nearly as good as my Harmon Kardon over ear bluetooth headphones and  Cambridge Audio Melomania 1's. Paint me impressed for a product coming from ISOtunes! These headphones have a nice sound stage with good bass and clarity and don't sound like they are muffled as some of their other models have been in the past, and no distortion but then again, they addressed that in the previous generation. If there's any complaint in the audio quality department, it's that they could use more bass but as is the bass is good enough.
These headphones have built in mic's and can also be used for calls. I tried them out and the person on the other line said they sound fine. They did say there was some cutting out at first but I can't tell if that was due to the cell connection or the headphones but the caller said it was very brief and was fine after that.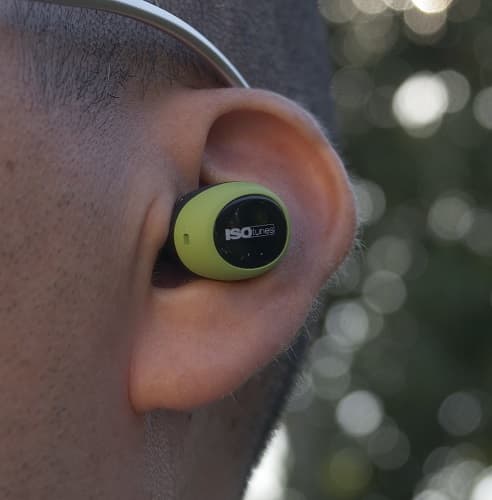 Like most truly wireless earbuds, these ISOtunes Free models can be used together or independently meaning you can use one at a time if you wish. You can even use either the right or left bud when used one at a time and both have built in mic's to make calls. Using one at a time has the benefit of having the other ear open to hearing the environment and others speaking to you while you listen to some tunes. Another benefit is that you can extend runtime by using one until it's exhausted and then use the other while the first is charging instead of waiting for both to recharge. And the included case means you have extra hours of runtime on the go.
The charging case can be plugged into it's included USB C cable to make sure the case is charged. I really like that ISOtunes made the case charge port connection via USB C which is the latest USB connection which means that I don't have to juggle with separate charge cables, plus the USB connection is better anyway. A charge cable is included though you'll still need to provide your own outlet plug. One thing I didn't like was that the charging case doesn't have a fuel gauge to show the remaining battery charge like my Cambridge Audio Melomania's whos case has a 5 light fuel gauge to let me know how much battery power the case has so I know when to recharge. Luckily the earbuds do show how much charge they have left with a little display Icon on my Android phone, a carry over feature of ISOtunes headphones from past.
These earbuds have a built in button to raise and lower volume, answer and end calls and to skip tracts though these functions are divided between the two earbuds. Comfort-wise, they are pretty comfortable for short period of uses as long as you use the correct size tips. They include several size foam tips and two sizes for the silicone tips.
According to ISOtunes, these are dust, sweat and water resistant. I wasn't able to test these claims so you'll have to take their word for it. I don't think sweat should be much of a problem for these because in my experience, the only part touching my ear was the foam tips as the rest of the earbud is just suspended away from your ear.
These are available now and are priced at $109.99.
Overall, I think ISOtunes did a great job with their first truly wireless earbuds with the Free model. Although I didn't get more than 7 hours of runtime per bud (rated at 7+) but at 5+ hours tested, they have higher than average runtime for truly wireless earbuds. ISOtunes are known for their sound reduction and while they do their job at reducing outside noise, they aren't as good as a normal hearing protection earmuffs. I did like that the included case charges the earbuds for even longer runtime on the go though would have liked if they case had a fuel gauge for the case and if the case doubled as a power bank to charge my phone on the go.


Free 2 day shipping – Try Amazon Prime 30-Day Free Trial
ISOtunes Pro 2.0 Review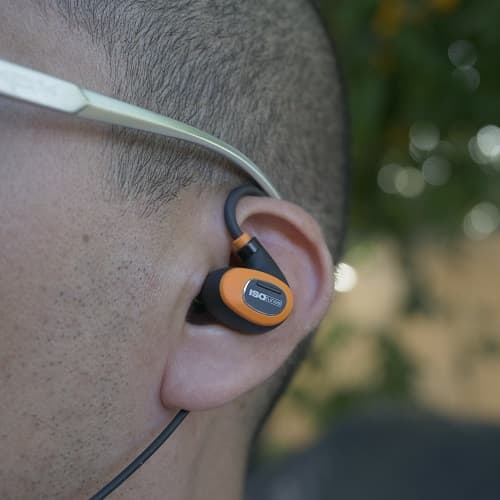 These models are based on the original Pro model and therefore looks identical. These offer a wireless bluetooth connection to your device although they have a wire connecting both earbuds. You'll find a small controller that's used to turn these on, skip tracts, adjust volume, answer/end calls and mute and unmute. They also offer sweat, dust and water resistance and the earbuds have an over ear loop for better retention just as the originals. The upgrades to this model on the 2.0 version are a larger battery life now at a rated 16+ hours and improved audio quality. I also noticed the earbud foam tips are improved as well as the inner tube is far recessed and doesn't scratch my ears as the tips go in.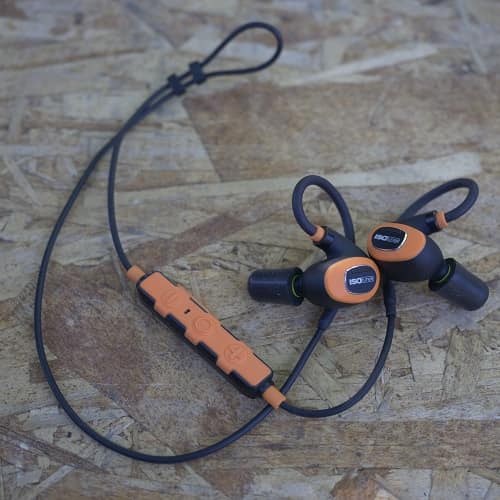 Noise reduction is rated at 27 decibels and I tested these out while doing yard work with a battery powered mower and string trimmer. With no music playing, these offered better noise reduction than the Free models although still not as good as a regular pair of hearing protection earmuffs but a lot closer. With mid to high volume music, they were able to successfully drown out the noise from the string trimmer and mower making it seem as if they muted the outside world. So noise reduction was good and almost as good as a pair of hearing protection but with the added bonus that these can play music via bluetooth!
When it comes to testing out the audio quality, my experience was exactly the same as with the ISOtunes Free models. Initially the audio quality wasn't impressing me and had some issues but after a break in period, the audio quality was just as good as the Free models. Audio quality on the Pro 2.0's is nearly as good as my Harmon Kardon over ear bluetooth headphones and  Cambridge Audio Melomania 1's. Paint me impressed for a product coming from ISOtunes! These headphones have a nice sound stage with good bass and clarity and don't sound like they are muffled as some of their other models have been in the past, and no distortion but then again they addressed that in the previous generation. If there's any complaint in the audio quality department, it's that they could use more bass but as is the bass is good enough.
As mentioned in the outset, comfort was improved and are comfortable for short periods although I'm not a fan of the over ear loop design as it makes it harder to place in ear since there's already a juggling act when placing memory foam tips in your ear and the ear loop only adds to the hassle. But once installed are fine and not a bother.
These headphones also have built in mic's for making calls and according to the person on the other line, they sound just fine and said these sound little bit better than the Free models.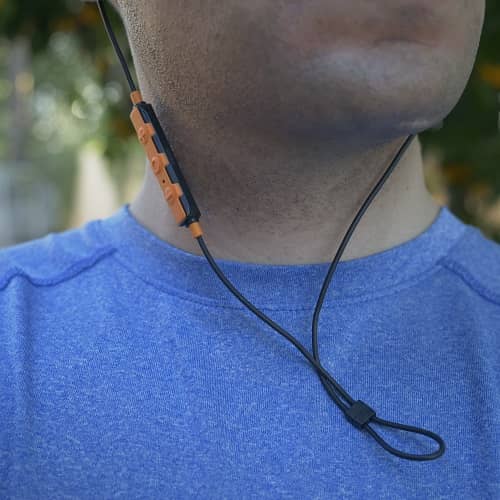 The wire that holds both earbuds together is a little bit longer than I'd like it to be however at least ISOtunes included a clip that makes the length less noticeable. I'd still prefer if the wire was shorter and maybe had a behind the head/neck design.
These are rated at 16+ hours of runtime and I went ahead and did my usual runtime testing of 70% to max volume. I achieved a total of almost 20 hours with 19 hours and 57 minutes which was better than their rated 16+. So runtime is exceptional and you can go at least 2 work days if not more.
These ISOtunes Pro 2.0 earbuds don't come with a slick charging case like the Free models do but they do come with nice pleather zip case that holds the earbuds and has extra room for the additional tips and charge cable. Since we're on the subject of charge cable, they're still using the old micro USB connection. It's a bummer they didn't go with USB C but at least the cable is included though you'll still need to provide your own outlet plug.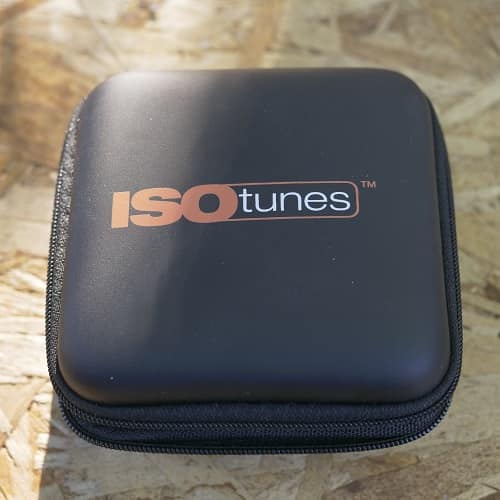 These are available now and are priced at $89.99.
So overall, they are the same than the original ISOtunes Pro with very good noise reduction but better comfort, much better runtime and way better audio quality, these sound great! Still I would rather use truly wireless earbuds or traditional headphones with over the ear cans and band as I'm not a fan of the long cord holding both earbuds together.


Free 2 day shipping – Try Amazon Prime 30-Day Free Trial

DISCLOSURE:
Tool Craze does not sell this product or any product on the Tool Craze website. Tool Craze does not handle the sale of any item in any way. If you purchase something through a post on the Tool Craze site, Tool Craze may get a small share of the sale. Please refer to the About section for more info.