Just announced is a new Klein Tools rechargeable pro thermal imager TI290. This is their latest standalone thermal imager. Let's check it out below.
Disclosure: This is tool news. Tool Craze cannot guarantee the accuracy of the information of any tool listed in this article. Manufacturer marketing claims may not always meet expectations. Tool Craze is not responsible if products do not live up to claimed expectations. Please do your full research before buying any products. Tool Craze is an Amazon Associate. Also an affiliate with the Home Depot, Acme Tools, Ohio Power Tool, Tool Nut. As well as an affiliate with Lowe's, Ebay, and Walmart and places affiliate links to these retailers. If you purchase through a link on this site, we may get a share of the sale.
Klein Tools Rechargeable Pro Thermal Imager TI290 – Features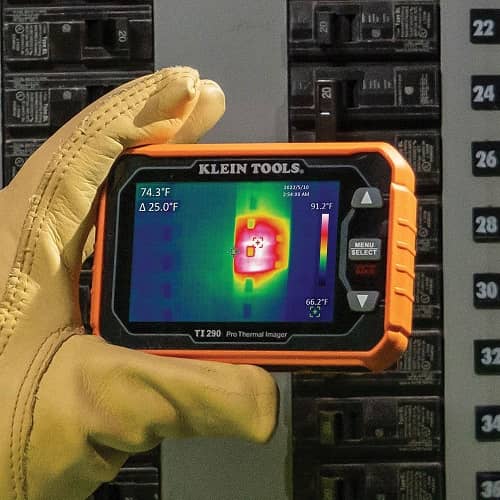 This is Klein's second all in one thermal imager with the first being the TI250. It has the shape of a smartphone, a thick one at that with screen that takes up most of the real estate in front. This model is larger than the previous TI250 model with bigger screen as well. What's great about this shape is that it's not the traditional gun shape like most thermal imagers. It's smartphone-like shape means it is easily pocketable.
It also has an upgraded thermal sensor compared to the previous model. While the previous model was rated at 10K pixels, this new model is around 49,000 pixels. That's nearly 5 times more detail.
Temperature reading range is rated at -4° to 752°F (-20° to 400°C). This model can take and save images with built in memory that can hold up to 10,000 images. It also has the ability to share images via Wifi.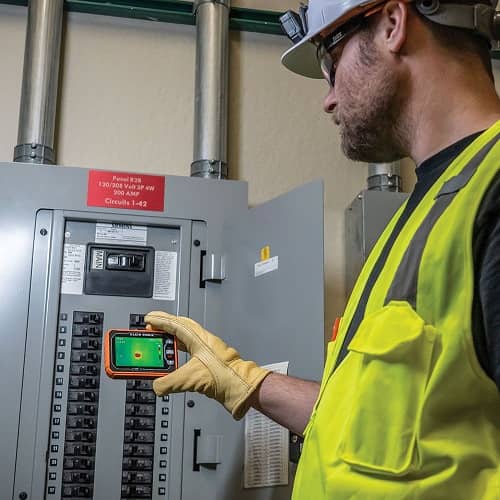 This Klein thermal imager only has one imaging sensor. Klein's thermal imager works like your standard thermal imager in the sense that you only get a thermal image. Flir has what they call MSX image enhancement technology that overlays the thermal image and a regular image to give the thermal image a bit more detail. Klein's model doesn't do that and just shows a regular thermal image.
Klein Tools Rechargeable Pro Thermal Imager TI290 – Availability & Price
It's available now for $499.99.
Over 49,000 pixels to troubleshoot hot and cold spots
Easily capture, store and share thermal images with Wi-Fi capabilities
User selectable high and low temperature alarms from -4 to 752-Degree Fahrenheit (-20 to 400-Degree Celsius)
Adjustable emissivity from 00.1 to 0.99
Select color palettes to best capture the event; ironbow, rainbow or grayscale
Rechargeable lithium-ion battery
App is available for free in Google Play™ store and in the App Store
Durable 6.6-Foot (2m) drop test protection
Includes thermal imager, USB-C charging cable, molded soft-storage case with carabiner and instructions


DISCLOSURE:
Tool Craze does not sell this product or any product on the Tool Craze website. We do not handle the sale of any item in any way. Please refer to the About section for more info.
You may also like:
High Res Milwaukee M12 7.8KP Thermal Imager with Dual Sense Pixels