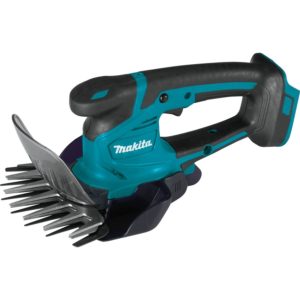 Makita has been working non stop pushing new tools for their newer 12V CXT cordless line and now we see more fruits of their labor with a new Makita 12V Cxt MU04Z Grass Shear.
The Makita 12V Cxt MU04Z Grass Shear looks like a slightly smaller version of their 18V grass shear XMU04Z or could actually be the same size but with the ability to take the smaller 12V batteries. The grass shears is an interesting tool because I view it more as a gimmicky style tool intended for beginner DIY'ers and looks like a better fit on a more budget brand like Ryobi or Black + Decker. Sure the Makita 12V Cxt MU04Z Grass Shear or the bigger brother 18V grass shear XMU04Z model can cut and clip grass but why would you use this over a more traditional lawn mower or string trimmer beats me!? What do you guys think? Would you want to use this tool while kneeling, bending, or laying down to reach the grass? Would you find a good use for this over your mower or string trimmer or in addition to? I know a way that might extend this tool's usefulness would be if they could add a small hedge trimmer blade attachment to this unit and make it a small highly portable one handed hedge trimmer. It is possible as Ryobi has a model like this that can do both, click here to check it out.
The good news is that this is probably one of the first if not is outdoor power tools for their 12V CXT system. It could mean that more 12V outdoor power tools may be on the system in the near future. I'm still hoping they come out with their 12V chainsaw that they made several generations ago.
Anyways if this type of tool peaks your interest, be glad to know it's out now and is available as a baretool for around $78-85.


Free 2 day shipping – Try Amazon Prime 30-Day Free Trial

DISCLOSURE:
Tool Craze does not sell this product or any product on the Tool Craze website. Tool Craze does not handle the sale of any item in any way. If you purchase something through a post on the Tool Craze site, Tool Craze may get a small share of the sale. Please refer to the About section for more info.
Big thanks to Cody Robertson for spotting this!