September 17, 2021
Comments Off

on Makita 18V Sub Compact Starlock Max Brushless MultiTool XMT04ZB
Great news as Makita has just announced a new cordless oscillating multitool featuring the amazing Starlock mount and a brushless motor! It is the Makita 18V Sub Compact Starlock Max Brushless MultiTool XMT04ZB model.
Full disclosure: This is not a review, this is tool news. Tool Craze cannot guarantee the accuracy of the information/specifications/features of any tool listed in this article. Manufacturer marketing claims may not always meet expectations. Tool Craze is not responsible if products do not live up to claimed expectations. Please do your full research before buying any products. Tool Craze is an Amazon Associate, and also an affiliate with the Home Depot, Acme Tools, Ohio Power Tool, Tool Nut, Lowe's, Ebay, and Walmart and places paid links to these retailers. If you purchase something through a link on the Tool Craze site, Tool Craze may get a small share of the sale.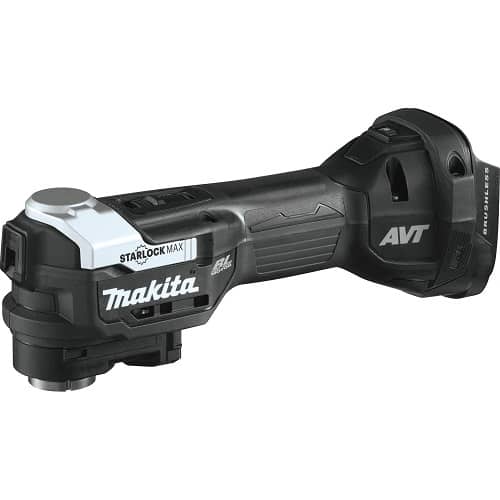 Unlike most Makita tools, this cordless multitool is black which if you're in the USA, it can only mean one thing. It's a sub compact cordless power tool. However don't let compact size fool you, this bad boy sports the Starlock Max mount.
It's also a full featured cordless oscillating multitool, as it's sporting the Starlock Max mount which means it has all the benefits of the Starlock mount such as lightning quick and easy tool-free blade changes. Blades literally snap in place and pop off. It also has a brushless motor which should hopefully lead to strong performance and efficient battery usage. It also has an onboard LED light at the front. So far it's a huge upgrade from Makita's previous 18V cordless multitool which had no LED light, had a latch and pin system, and brushed motor.
Makita also says they've included AVT which stands for anti-vibration technology which should lower felt vibrations thanks to an internal counterbalance system engineered to reduce vibration.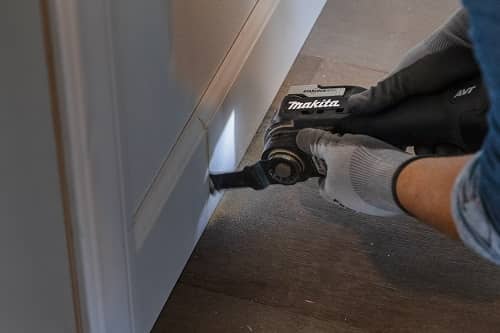 I like that Makita stayed with the tried and true slide lock switch up top and variable speed dial which is accessible at the top rear of the tool above the battery holder. What makes it a sub compact tool is the hyper thin grip in near the center of the tool. Tech specs include 10,000-20,000 OPM, an oscillating angle of 3.6 degrees, 12″ length and about 4.4 lbs weight with battery although which battery was not specified.
It's currently up for pre-order at the time of writing at $229 baretool only.

Makita-built brushless motor with variable speed control dial (10,000-20,000 OPM) enables user to match the speed to the application
Anti-Vibration Technology (AVT) for up to 85% reduced vibration*
Compatible with StarlockMax, StarlockPlus, and Starlock accessories
3.6° oscillation angle engineered for faster, more aggressive cutting and sanding
Large on/off slide switch with lock-on button for operator convenience
Small diameter barrel grip for improved handling and added operator comfort
Weighs only 3.7 lbs. with battery (battery not included) for reduced operator fatigue
Built-in L.E.D. light illuminates the work area
Soft start feature for smooth start-ups
Compact and ergonomic design at only 12″ long
Ideal for wood flooring, tile, plaster, sheetrock, wood, PVC and a variety of other applications
Extreme Protection Technology (XPT) is engineered for improved dust and water resistance for operation in harsh conditions
Equipped with Star Protection Computer Controls to protect against overloading, over-discharging and over-heating
Efficient Makita-built brushless motor is electronically controlled to optimize battery energy use for up to 50% longer run time per charge
The Makita-built brushless motor eliminates carbon brushes, enabling the motor to run cooler and more efficiently for longer life


DISCLOSURE:
Tool Craze does not sell this product or any product on the Tool Craze website. Tool Craze does not handle the sale of any item in any way. Tool Craze is a Tool Nut affiliate partner and an Amazon Associate and places paid links including those from other retailers Tool Craze is an affiliate partner with. If you purchase something through a link on the Tool Craze site, Tool Craze may get a small share of the sale. Please refer to the About section for more info.