November 4, 2016
Comments Off

on Makita CXT 12V RM02 Mini Radio
Makita is pushing hard to grow their new 12V CXT cordless line and is now adding a new mini radio. The Makita CXT 12V RM02 Mini Radio is tiny and can easily be handheld. It's roughly about the size of two CXT batteries laid side by side and looks as though it might be able to fit in a large shirt or pants pocket. Because it looks to be pocketable, it features a headphone jack so you can listen discretely via regular wired headphones.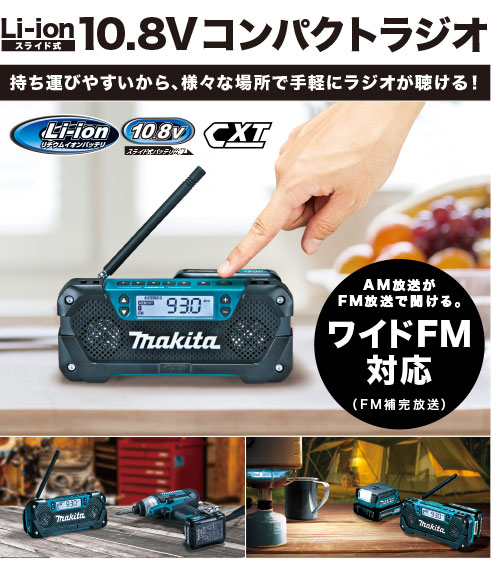 This new Makita CXT 12V RM02 Mini Radio is in addition to their CXT bluetooth speaker and is only a radio and doesn't have any wireless bluetooth capability. This is a good option for those that liked the idea of the Makita CXT bluetooth speaker but would prefer to listen to live radio rather than stream music from their mobile devices. Although the Makita CXT 12V RM02 Mini Radio doesn't have bluetooth, you can still hook up your mobile device via an old school 3.5mm auxiliary audio cable.
It features a nice large backlit LCD display, picks up both FM/AM frequencies, and appears to have 5 programmable presets which I would assume would be 10 total, five for AM and five for FM. The LCD display will also display remaining battery charge. On top of that, the mini radio comes with a small hook so you can hang it while your at work. Optional accessories include a shoulder strap so you can wear the radio and display it proudly as you walk.
Availability?
This new Makita CXT 12V RM02 Mini Radio is available now.

CXT 12V Max / 10.8V
backlight, easy to see clearly Liquid crystal display
AM · / FM reception frequency
preset number (AM / FM each five stations)
Volume (volume)
remaining battery capacity
stereo broadcasting (FM)
Retractable hook

Flexibility good rod antenna

Earphone jack
With external input terminal (AUX-IN)
Shoulder over the band can be installed (separate products)