Today Milwaukee announced a new cordless brushless multi-tool for their 12 volt lineup with the Milwaukee M12 Fuel Oscillating Multi-Tool 2526-21XC (kit) 2526-20 (baretool)!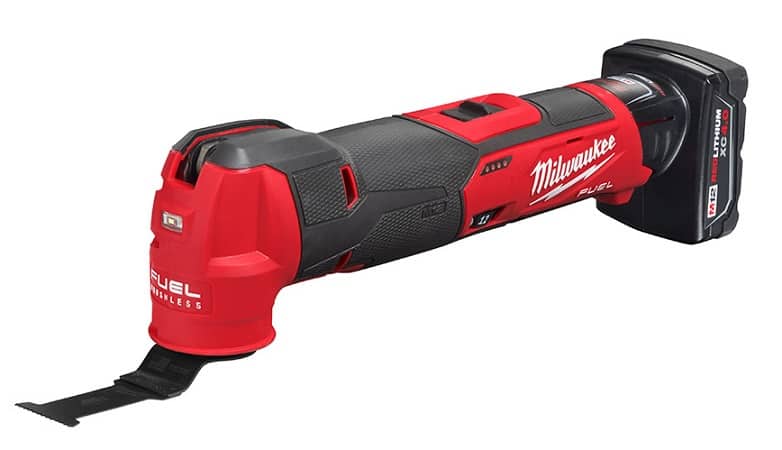 This is an update I've been waiting for Milwaukee to come up with as I love their original M12 multitool. It certainly wasn't the strongest multitool I had and it's ancient bolt and hex key solution made it cumbersome to swap blades, but the fact that it was cordless and that itself made it more convenient than my corded multitools. However after many years I always hoped for an update to that helpful little tool that could. Although the new Milwaukee M12 Fuel multitool does offer needed upgrades over the original, it does not replace it but sits alongside with the original for those that want better features.
So what are those upgrades over the original model? First of all, it's a Fuel model which means a brushless motor. Brushless motors offer better runtime than their brushed motor counterparts but in certain cases, they can also offer better performance and that's where Milwaukee delivers as they claim their new M12 Fuel multitool can "deliver the fastest cut speed on a 12V platform". So by offering stronger performance makes it a great upgrade over the original as that was something I always wanted, was better performance – that is not to say the original was not any good in this regard.
The new M12 Fuel model also offers a tool-free method to change blades with a latch and pin system. This is leaps and bounds better than the old bolt and hex key method although I'd be jumping for joy if this was mentioned back in 2015 but after the release of the Starlock oscillating multitool mount that was introduced in 2016, I wish Milwaukee had used the Starlock mount for their newest M12 multitool. Don't get me wrong, the tool-free latch and pin system is a lot better than the bolt and hex key system but latch and pin methods are becoming antiquated, that and the Starlock mount is getting lots of traction and not just with Fein and Bosch, but with other brands joining the system like Diablo, Shark Blades, Imperial Blades and now Makita with their own Starlock multitools and accessories. I thought that with Milwaukee acquiring Imperial Blades that certainly Milwaukee would also offer Starlock multitools but unfortunately that didn't happen with this M12 Fuel multitool. That's too bad since this is a missed opportunity. But on the bright side, most 12 volt multitools don't offer tool free blade changes so the fact that Milwaukee's M12 Fuel model does is a big plus compared to other 12 volt units.
What's interesting about their tool free blade mount is that they incorporated a magnetic blade interface which will hold blades in place as you swap them making it easier to install and remove blades.
Moving on to the rest of it's features, it features a 3.9 degree oscillating angle and a variable speed operation from 10,000 OPM all the way to a max 20,000 oscillations per minute with a variable speed dial. Milwaukee says "the tool is designed with vibration dampening technology that minimizes vibration throughout the entire tool, and not just in the handle." So it seems that the worked on improving the felt vibration which is always good when working with multitools. Runtime is said to be up to (54) 1" x 2" cuts in oak and (65) 1" x 2" cuts in pine in a single charge with a 4.0 ah battery pack. It also features an LED light to illuminate the cutting area in low light environments which is a nice feature to have when lighting is not ideal.
Expect the new Milwaukee M12 Multitool to launch in September 2020 for $149 as a baretool 2526-20 and $219 as a kit 2526-21XC with a single 4.0ah battery, charger, blade, sanding attachment with sandpaper, and tool bag.
Oscillation Angle: 3.9 Degrees
OPM Highest Setting: 20,000 OPM
OPM Lowest Setting: 10,000 OPM
Variable Speed Dial
Tool-Free Blade Change
Length: 11.2" (tool-only)
Weight: 3.2 lbs w/battery
3-year warranty
Kit Includes:M12 FUEL™ Oscillating Multi-Tool, M12™ REDLITHIUM™ XC4.0 Battery, M12™ Charger, (1) Universal Fit OPEN-LOK Oscillating Multi-Tool Wood Blade, (1) Multi-Tool Sanding Pad, (1) 60 Grit Sand Paper, (1) 80 Grit Sand Paper, (2) 120 Grit Sand Paper, (1) 240 Grit Sand Paper, and Lunchbox Carrying Bag.
*Bare tool also available (2526-20)



DISCLOSURE:
Tool Craze does not sell this product or any product on the Tool Craze website. Tool Craze does not handle the sale of any item in any way. If you purchase something through a link on the Tool Craze site, Tool Craze may get a small share of the sale. Please refer to the About section for more info.