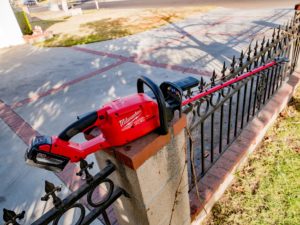 Milwaukee introduced all new cordless 18V outdoor power equipment late in 2016 with a new string trimmer, leaf blower, and hedge trimmer and they released all three in early 2017. This marked the first time Milwaukee created outdoor power equipment and it went straight to their cordless 18V M18 line. All three new power equipment also came bundled with their yet new M18 HD 9.0 ah batteries that were the highest known capacity at the time. I've had a chance to test out all three of the new Milwaukee outdoor power tools for almost a year now and this is the third review in a 3 part review where I test out all three outdoor power tools. In the first review I started off by reviewing the Milwaukee M18 Fuel String trimmer (click here to read the review). In the second review I tested out the Milwaukee M18 Fuel Blower (click here to read the review) and in this article I go over the M18 Fuel Hedge Trimmer review.
Ethic's Disclosure:
Milwaukee was kind enough to provide the M18 Fuel String Trimmer, Blower, and Hedge Trimmer at no cost for review. However as with all my reviews, I am not paid, sponsored, or obligated to give a positive review. This review is my opinion of the product based on my usage and knowledge and my review will reflect what I like and dislike about the said product. I will do my best to provide you with an unbiased review.
Features and Specs:
Before we get into the hands on review, lets first take a look at the Milwaukee M18 Fuel Hedge Trimmer's features and specifications list.
18V
Brushless Motor
Kit bundled with M18 REDLITHIUM HIGH DEMAND 9.0 battery
Blade length: 24 In.
Cut capacity: 3/4 In.
Strokes per minute: 3,400
Gear case: all-metal
45.75″ length
10.9 lbs weight
Pricing: $169 baretool ; $299 Kit with HD 9.0 battery and Rapid Charger
model #: 2728-21HD Kit ; 2728-20 baretool


Full disclosure: This a review. I am not paid to give a positive review. These are my opinions. Tool Craze cannot guarantee the accuracy of the information/specifications/features of any tool listed in this article. Manufacturer marketing claims may not always meet expectations. Tool Craze is not responsible if products do not live up to claimed expectations. Please do your full research before buying any products. Tool Craze is an Amazon Associate, and also an affiliate with the Home Depot, Acme Tools, Ohio Power Tool, Tool Nut, Lowe's, Ebay, and Walmart and places paid links to these retailers. If you purchase something through a link on the Tool Craze site, Tool Craze may get a small share of the sale.
Looking at the Milwaukee M18 Fuel Hedge Trimmer stats and features, it has a lot going for it. The big main features are a brushless motor coupled with a 24 inch blade length. Both features put it above and beyond what you can currently find on other 18V models which usually are around 22 inches and feature a brushed motor which is not as efficient as a brushless motor. All things being equal, you can always expect more runtime with a brushless motor and in some cases such as this power tool, a brushless motor increases performance as it gives it enough grunt to power a larger 24 inch blade. Looking at it's 18V/20V peers from Makita and Dewalt, their offerings offer a brushed motor hedge trimmer and a 22 inch blade capacity (XHU02M1 – Makita) (Dewalt DCHT820P1). So from a technical standpoint the Milwaukee M18 Fuel hedge trimmer pushes beyond it's 18V class in terms of features and has no peers at the moment. To find something similar to Milwaukee's model, you must look at higher voltage cordless hedge trimmers to find something comparable such as 36V-58V. In the higher voltage category is where you can find larger 24 inch hedge trimmers but most still feature brushed motor designs. A couple of models I found to feature a 24 inch blade along with a brushless motor were from Ego with their 56V brushless hedge trimmer HT2411 and Echo 58V brushless hedge trimmer CHT-58V2AH. This is interesting because that means that Milwaukee's hedge trimmer which is an 18V model is comparable directly to the 56V-58V competition in terms of features and specs.
When it comes to weight however the M18 Fuel hedge trimmer sits somewhere in the middle of the road, closer to the higher end actually at 10.9 lbs. It's lighter than it's higher voltage rivals as Echo's model weighs in at a slightly higher 11.5 lbs. I couldn't find a reliable weight source for Ego's 56V brushless model as HD list's it as 6.16 lbs which is way to low to be believable. Home Depot isn't always the most reliable source of stats so we'll have to disregard that number. I found Makita's X2 36V hedge trimmer which has a larger blade of 25.5 inches and that model weighs in at 13.3 lbs. Let's also compare the weight of the 18V models mentioned above with the Makita 18V hedge trimmer coming it at 7.4 lbs and Dewalt's 20V model coming in at 7.5 lbs both of which are a little over 3 lbs lighter than Milwaukee's 18V hedge trimmer. When you are holding a tool such as a hedge trimmer, often your arms are extended and rely on the strength and endurance of your upper arms and shoulders and extended use can tire you out quickly with such a tool so the lighter the tool the better. In this sense Milwaukee's hedge trimmer is slightly lighter than similar spec'd but higher voltage models but still over 3 lbs heavier than 18V/20V models but with a smaller 22 inch blade.
Pricing of the Milwaukee M18 Fuel hedge trimmer of $169 and $299 for the kit with battery and charger makes it more expensive than 18V/20V models which are $199 for the Dewalt 20V kit and $209 for the Makita 18V kit. Milwaukee's hedge trimmer even though higher priced than those 18V models still offers users much more as you get a larger capacity of 24 inches, a brushless motor, a battery that has about twice the runtime capacity of 9.0 ah (compare to Dewalt's 5.0 battery and Makita's 4.0 battery that come bundled with their kits) and you also get a rapid charger that charges batteries close to twice as fast compared to Milwaukee's stock charger (Makita includes a fast charger as well but Dewalt includes a stock slower charger in their kit). So as you can see that even though more expensive than 18V hedge trimmer kits, the value is about the same on the Milwaukee as you pay more but get more in terms of features.
However looking at the pricing of higher voltage blowers such as Ego's 56V and Echo's 58V models, they come in complete kit form with hedge trimmer, battery and charger for less than Milwaukee's M18 Fuel Hedge Trimmer. Ego's 56V brushless hedge trimmer comes in at $229 with a 2 ah battery and faster charger and Echo's 58V hedge trimmer is priced at $269 as a complete kit with 2 ah battery and even faster charger. Looking at price alone you would think that the Milwaukee is overpriced at $299 as a kit. My guess is that the price is higher due to the large 9ah battery however a battery as large as 9ah in 18V can actually be similar in terms of capacity to larger voltage batteries. How so, you ask? The answer is WH or watt hours. This is a universal way to compare battery sizes across different voltages. To get watt hours, you simply multiply the amp hour rating by the battery voltage. For example the Echo 2ah battery is 116 watt hours in capacity (2ah x 58V = 116 wh). Ego's 2ah 56v battery using the same math is a similar 112 wh. Compare that to Milwaukee's 9ah battery at 162 wh (9×18=162). When I compared Milwaukee's 162wh on previous reviews to similarly spec'd blower or string trimmer kits from Ego and Echo, the difference in battery capacity in watt hours was similar or lower, but when compared directly to the Ego's and Echo's smaller 2ah , Milwaukee's 9.0 ah 18v is actually larger in capacity this time around, at nearly 50% more watt hours. This means that the value proposition for the Milwaukee M18 Fuel hedge trimmer is actually similar to the higher voltage models when it comes to battery size as you pay a bit more but you get a bit more in terms of battery capacity in watt hours. This is the opposite when I compared Milwaukee's M18 Fuel string trimmer and blower which were a lower value in terms of features per price than higher voltage models from brands such as Ego and Echo.
Also charge speeds for each brands respective charger is much different when compared to Milwaukee's charge speed for their included 9ah battery. While Milwaukee's bundled rapid charger charges each battery much faster than their stock charger, it still takes a whopping 1 hour and 38 minutes to charge! Compare that to Ego's 40 minute charge time for their 2.0ah (112wh) battery with the stock charger that's included with their hedge trimmer or Echo's 2ah (116wh) battery which charges in 30 minutes! Some of you guys may be thinking, why stress out about the charge times when Milwaukee's charge time for their battery is still much faster than other brands that charge their batteries in 3-6 hours for example brands like Black and Decker, or Worx. The answer is, that's the kind of nitpicking you can expect in my reviews down to the smallest detail. That plus wouldn't you want to know what the competition is offering with their specs and features?
As far as other features are concerned, as most hedge trimmers there isn't much frills or bells and whistles like other tools. You simply get a trigger which isn't variable speed by the way, it's either on or off and runs the machine at full speed. It also comes with a righty or lefty thumb operated safety trigger that must be pressed in order to operate the tool. The grip on the main trigger handle offers lots of rubber overmold for nonslip grip. The large secondary handle is similar in design to Milwaukee's string trimmer although unlike the nice rubber on the string trimmer handle, the handle on the hedge trimmer is a hard plastic which is a slight downgrade in the comfort department. Milwaukee's hedge trimmer also features a metal piece on the tip of the hedge trimmer blades in the shape of two blades although not actual blades. I'm not sure what this piece is called but lets call it a nose piece for name's sake. I'll tell you why I like this little seemingly insignificant feature in the hands on performance section of the review. I do want to mention that most other hedge trimmers offer this feature but not the Dewalt 20V hedge trimmer which I also have. And just like the Milwaukee M18 Fuel string trimmer and blower, the hedge trimmer also has a key hole on the bottom near the battery holder to hang on a wall for storage.
Performance
Unlike my experience with cordless blowers and string trimmers in which I've tried several different models in those categories, the only other hedge trimmer I've tried out is Dewalt's 20V hedge trimmer so that is the only hedge trimmer I have to compare directly to Milwaukee's M18 Fuel model. In the performance department, Milwaukee's model does what it's supposed to do and cuts hedges and trims overgrown small tree branches with ease. I have lots of vines that grow on one of my walls that needs maintenance a few times each year and I like the slightly larger capacity that Milwaukee's 24 inch blade offers on their hedge trimmer. This means you get to cut a couple more inches of plant leaves or branches with each stroke. Small branches are no struggle for the Milwaukee hedge trimmer and larger branches take a second or two to cut if they max out the hedge trimmers capacity as the blades must make repeated passes that nibble on the branch until fully cut. In terms of performance compared to Dewalt's 20V hedge trimmer, I'd say Milwaukee's has the same cutting performance as Dewalt's as they both cut smaller branches with ease and take about the same amount of time to cut larger branches. The only difference being that Milwaukee has the added 2 extra inches as I mention above to cut more with each pass.
Cutting performance is only one part of the picture and handling is another part of the picture. Milwaukee's model is larger and longer than Dewalt's 20V model as you would expect since it has a larger capacity and this leads to more weight at 10.9 lbs. At 10.9 lbs were talking about the weight of something like a circular saw. Sure circular saws aren't heavy and are easy to use one handed but do you operate them regularly with your arms extended and even overhead often? Probably not but you do overextend your arms a lot and use the tool overhead with a hedge trimmer so those 10.9 lbs can get tiring fast. It's still lighter than 36V models and up but not by that much however compared to Dewalt's model, the Milwaukee hedge trimmer is a little over 3 lbs heavier which is something to consider for extended use and weight induced fatigue. In this sense I preferred the handling of Dewalt's 20V model which is considerably lighter and easier to hold for longer periods of time as it tires you out less. I let my friends use this Milwaukee hedge trimmer and they all thought it did the job great but a little on the heavy side. So keep this in mind when comparing this Milwaukee hedge trimmer to other 18V models whether you want the added capacity and weight or slightly less capacity but a lot lighter. However when you compare the M18 Fuel hedge trimmer to higher voltage models, it is lighter which probably makes it one of the lighter if not lightest of the 24 inch cordless hedge trimmer models.
From my experience with the Dewalt 20V hedge trimmer, one of the biggest gripes I had with that model is that the long metal piece that holds the blades extends a few inches beyond the blades in the front. This means that this "tip" snags on branches as you use the hedge trimmer. However on Milwaukee's hedge trimmer, they include a separate nose piece (remember this nose piece I mentioned above in the features section?) that covers the tip and makes it so that the tip of the blade that extends beyond the actual blades doesn't snag. This is a very smart feature to include in a hedge trimmer so that you can cut more effectively without any snagging. This makes cutting something like bushes and the vines that took over one of my walls much easier to cut which in a way improves performance. As I also mentioned above in the features section, as I was gathering my research and looking at other hedge trimmer models, I also noticed that this nose piece feature is not exclusive to the Milwaukee M18 hedge trimmer and various other models and different brands have some sort of nose piece that appears to do the same thing of preventing the tip from snagging. So comparing this feature to the Dewalt 20V hedge trimmer is a huge plus but about equal to most other hedge trimmers.
When I reviewed the Milwaukee M18 Fuel string trimmer and blower, I labeled those reviews as long term reviews but if you noticed I didn't label this review for the M18 hedge trimmer as a long term review. It's true that I've had the Milwaukee M18 Fuel hedge trimmer the same amount of time as the other two M18 Fuel outdoor power tools which is almost a full year however the other two products got regular weekly or bi-monthly use while the hedge trimmer got very little use simply because my yard maintenance circumstances do not require frequent use of a hedge trimmer. Because I only use it a few times, even though in the span of almost a full year I wouldn't call that a long term review since it received very little use. But if you must know it still looks, works and functions fine just like it did when it was new except for the blade being dirty from use.
Runtime
Because my personal yard maintenance needs require very little use of a hedge trimmer, I wasn't able to fully deplete the battery. Actually I wasn't able to get any where close to a fully depleted battery. However I can tell you that after trimming my trees and trimming the overgrown vines, I was able to get 19 minutes and 30 seconds of use with this hedge trimmer and it still had 3 out of 4 bars of battery left on the 9.0 ah battery! While that's not a full battery runtime test I still think that the runtime is very impressive. Compare that to the Dewalt 20V hedge trimmer runtime which I was able to fully deplete the battery on that model with a total of 47 minutes and 46 seconds of runtime. This means that Milwaukee's model got almost half the runtime of the Dewalt 20V hedge trimmer but the Milwaukee model still had 3 out of 4 bars left in the battery. Who knows how much time the Milwaukee would've ran for until the battery was depleted but by my guesstimate, I'd assume closer to an hour of runtime. You also have to keep in mind the Milwaukee has a more efficient brushless motor and using a larger capacity 9.0 ah battery yet has two additional inches of blade capacity.
Conclusion and Final Thoughts
Just like the other two Milwaukee M18 Fuel outdoor power tools, the M18 Fuel hedge trimmer also packs impressive stats and features that make it not only a standout 18V hedge trimmer but it can also hang with the higher voltage 56-58V big boys. No other 18V hedge trimmer has the same 24 inch capacity as Milwaukee's Hedge trimmer. In fact the M18 Fuel Hedge trimmers true peers can not be found in the 18V class but you need to search higher voltage 56V or 58V hedge trimmers to find a comparably equipped hedge trimmer to Milwaukee's M18 Fuel model. I've been using Dewalt's 20V hedge trimmer prior to this Milwaukee model so compared to that, the Milwaukee is much heavier at a little over 3 lbs compared to the Dewalt model making the Milwaukee more tiring to use for extended use however when you compare the Milwaukee hedge trimmer to similar 24″ hedge trimmer models, it's one of the lightest of the bunch. All three Milwaukee M18 Fuel outdoor power tools are priced near or at the $300 mark and while this puts their blower and string trimmer at a huge value disadvantage, that is not the case for the Milwaukee Hedge trimmer as similarly equipped hedge trimmers from the higher voltage brands are closer to Milwaukee's hedge trimmer price. Milwaukee's hedge trimmer price is still more expensive than Ego's or Echo's models but not by much and Milwaukee offers a battery that has more watt hours than the competition so the value is about the same, you pay more but you get more with the only exception being that Ego's and Echo's included batteries charge at a much faster rate than Milwuakee's bundled battery. I applaud Milwaukee's efforts with their M18 Fuel hedge trimmer model compared to the competition.
While all of Milwaukee's M18 Fuel models are great and top performers in their respective 18V category, as a whole there are only 3 outdoor power tools to choose from for your yard maintenance needs. While technically they have 4 models if you include the second gen M18 Fuel blower, there's not much variety in outdoor power tools to choose from. Even if you own all three, you still have to look at other brands offerings if you want a battery powered mower, chainsaw, pole saw, edger, snow blower, and just about any other yard power tool you can think of. That's where Milwaukee needs to work on is to add other M18 yard tools so that users can stick with the same battery to do all of their yard maintenance needs. Other brands such as Ryobi, Dewalt, Makita, Ego, Echo and many others offer a more complete battery powered outdoor power tool solution with more variety of outdoor power tools. This is something that Milwaukee can not overlook.
If you have not done so already, make sure to complete the set by checking out my review of the Milwaukee M18 Fuel string trimmer by clicking here and also the review of the Milwaukee M18 Fuel Blower by clicking here.
DISCLOSURE:
Tool Craze does not sell this product or any product on the Tool Craze website. Tool Craze does not handle the sale of any item in any way. Tool Craze is an OhioPowerTool affiliate and an Amazon Associate and places paid links including those from other retailers Tool Craze is an affiliate partner with. If you purchase something through a link on the Tool Craze site, Tool Craze may get a small share of the sale. Please refer to the About section for more info. Tool Craze cannot guarantee the accuracy of the information/specifications/features of any tool listed in this article. Please do your full research before buying any products.