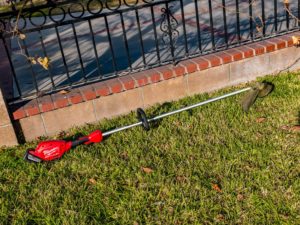 Milwaukee introduced all new cordless 18V outdoor power equipment late in 2016 with a new string trimmer, leaf blower, and hedge trimmer and they released all three in early 2017. This marked the first time Milwaukee created outdoor power equipment and it went straight to their cordless 18V M18 line. All three new power equipment also came bundled with their yet new M18 HD 9.0 ah batteries that were the highest known capacity at the time. I've had a chance to test out all three of the new Milwaukee outdoor power tools for almost a year now and this will be the first in a 3 part review where I test out all three outdoor power tools starting with the Milwaukee M18 Fuel String trimmer, and then followed up by the M18 Fuel Blower review next (read the review by clicking here) and finally the M18 Fuel Hedge trimmer review last (read the review by clicking here).
Ethic's Disclosure:
Milwaukee was kind enough to provide the M18 Fuel String Trimmer, Blower, and Hedge Trimmer at no cost for review. However as with all my reviews, I am not paid, sponsored, or obligated to give a positive review. This review is my opinion of the product based on my usage and knowledge and my review will reflect what I like and dislike about the said product. I will do my best to provide you with an unbiased review. Tool Craze cannot guarantee the accuracy of the information/specifications/features of any tool listed in this article. Manufacturer marketing claims may not always meet expectations. Tool Craze is not responsible if products do not live up to claimed expectations. Please do your full research before buying any products. Tool Craze is an Amazon Associate and places paid links including those from other retailers that Tool Craze is an affiliate partner with. If you purchase something through a link on the Tool Craze site, Tool Craze may get a small share of the sale.
Features and Specs:
Before we get into the hands on review, lets first take a look at the Milwaukee M18 Fuel String Trimmer's features and specifications list.
18V
Brushless Motor
Kit bundled with M18 REDLITHIUM HIGH DEMAND 9.0 battery
Cutting swath: 14 In. – 16 In.
Line diameter: .080 In. / .095 In.
2 Electronic speed settings
RPM: 0 – 4,600 / 0 – 5,800
Trigger: variable speed
Feed system: bump feed
weight: 12.3 lbs
Length 73.6″
Pricing: $199 baretool ; $299 Kit with HD 9.0 battery and Rapid Charger
model #: 2725-21HD Kit ; 2725-20 baretool

Full disclosure: This a review. I am not paid to give a positive review. These are my opinions. Tool Craze cannot guarantee the accuracy of the information/specifications/features of any tool listed in this article. Manufacturer marketing claims may not always meet expectations. Tool Craze is not responsible if products do not live up to claimed expectations. Please do your full research before buying any products. Tool Craze is an Amazon Associate, and also an affiliate with the Home Depot, Acme Tools, Ohio Power Tool, Tool Nut, Lowe's, Ebay, and Walmart and places paid links to these retailers. If you purchase something through a link on the Tool Craze site, Tool Craze may get a small share of the sale.
Looking at the M18 Fuel String Trimmer's features, it clearly stands out of the 18V crowd with unheard of specs for 18V. Looking at the competitors brushless offerings in the 18V/20V category, Makita's 18V brushless models top out at just under 12 inches for a cutting swath, it uses 0.080″ line, and is a dual line trimmer with 3 speeds (XRU11Z). Looking at Dewalt's 20V brushless string trimmer (check out my full review here), it's better spec'd than Makita's with a larger 13 inch cutting swath and also uses 0.080″ line, is a dual line trimmer and has 2 speeds. Comparing the Milwaukee M18 Fuel string trimmer, it's 14-16″ cutting swath and ability to use larger beefier 0.095″ line puts it in a different class or category than either Makita's or Dewalt's 18V/20V offerings. Both the Dewalt and Makita models sell for $199 as kit's with a 4ah battery (Makita) and 5ah battery Dewalt which put them at a lower price point than Milwaukee's string trimmer in a kit form. If you are looking for the lower priced 18V/20V string trimmer, it may appear that the Dewalt and Makita models offer a better value at first glance since they give you everything you need to get started for a full $100 less than Milwaukee's offering as a kit but you have to remember that not only does Milwaukee offer a much better spec'd tool, it offers a much larger 9.0ah battery. Basically you're getting a much larger gas tank to go along with your tool and Milwaukee also throws in their upgraded rapid charger which cuts charging time nearly in half compared to their stock charger. Compared to the Dewalt charger included with their string trimmer, this is a big upgrade however comparing the Milwaukee rapid charger to Makita's stock fast charger is about equal in terms of charging speed since Makita has had fast chargers since day one.
So if Milwaukee's M18 Fuel String Trimmer doesn't directly compare with other 18V/20V string trimmers in features and price, what does it compare to? The answer is simple, it compares directly to a higher voltage string trimmer. Naturally you would think it compares to a 36V/40V system but with such a large cutting swath at up to 16 inch, it compares more directly with 56V-60V string trimmers which are dual line 0.095″ string trimmers. Some examples are the Ego 56V string trimmer with a dual line 0.095″ 15″ cutting swath which I will be comparing directly to Milwaukee's model since I also have the Ego string trimmer that I reviewed previously (check out my review here). Another comparable unit is Echo's 58V string trimmer with 0.095″ dual line and a 14-16″ cutting swath. However when you look at pricing, the Ego kit is $199 with a 2.5ah 56V battery and the Echo is $229 with a 4ah 58V battery. Looking at price alone you would think that the Milwaukee is overpriced. My guess is that the price is higher due to the large 9ah battery however a battery as large as 9ah in 18V can actually be less in terms of capacity than larger voltage batteries. How so, you ask? The answer is WH or watt hours. This is a universal way to compare battery sizes across different voltages. To get watt hours, you simply multiply the amp hour rating by the battery voltage. For example the Echo 4ah battery is 232 watt hours in capacity (4ah x 58V = 232 wh). Ego's 2.5ah 56v battery using the same math is 140 wh. Compare that to Milwaukee's 9ah battery at 162 wh (9×18=162). So even though Milwaukee packs a large 162wh battery with their string trimmer, it's not much larger than Ego's 2.5ah battery and considerably smaller than Echo's 4ah battery in terms of capacity when you compare watt hour capacities. Also charge speeds for each brands respect charger is much different when compared to Milwaukee's charge speed for their included 9ah battery. While Milwaukee's bundled rapid charger charges each battery much faster than their stock charger, it still takes a whopping 1 hour and 38 minutes to charge! Compare that to Ego's 50 minute charge time for their battery with the stock charger that's included with the string trimmer or Echo's battery which charges in 1 hour and is considerably larger in watt hours than Milwaukee's battery yet charges much faster. Some of you guys may be thinking, why stress out about the charge times when Milwaukee's charge time for their battery is still much faster than other brands that charge their batteries in 3-6 hours for example brands like Black and Decker, or Worx. The answer is, that's the kind of nitpicking you can expect in my reviews down to the smallest detail. That plus wouldn't you want to know what the competition is offering with their specs and features? My next point goes back to the price point. With Milwaukee's M18 string trimmer you get better specs and features than 18V/20V models and features and specs comparable to 56V-60V models however Milwaukee is charging a premium for their string trimmer at $199 as a baretool and $299 as a kit when you compare it directly to similarly spec'd and equipped 56-58V models that are priced between $199-239 in complete kit form. So Milwaukee's higher price is something to consider when you look at the larger picture.
As far as the other core features are concerned, I would compare Milwaukee's string trimmer set directly to Dewalt's 20V model as it is also a 2 speed unit and has variable speed. Milwaukee uses a "cute" two speed selector that has an icon of a rabbit and a turtle to give you and idea of what speed you're on. Dewalt's string trimmer uses a fantastically comfortable foam grip secondary handle while Milwaukee uses a soft rubber grip handle. I'd say that Dewalt's beats it in the comfort department however Milwaukee's handle isn't far behind and it's rubber will make it last longer than a soft foam material which will be prone to tearing. Milwaukee uses a single piece metal shaft with the motor mounted near the battery holder at the top end with a metal gearbox at the bottom to provide turning power to the line. It uses a traditional bump feed system and the head has a line blade that cuts the line when it reaches max length that is adjustable. Out of the box the line blade is set to give the line a max 14″ cutting swatch but prior to testing it out, Milwaukee told me to set it to the max 16″ cutting swath by rotating the line blade. The head is set up so it's easy to open up and replace line however last month, Milwaukee announced a new easy load trimmer head aftermarket part for this trimmer to make line changes even easier. I haven't tried that new easy load head out but I have no problems switching out line and think it's easy enough with the stock head. I wrote about the new head here on this website and you can learn more about it by clicking here.
Milwaukee considers their new outdoor power equipment as "pro" equipment design for the pro's and as such doesn't have any training wheel features found on homeowner brand string trimmers like Worx's edger guide wheels and Milwaukee's also features a smallish line guard that offers more cutting area with less protection for the user.
The build quality is just as good as any of the other Milwaukee tools so you know it's well built and offers similar build quality to brands like Makita and Dewalt power tools. They also add a keyhole near the battery holder on the backside to be able to hang the string trimmer on a wall in your garage for storage.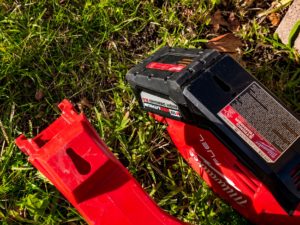 Performance
Before I explain the performance of Milwaukee's first 18V string trimmer, I want you guys to know what I've tried out in the past so we have something to compare the Milwaukee to. If you simply want to know if the Milwaukee can trim your grass and work effectively as an edger, then the answer is yes. But if you want to know how it compares to other models I've tried then continue reading. I've tried out the Worx 56V string trimmer when that model came out which has a single line 13″ cutting swath and uses 0.080″ line, it has good effective cutting strength. Then I tried out the Dewalt 20V string trimmer which I thought was very strong for a 20V/18V trimmer. It had nice features like dual speeds and used dual line something the Worx didn't offer however as good as the Dewalt was, the Worx was easily stronger because the Worx is a higher voltage 56V tool. Then I tested out the Ego 56V brushless string trimmer, the second gen model with a 15″ cutting swath, dual 0.095″ line and even up to this day, it's the strongest string trimmer I've tried out. To me this is the one to beat in my opinion and is the string trimmer I've been using as my go to string trimmer before I tried out the Milwaukee. So how does the Milwaukee compare? It's hard to believe that the Milwaukee is an 18V string trimmer with how much guts this thing has. I'd say toe to toe, the Milwaukee has similar cutting power to the Ego 15″ string trimmer if not the same kind of performance. Even I have a hard time believing this because I slap an 18V battery onto the Milwaukee everytime I use it. If I didn't know any better, I'd think the Milwaukee was running on 56 volts!
In full speed you can tear through the thickest of grass and thick and nasty weeds. My grass gets well kept each week so I don't need to use the full power of the max "rabbit" mode so I stick to slower "turtle" mode most of the time. I've found that the turtle mode is still very strong and has plenty of huevos, so much that I lightly press the trigger most of the time to trim my grass. Even on the slowest mode and the slowest trigger press it still offers plenty of power. The turtle mode still has plenty of torque to power through weekly maintenance and even tall grass and doesn't bog down easily, it just cuts slower with tall grass than full speed rabbit mode. I would compare the turtle mode at full throttle similar to Dewalt's 20V string trimmer at full power! While the Ego string trimmer also offers a variable speed trigger and a full range of cutting speed, I prefer the fact that you can select a speed limit on the Milwaukee. This is a feature I loved on the Dewalt 20V string trimmer and glad to see it on the Milwaukee model.
I also like the fact that Milwaukee's string trimmer has the motor on the battery end. This is a feature I didn't appreciate until I used it because the other cordless string trimmers I've tried have the motor on the cutting head. For me, having the motor on the cutting head meant that my arms get tired a lot sooner because they have to carry and stabilize the weight of the string trimmer motor. This isn't a big deal during normal operation when trimming grass but when I turn the string trimmer sideways to edge the lawn the string trimmer starts to feel heavy on your arms. There is lots of area I have to edge in my front yard which means that my arms get very tired after all the edging when using my go to Ego string trimmer, but on the Milwaukee this hasn't been as much of a problem because of the motor placement, my arms don't get tired as quick. That right there is a huge feature for me as I'm not the biggest or strongest dude and I don't do this everyday for a living. I still like the Ego string trimmer but it's hard to go back to that model because of the motor placement getting my arms tired each time I use it.
Everything isn't perfect on the Milwaukee M18 Fuel string trimmer though as with all tools, there are to be negatives. One of my biggest gripes has to do with the bump feed head as the bump feed head isn't very responsive as I find myself having to bump it several times for line to come out. This is something I've not had an issue with on other string trimmer models. My next gripe is a personal preference as the line moves counter clockwise. My first string trimmers had the line spin clockwise and that is what I got used to. The Ego string trimmer is also counterclockwise and even though I've used that one for a very long time, you'd think I'd have gotten used to the counterclockwise turning, however I've not. I still have the tendency to cut on the left side of the cutting swath which spits plenty of grass to my shoes and pants, or legs if I'm wearing shorts when using the Milwaukee model, especially with it's short guard. However this is a personal gripe as I've mentioned above and is also present on the Ego model. It doesn't really impact anything other than lots of grass gets shot back to me because I'm used to clockwise turning trimmers.
Another gripe I have with the Milwaukee string trimmer has to do with the trigger. It has good variable range however there is about a half inch deadzone at the start where it does nothing. You have to press past this half inch deadzone to actually operate the motor. I also like to use very little power and usually press the trigger at it's lowest point but when I use the trigger one fingered it often cuts in and out because it's not that sensitive at the starting point. It's a wide trigger and using two fingers fixes this issue by getting a better grip I suppose but the cutting on and off when using it one fingered gets annoying fast.
As I mentioned in the specs and features section, the Milwaukee string trimmer is designed for pro's so you won't find any training wheel features on this model. This could be a potential negative if you're new to using string trimmers as the guard is rather short to provide a larger cutting area. The smaller guard means you might have more grass thrown at you if you're not careful. You also don't get a literal training wheel like the Worx models that allow you to run the string trimmer along the curb or driveway and guide it as it edges. Some string trimmers also have a guide wire that prevents the user from bumping too close to a wall, that feature is also not present on this string trimmer. The lack of these training features will force new users to learn how to use a string trimmer such as this one without the use of any aids.
The price is also rather expensive when you compare it to other 18V/20V and even higher voltage 56-58V models as I explained at the beginning. When comparing the M18 Fuel string trimmer directly to 18V/20V models the added price makes sense because you're getting a much better spec'd tool plus a huge 9.0 battery to boot but when you compare the M18 Fuel model against similarly equipped 56-58v models, the price of the Milwaukee seems high. Especially when you consider the higher voltage models offer similar performance and similar sized or larger batteries (in watt hours) and charge them much faster too for less.
Long Term Update
As I said in the outset that I've tested out all three of Milwaukee's new M18 Fuel Outdoor Power Equipment for close to a year now so I am able to give you a long term review. Most of my reviews are short term reviews where I test them out for a short period of time and move on to something else so they don't speak of their long term durability. So after using the Milwuakee M18 Fuel string trimmer for almost a full year, there have been no surprises, it still runs just as strong as it did from day one and except for the minor scrapes and caked on grass on the business end, it's still in very good condition. There are no loose or broken parts and everything functions as it should almost a year later.
Runtime
We've covered every other aspect of this string trimmer but this review wouldn't be complete without runtime figures, especially since this tool comes bundled with a huge 9.0 ah battery and uses a brushless motor. I tested runtime differently with this outdoor power tool. With all my other string trimmer reviews, I tested runtime while using the tool at it's max performance, in other words full power while at 100% which would yield lower runtime figures since many tools have variable speed. Since this tool is a variable speed tool and I didn't need full power, or neither did I need the rabbit mode for most of my use, I counted runtime as I used the tool in whatever speed and variable speed setting I used it. Since most of my usage was on turtle mode (slowest speed) and variable speed usage on that mode, it would yield a more real life runtime figure. However the problem with this runtime figure is that there would be no way to compare it directly to any other string trimmer since I may not use it exactly the same each time and neither will you but this is the way I tested it and will test other string timmers in the future. So with that out of the way, I got a total of 50 minutes and 55 seconds of use with this string trimmer. That's pretty good in my opinion and was able to easily get both my front and backyard trimmed and edged, prepped and ready to mow it. I also want to mention that my method of counting runtime only includes time running, and not time in between breaks. So basically I start the stopwatch as I use the tool, and stop it when I stop using the tool and resume when I re use the tool, all the way until the battery is fully depleted and then I add up all the numbers in the end.
Other Thoughts and Conclusion
If you buy this string trimmer as a kit, it comes bundled with their huge capacity 9.0ah battery however I also tried this trimmer out with a 5ah battery to see how it performed. To my surprise it performed roughly the same. Honestly I couldn't tell the difference in performance in either full speed or slow speed which is a good thing. I also was able to cut my front and back yard with a bar to spare with the 5ah battery. This is good to know especially since they sell this string trimmer as a baretool if you  already have batteries and want to save some cash.
I've been using this string trimmer for most of the year of 2017 and it has now become my go to string timmer and has dethroned the regular use of the Ego 15″ model I've been using exclusively before the Milwaukee. For me the reason has been because of the strong performance that rivals higher voltage 56V models. I can't tell the difference in power compared to the Ego which is a 56V model. Performance is also very strong when used in the slower turtle mode which is perfect for conserving battery life without sacrificing cutting power. The two speeds along with the variable speed trigger makes it easier to conserve power so you don't blow through the battery quickly. I also prefer the rear motor placement as it lightens the front end and makes it much lighter for my arms when edging so they don't get tired as quick as compared to front motor trimmers.
I came so close to recommending this string trimmer as there is so much going for it, the performance is great if not top notch, it's well featured, the motor placement helps out your arms, the large battery coupled with a brushless motor make it run for a very long time. What stops me from recommending this string trimmer over other models is mainly due to the price which is up to $100 more than competing 18V all the way up to 58V models. Also the slower charge times compared to higher voltage models has to do with my decision as well.
I will say that if you're already on the Milwaukee M18 system, I'd definitely recommend this string trimmer if you're looking for one. But if you're starting out from scratch and looking for your first string trimmer and have no other power tools, I can't help but suggest you look around first especially at the 56V-58V string trimmers that are priced for less if you're in the market. If you do end up with the Milwaukee M18 Fuel String Trimmer I feel you will be very satisfied with it's performance, runtime and feature set.
This ends this review but please make sure to check out part two of this article that covers the review of the Milwaukee M18 Fuel Blower (read the review by clicking here) and afterward complete the set with part three that goes over the review of the Milwaukee M18 Fuel Hedge Trimmer (read the review by clicking here).
Free 2 day shipping – Try Amazon Prime 30-Day Free Trial

DISCLOSURE:
Tool Craze does not sell this product or any product on the Tool Craze website. Tool Craze does not handle the sale of any item in any way. If you purchase something through a link on the Tool Craze site, Tool Craze may get a small share of the sale. Please refer to the About section for more info. Tool Craze cannot guarantee the accuracy of the information/specifications/features of any tool listed in this article. Please do your full research before buying any products.