Milwaukee's Pipeline Event second episode showcased several new Packout products. One of those is the interesting M18 Packout light / charger 2357-20 which is both a LED light station and an M18 battery charger all in one. It has 3 LED light heads that flip out for use and fold in place for storage when not in use. Total light output is up to 3000 lumens brightness. When plugged into AC, it can run nonstop and also has the ability to charge M18 batteries. Being part of the Packout system, it can stack and connect to other Packout storage boxes. It's scheduled to launch October 2020 for $199. Check out the full press release below for all the deets!
Full disclosure:  Tool Craze cannot guarantee the accuracy of the information/specifications/features of any tool listed in this article. Please do your full research before buying any products.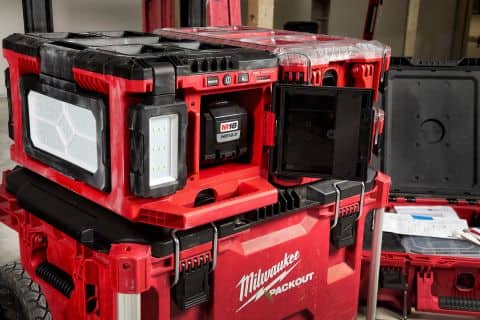 MILWAUKEE, WI- Milwaukee Tool, the leading jobsite lighting provider, is expanding their Lighting Solutions once again with the introduction of the M18™ PACKOUT™ Light/Charger. The new lighting solution equips users with all-day, multi-directional lighting and charging in one dedicated solution that is fully compatible with the PACKOUT™ Modular Storage System*.
The M18™ PACKOUT™ Light/Charger delivers 3,000 lumens of TRUEVIEW™ High Definition Output* to easily light the site. For complete control of lighting preference, the light is equipped with three independent rotating lights so users can choose between task or area lighting. To easily manage output and run-time, the light is complete with nine total modes – All Lights, Main Panel, or Back/Front Lights – each including high, medium, and low settings.
For ease of use, the light features a dual power feature with an integrated AC input for all-day runtime and M18™ battery charging. In addition, the M18™ PACKOUT™ Light/Charger features a storage compartment and 2.1AMP USB port for device charging and storage of small items. When equipped with the M18™ REDLITHIUM™ XC 5.0 Battery Pack, the light/charger provides users with up to 31 hours of runtime.
Through an intuitive and quick attachment mechanism, the M18™ PACKOUT™ Light/Charger is designed to be easily accessible when stacked on top of or within an existing PACKOUT™ Modular Storage System. The light/charger can be used both on and off the PACKOUT™ stack, making it the most portable and versatile task light available.
For increased durability, the PACKOUT™ Light/Charger is IP54 rated for dust and water resistance.
Milwaukee is committed to improving productivity by providing performance-driven and trade-focused solutions so users can perform an entire day's work on one battery system. The new M18 ™ PACKOUT™ Light/Charger is fully compatible with the entire M18™ line and is a true testament to Milwaukee's focus on investing in game-changing technology that delivers breakthrough solutions for users. Milwaukee will continue to design and develop lighting solutions with the ability to adapt, perform, and survive the demands of professional use.
*TRUEVIEW™ Technology and optical design delivers a consistent beam, optimized color temperature, and true representation of colors and detail leading to a more productive work area.
**The PACKOUT™ Modular Storage System is the most versatile and durable modular storage system in the industry. An intuitive and quick attachment mechanism gives users the freedom to stack and lock PACKOUT™ tool boxes, organizers, totes, and bags of different sizes in numerous configurations that best suit their needs. For more information visit https://www.milwaukeetool.com/Products/Storage-Solutions/PACKOUT.
Specifications:
M18 ™ PACKOUT™ Light/Charger (2357-20)
Power Source: Cordless or Corded
Lumens (All Lights): 3,000/1,500/1,000
Run-Time (All Lights): 4/8/12 hours
Weight: 11.4 lbs
Dimensions: 16.9" x 9.8" x 8.7"


DISCLOSURE:
Tool Craze does not sell this product or any product on the Tool Craze website. Tool Craze does not handle the sale of any item in any way. If you purchase something through a link on the Tool Craze site, Tool Craze may get a small share of the sale. Please refer to the About section for more info.