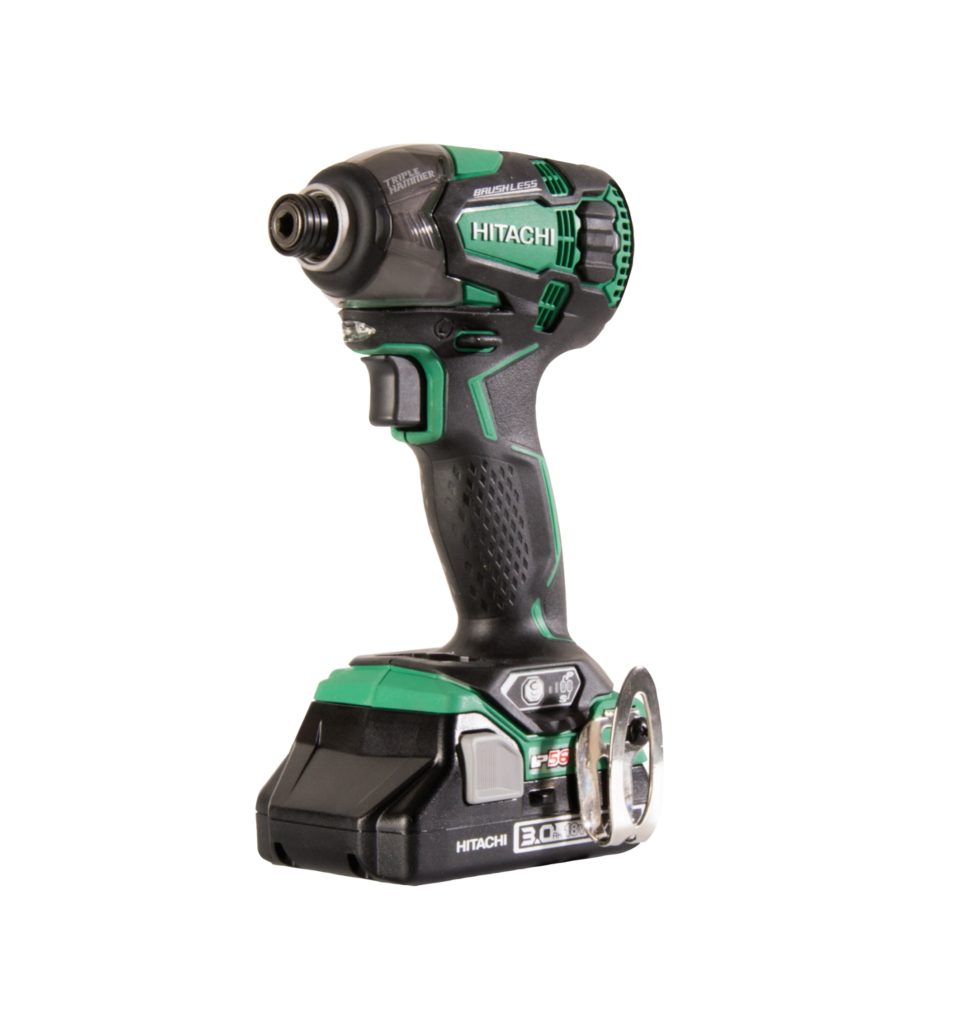 Hitachi has come out with a new brushless 18V impact driver model WH18DBDL2. With the ever competitive power tool market, it isn't enough for new cordless power tools to feature brushless motors to stand out anymore. They need something to catch the eye of the consumer, a stand out feature if you will. That stand out feature on this Hitach brushless 18V impact driver is a triple hammer impact mechanism.
Traditional impact drivers use two hammers to produce impact's per minute and Hitachi claims this triple hammer design achieves increased driving speed, more beats per minute, more torque and decreases vibration. Sounds like a win win to me. The triple hammer design also offers more impacting contact with each impact as opposed to traditional 2 hammer designs.
Torque is on the high end for an 18V impact driver at 1,832 in-lbs torque making this a high torque impact driver which fits right in there next to other high torque 18V impact drivers from the likes of Dewalt and Milwaukee.
This model also has a few extra tricks up it's sleeve as it features 4 selectable speeds. Other 18V traditional multi speed impact drivers usually have 3 selectable speeds while this model has 4 speeds to choose from to better suit to the users needs. Need high torque? Choose the highest setting. Need precision? Choose the lowest setting. Need something in between? You can choose either speeds in between.
It also comes paired with Hitachi's newest 18V compact 3 ah batteries. These batteries have the same high capacity as previous 3ah battery packs but are as compact and short as their 1.5 ah batteries while offering longer runtimes. They're also lighter too compared to full size 3ah batteries at 0.6 lbs lighter. And to check the status of the battery, the new impact driver has an integrated fuel gauge to monitor the battery charge status.
It's also IP56 rated making this dust and water resistant. It will be able to survive being wet and working in dusty environments. But it's not water "proof" meaning that it is not meant to be used underwater.
It comes as a kit form model WH18DBDL2 with a retail price of $399 which includes the Hitachi triple hammer brushless 18V impact driver, two compact 3ah batteries, charger, rapid charger, and storage case.

Triple Hammer Technology (via incorporating a third impacting anvil) increases driving speed, beats per minute, torque and decreases vibration

Features Brushless Motor Technology for more run time, increased power and extended durability with essentially no maintenance

Produces 1,832 in/lbs of turning torque, 0-4,000 BPM and up to 2,900 RPM to power through the toughest jobs

4-Stage electronic speed switch for precision and control during a variety of applications 

Limited and Continuous impact modes for ultimate control when driving small fasteners or driving into soft material

2.9 lbs weight
on tool LED light
IP56 International Protection Certification Resistance From Dust Resistance From Water