JET recently announced a new 14 inch steel frame bandsaw called the JWBS-14SFX SFX model with unit number 714400K.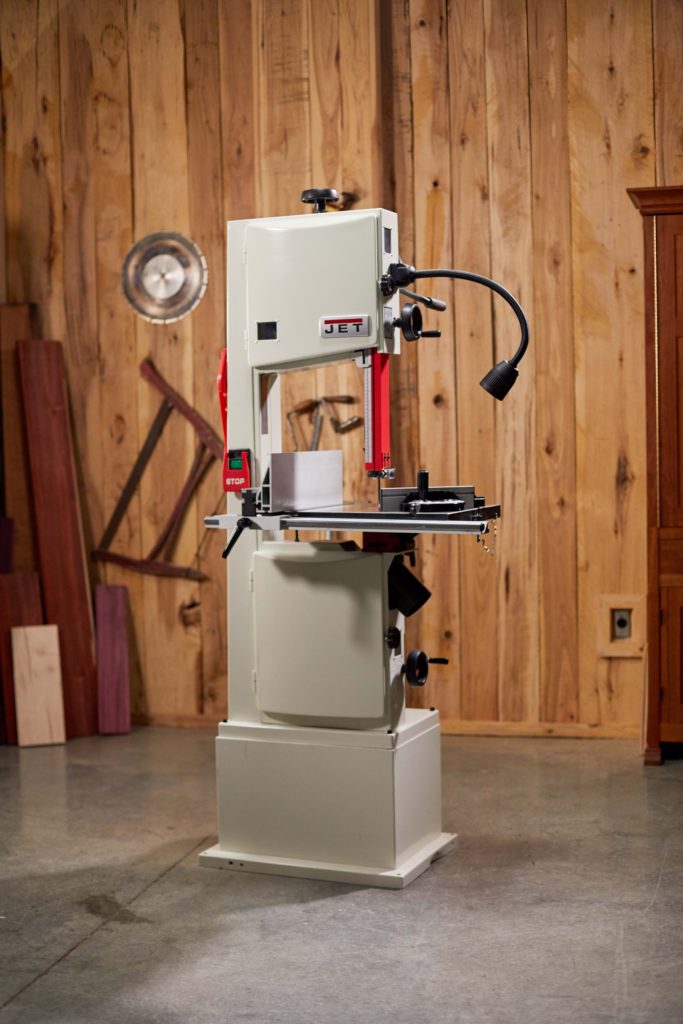 For many years the Jet JWBS-14DXPRO has been their deluxe 14 inch bandsaw and the new SFX model seems to be the next step up in the Jet line. It's priced about the same as the deluxe 14 inch model at $1099.99 (only $20 more) but offers a more modern bandsaw with a large welded steel frame versus the older c-frame of the deluxe 14 inch models and prior.
Other upgrades include a beefed up motor now with half a horsepower more at a total of 1.75 HP. The new motor is a 1 phase motor and it's prewired for 115V which means a regular 120v 20amp circuit will power this bad boy, no need to add an additional 220V circuit in your house. They also increased the resaw capacity to 13+ inches. They include a fence and what's great about the new fence is that it's taller at 6-1/8″ tall for better stability with taller material. The fence can also be positioned vertically to handle tall pieces or horizontally to handle short pieces with accuracy. The table is large with 360 square inches of surface area. I also noticed that the included miter gauge has it's own tall fence, not as tall as the rip fence but looks to be about 3-4 inches tall.
Other improvements include tool-free upper and lower ball bearing blade guides, that alone is a worthwhile upgrade as it's always a pain for me to constantly readjust blade guides on my bandsaw with hex keys. The new model has the ability to accept an optional LED worklight priced at $49.99 and you can also purchase an optional mobile base for an additional $89.99. Or you can build your own mobile tool base by using my free plans by clicking here.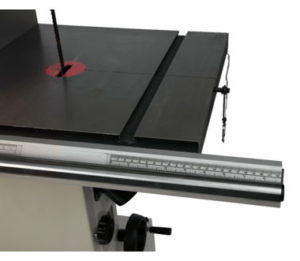 I noticed the base is just a base to add the appropriate height to the saw, it's too bad that it doesn't include a door hinge on the front to be used as storage like on my Rikon bandaw. Too bad really as it's just wasted space.
Overall it looks very promising and if I was in the market for a new bandsaw, I'd be seriously considering this one as Jet makes nice woodworking machinery.


Full Press Release below:
NEW JET 14-INCH STEEL FRAME BANDSAW HAS CLASS-LEADING RESAW AND RIP CAPACITIES
La Vergne, TN – The new JET ® 14" SFX Bandsaw is the latest addition to the brand's line of versatile, steel frame saws. It combines class-leading resaw capacity and large table dimensions with affordability, ease of use and heavy-duty, tubular steel construction. The 14" SFX bandsaw also features tool-less, independently adjustable, upper and lower ball bearing blade guides; a dual-position fence; twin 4" dust collection ports and a full-featured miter gauge.
"Our new JET 14" SFX Bandsaw is aggressively priced, while providing woodworkers with a lineup of premium features to tackle ambitious projects that involve sawing large work pieces, as well as providing maximum flexibility for intricate cuts," said Tobias Bridges, JET Director of Product Management – Woodworking. "It's a great fit for serious enthusiasts, as well as small to mid-sized woodshops."
Extra-large resaw and rip capabilities enable the new JET 14" bandsaw to accurately and efficiently perform a wide range of woodcutting tasks. It's ideal for crosscutting large work pieces to size, slicing veneers, sawing curves for cabinetry and furniture, creating intricate scrollwork and cutting book matched panels.
Resaw height of the new JET 14" bandsaw is more than 13". The bandsaw's table has a massive 360 sq. in. work surface and measures 21-1/16" L x 17-1/8" W. The cast-iron table is precision ground for flatness and tilts 0-45 o providing support for a wide range of bevel cuts. A miter slot, along with a premium metal miter gauge, is provided. The bandsaw's table height is 40" from the floor.
The floor-standing bandsaw weighs more than 300 lbs. It has a rugged tubular steel, welded frame, one-piece base and lower bearing bolt pattern for added rigidity. This massive construction provides stability for smooth operation and minimal vibration. Cast iron blade wheels are precisely machined and computer balanced to reduce vibration and ensure accurate blade tracking.
The 14" bandsaw's upper and lower ball-bearing blade guides are independently adjustable and tool-free. The saw also is equipped with an 18-3/16" x 6-1/8", extruded aluminum, dual-position fence that can be used in a vertical position for resawing or horizontal position for precision cuts. The fence slides on a steel guard rail and is fully adjustable with a laser-etched scale and micro-adjust feature.
The 14", steel-frame bandsaw is powered by a 1 ¾ HP, single-phase motor, prewired for 115V service. A paddle off-switch with safety key is provided, as well as a conveniently located 115V outlet for optional accessories. Dual 4"-diameter dust ports, located at the back of the bandsaw, connect to a dust collection system and requires a minimum capacity of 400 CFM.
The JET 14" SFX Steel Frame Bandsaw is CSA certified. It is covered by a 5-year warranty, as well as JET's RED Assurance TM , the industry's most dependable service and support guarantee program.
Optional accessories include an LED Worklight (714403, $49.99)) that bolts onto the head of the bandsaw to illuminate the work piece and a Mobile Base (708118, $89.99) for moving the bandsaw in the shop.
Visit  www.jettools.com  for more information or to locate a dealer for the new JET 14" SFX Steel Frame Bandsaw (714400K, $1,099.99).
Specifications:
JET 14" Steel Frame Bandsaw
Stock Number 714400K
Model Number JWBS-14SFX
Resaw Capacity (in.) 13+
Table Size (in.) 21-1/16 x 17-1/8
Throat Capacity (in.) 13 ½
Fence (in.) 18-3/16 x 6-1/8
Blade Length (in.) 116
Blade Width (in.) 1/8-1
Blade Included (in.) 5/8, 4 TPI
Outlet (115V) Yes
Dust Collection Ports 2 – 4" diam.
Horsepower (HP) 1 ¾
Motor Phase (PH) 1
Net Weight (lbs.) 300



DISCLOSURE:
Tool Craze does not sell this product or any product on the Tool Craze website. Tool Craze does not handle the sale of any item in any way. If you purchase something through a post on the Tool Craze site, Tool Craze may get a small share of the sale. Please refer to the About section for more info.