Ryobi has announced a new portable tower light named with the Ryobi 18V Cordless Hybrid Tripod Stand Light P782.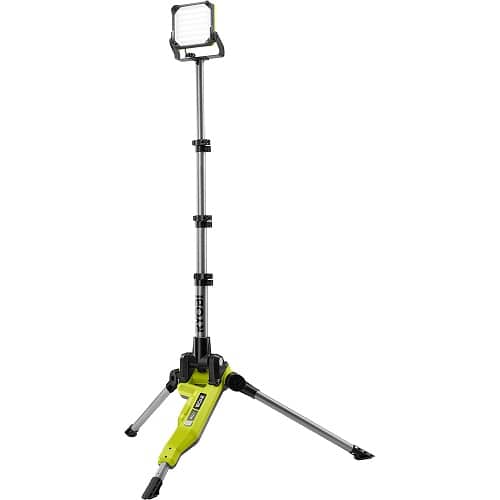 It's very similar to sister brand Milwaukee's Rocket Tower lights in that the Ryobi 18V Cordless Hybrid Tripod Stand Light P782 has a built in stand that folds out to supply legs to support itself so it can stand up on it's own and an extendable tower to keep the light head at a height of 3 feet to 5 feet. The head itself  can rotate on a 310 degree pivot point to face down, forward, upwards and backwards. At the base of the tower there's a pivot point as well to turn and lower the tower rod as pictured with the rod facing down with the light head facing upwards to help a mechanic illuminate the bottom side of a vehicle as he's working on it.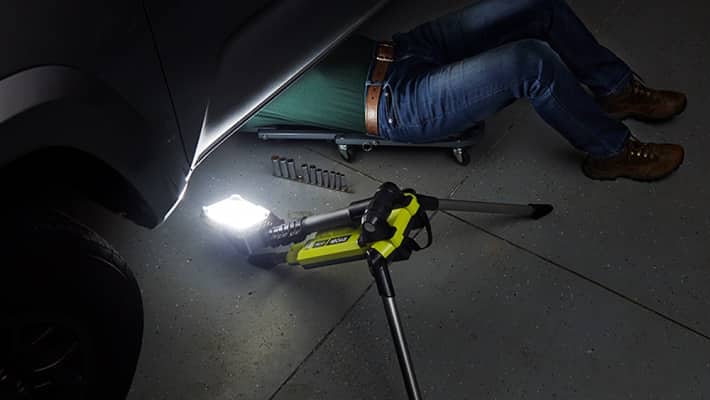 Light brightness output is strong at 2700 lumens which is nearly as bright as Milwaukee's charging Rocket light. Runtime is up to 10 hours on low when running on a 4.0ah battery pack and as mentioned in it's title, it's a hybrid light meaning it can run on battery power and also run on AC power when plugged in for all day power.
Pricing is set to $129 as a baretool and is set to launch this month July 2020.
Adjustable tripod reaching 5 ft. in height
2,700 Lumens of light output
Up to 10 hours of runtime on low setting using a P192 (18-Volt ONE+ Lithium-Ion 4.0 Ah LITHIUM+ HP High Capacity Battery, not included)
Two brightness settings for a variety of user applications
Lower tripod position for convenient using in hard to reach places
310° pivoting head to light at multiple angles
Compatible with all RYOBI 18-Volt ONE+ batteries
Part of the RYOBI ONE+ System of over 125 Cordless Tools
3-year manufacturer's warranty
Includes: (1) P782 18-Volt ONE+ Cordless Hybrid Tripod Stand Light and operator's manual
Battery and charger sold separately


DISCLOSURE:
We are a participant in The Home Depot Affiliate Program, an affiliate advertising program designed to provide a means for us to earn fees by linking to homedepot.com. Tool Craze does not sell this product or any product on the Tool Craze website. Tool Craze does not handle the sale of any item in any way. If you purchase something through a post on the Tool Craze site, Tool Craze may get a small share of the sale. Please refer to the About section for more info.