Ryobi created a new 18V Hybrid LED Color Range Work Light P795 earlier this year and it's standout feature is it's ability to change it's color temperature for "cooler" or "warmer" light output and I review it in this article so we can see how it performs as well as take a look at it's features.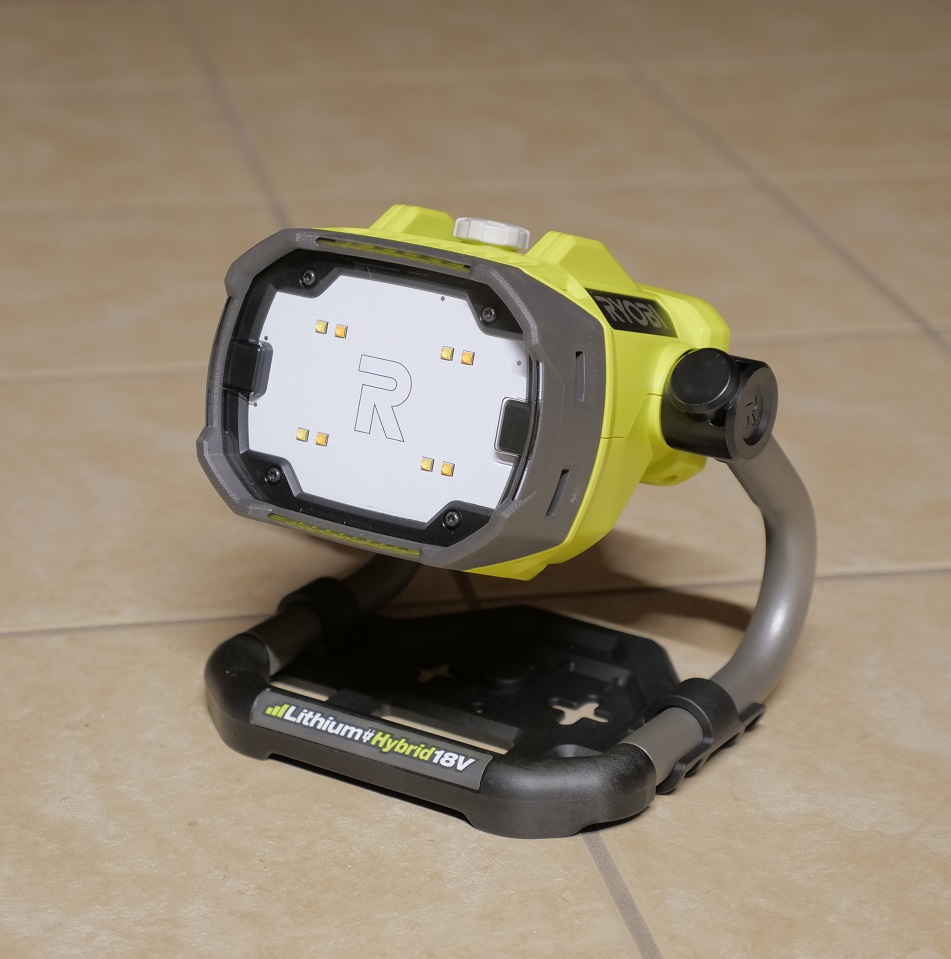 Ethic's Disclosure:
Ryobi was kind enough to provide the 18V Hybrid LED Color Range Work Light P795 at no cost for review. However as with all my reviews, I am not paid, sponsored, or obligated to give a positive review. This review is my opinion of the product based on my usage and knowledge and my review will reflect what I like and dislike about the product. I will do my best to provide you with an unbiased review. My goal with this review is not to push/sell the product but instead to explain the good along with the bad so that you can make an informed buying decision and determine if this product is worth buying. Buy it now links are provided for this product as a courtesy and convenience for you the readers and are also provided to help support the Tool Craze website so I can offer more free content.
Manufacturer Features and Specs:
Hybrid technology allows for unlimited runtime
Over 24-hour of runtime using a ONE+ high capacity lithium-ion battery
High (lumen output 1200), medium (lumen output 700), low (lumen output 100)
Compatible with all 1/4 in. x 20 tripod mounts
360° light head rotations for variety of positions
Multiple hanging options
Part of the Ryobi lineup of over 100 ONE+ tools
Backed by a 3-year warranty
Includes P795 18-Volt hybrid LED color range work light, tripod adaptor and operators manual
Runtime: Over 24 Hours of runtime using a ONE+ High Capacity Lithium-Ion Battery
Weight: 2.6 lb
Power Source: AC extension cord or any 18V ONE+ Battery
retail price at time of writing $69.98

My Thoughts:
This light reminds me a lot of the Ryobi P720 18v hybrid 20 watt led work light that I reviewed years ago and still have. That light served me well as main lighting for my YouTube videos as it was a strong light and did well with the crappy lighting in my garage. The new P795 is very similar in the sense that it has the same overall shape and functionality with a bright and wide light output and a built in base/stand for the light that allows it to rotate vertically and also has the hybrid ability to run on any Ryobi One+ 18V battery new or old and can also run on ac power when plugged into an extension cord. While not exactly as bright as the P720 with a total of 1700 lumens, the P795 has a total of 1200 lumens which is still very bright and very practical. As mentioned in the opening sentence, the P795 hybrid color range led work light's main feature besides being a light is that it can change it's color temperature to make the light color "warmer" or "cooler" in terms of hue.
There's a variable dial knob on top which is the only control button on the unit. A press of the dial button powers on the light which powers on at max 1200 lumens (high). Another button press on the knob and it goes to 700 lumens (medium), another press makes it go down even further to 100 lumens (low). If you press the button again when in lowest brightness, it turns the unit off. The dial knob can also be rotated left to make the light warmer and more yellow and turning the knob to the right makes it cooler with a blue hue. The further you turn the dial to either color temperature range, the more extreme the color hue is and you can get very blue or yellow tones that are frankly unnatural if you ask me. I'm not sure why anyone would go to either extreme but Ryobi gives you the option to do so. You can also rotate the knob to the center area of the color index which will render a more natural white'ish tone with a small hint of yellow. I prefer to stay in this range as it's very natural and more inline with proper indoor lighting from the old school (incandescent) filament bulbs or even some fluorescent light bulbs. From the center point some may still prefer to tweak the color temp a slight bit warmer or a slight bit cooler for more of a whiter look.
Honestly I don't understand the point of changing the color hue, maybe to fine tune it to your specific warm, cool or in between preference but I see no need to go in either extreme or can't think of a need to do so. I think the selling point for this feature is more of a "because I can" change the color rather than a need.
I understand many brands like Milwaukee (which is a sister company to Ryobi as they're both made by TTI) often tout about better quality light output which they call "High Definition" lighting which is their marketing term for even and proper white balanced light, and I feel that this route is better because with a properly white balanced light, you will be able to see colors as they actually are instead of being skewed to appear more yellow or orange than they actually are or more blue than they actually are. This is important when working with something like electrical wires, especially the low voltage kind where you might have a string or rainbow colored wires and you want to make sure a yellow wire is actually yellow, and a green wire actually green and so forth. I guess what I'm trying to say is that I feel it's better to get the white color balance of the LED light correct out of the box instead of needing to fiddle with it. This light offers a correct white balance in the center but you need to tweak it a bit to get there.
After using this color change light for a while and playing around with the different color hues, I ended up just leaving it somewhere in the middle area and never touch it again. Basically set it and forget it.
As far as the quality of light, I found it to be very smooth and even. Ryobi did a great job in this respect. The center is buttery smooth and you get an even blanket of light with only the edges of the light having a slight falloff. There is no nasty hot spot in the center. And the light distribution is very wide making this a perfect light for lighting a medium to largish area. You very well can light a larger area but with only 1200 lumens at it's brightest it won't be the best option for large areas but still good enough but in a small room should be plenty.
The medium brightness setting of 700 lumens is still pretty effective and I noticed that while technically it should be just a smidge over half as bright, it is actually almost as bright as the highest setting, which is good in my opinion. This medium setting still gets the job of done very well with little sacrifice in brightness over the highest setting but should yield much better runtime than the high setting of course. The lowest setting of only 100 lumens is where you see a big dip in brightness compared to medium and high and as you expect isn't very bright but useful in small tight close up areas where you don't need much light and when you want to get the most runtime out of your batteries. I didn't check for runtime but Ryobi claims that you may get up to 24 hours of runtime per battery. I'm assuming this claim is with the 4ah battery and at the lowest brightness setting. Or you can plug into an extension cord for unlimited runtime. The light head itself has nice rubber bumpers that stick out of the front of the light just slightly to protect the lens from impacts.
As far as other features are concerned, the base has several holes in it so you may wall mount the light and even includes a tripod screw thread for tripod mounting. I don't see anything for hanging on wires but then again I don't think many people will miss the lack of this feature. A major thing I see missing is the ability to hook and hang onto 2×4's like some of the Ryobi and Ridgid lights and fans can do. Maybe they did this thinking that this light would be bought more from the mainstream consumer getting into DIY, not the hardcore weekend warrior, handyman or contractor.
Overall it's a very good and well built light with solid build quality and nice smooth bright lighting. It won't win any brightness awards but for small and medium areas should be plenty bright at max brightness. Personally I don't find the color range feature necessary but to each his own as I feel the light's white balance should be properly calibrated at the factory. I suppose this feature will cater to those that want to fine tune the color balance to their preference and the ability to change and reset anytime. With or without that feature it's still a quality light with quality light out put at a reasonable price of $69.98 as a bare tool meaning no battery or charger are included but you can use this light out of the box even if you don't have any Ryobi batteries because you have the option to plug it in via extension cord. You can wall mount it via mounting holes and some screws but it's missing hooks to grab onto 2×4's like other Ryobi and Ridgid lights and fans have. I'd say if you like the color range aspect of this light, go for it. If you don't find the color range feature necessary or appealing, you might find the equally priced Ryobi P720 or P721 a slightly better option as it's a bit brighter and similarly spec'd.


Free 2 day shipping – Try Amazon Prime 30-Day Free Trial

DISCLOSURE:
Tool Craze does not sell this product or any product on the Tool Craze website. Tool Craze does not handle the sale of any item in any way. If you purchase something through a post on the Tool Craze site, Tool Craze may get a small share of the sale. Please refer to the About section for more info.