Recently Ryobi has introduced a new line of compact brushless cordless power tools known as their One+ HP Compact Series which include a drill, impact driver, right angle drill, 3/8″ impact wrench, 3″ cutoff tool, and recip saw. Ryobi was also kind enough to send them all over (at no cost) for me to try out and review and in this particular review, I will go over my thoughts on the new RYOBI 18V ONE+ HP Compact Brushless 1/2″ DRILL PSBDD01K . As always, Tool Craze is never paid or swayed to give a positive review and as always are my unbiased thoughts and opinions.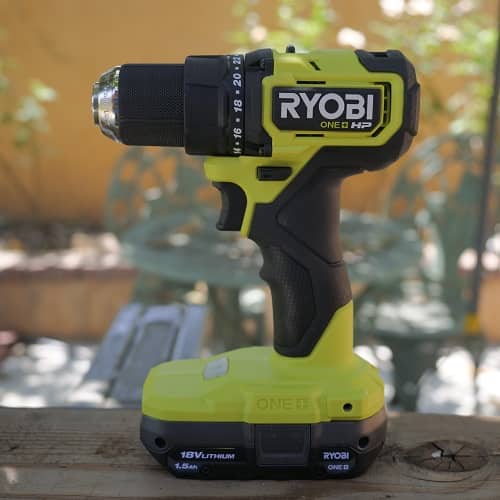 Size
Every year it seems that manufacturers are in a rush to make the smallest cordless drills in the market. Historically, if you wanted the benefits of a very small and lightweight drill you would have to opt for a 12 volt drill. However Makita started the 18 volt sub compact craze with their black sub compact 18 volt tools that gave you essentially an 18 volt tool with the size and weight and performance similar to a 12 volt tool. Since then other manufacturers have jumped on board with the tiny 18 volt tool craze such as Dewalt with their 20V Atomic series and recently with Ridgid's 18V sub compact series as well. Now Ryobi has gone a similar route with their 18V One + HP compact brushless 1/2″ drill by making a very small 18 volt drill the size of a 12 volt. In fact this drill is actually shorter in length than the 12 volt Milwaukee M12 Fuel Gen 2 hammer drill which was already considered puny!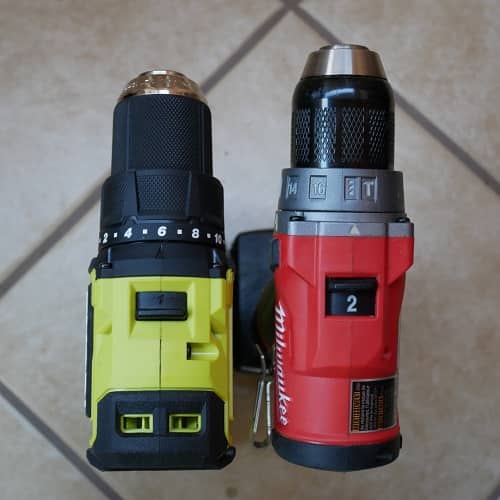 As you can see above the Ryobi is shorter in length than a 12 volt drill! That's because the new Ryobi is just 6-3/8 inches in length tested with chuck open. The M12 is 6-3/4 inches in length however it's also a hammer drill and we know hammer drill mechanisms add a little extra length but it's still amazing to see that Ryobi came up with an 18V drill as small and smaller than a 12 volt when it comes to length. As far as overall size, the Ryobi while the drill body is very tiny, the 18 volt battery and connection do add to it's overall size.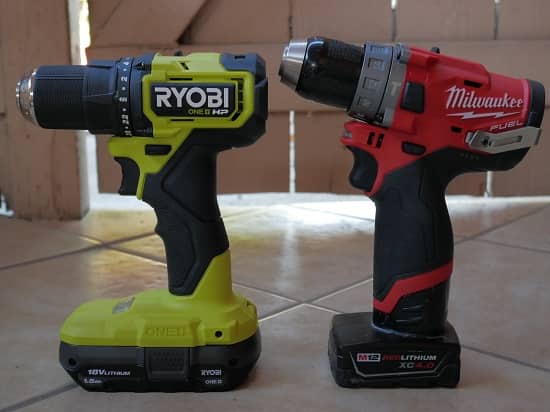 But as you can see in the above image, it's not much different in size to the M12 with an XC 4.0 battery which adds bulk to the base. The M12 could go smaller and more compact if paired with a compact 2.0ah battery pack.
As small as the Ryobi is at 6-3/8 inches in length, it matches the length of the already small Makita 18V black subcompact drill mentioned above but neither are the smallest 18V drills as the Dewalt 20V Atomic drill is smaller at 6.3 inches in length and even that model is surpassed by the Ridgid 18V sub compact that comes in at a puny 6.17 inches in length. However the new Ryobi One+ HP is not that far behind as it's still incredibly small!
Weight
As far as weight goes, I tested the weight of the Ryobi with the new more compact compact 1.5 ah battery pack and it comes in at exactly 3.0 lbs. It is lighter than the above mentioned M12 drill with a 4.0ah battery which comes in at 3.25 lbs tested however that is kind of chunky for a 12 volt. Even the above mentioned Dewalt and Makita 18V sub compacts come in at 2.8 lbs which is technically lighter than Ryobi's but roughly the same weight. The verdict: the Ryobi is light when paired with a compact battery. It's small size and low weight make it a welcome tool for those working for long periods of time with their drill, those working overhead often, those that need to travel light and small, and it's small size and weight also make it beginner friendly and those sensitive to heavier tools.
Build Quality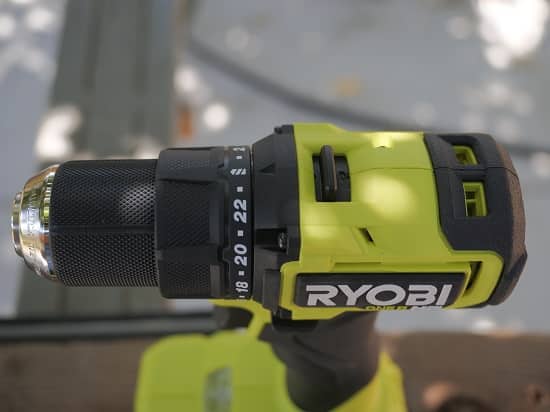 I've tested a couple of Ryobi drills in the past and while Ryobi always maintains a good product at a low price, there have been things I've wanted improved such as their chucks. Their first US model brushless hammer drill had a ratcheting chuck but it felt cheap and the clicks weren't satisfying and felt cheap. While the chuck on this new Ryobi brushless drill isn't metal, it's a big improvement in the quality department and has a superior clicking that exudes confidence in it's grip hold like more premium drills. The front has a metal ring that rotates which is handy so as to less the amount of wear when the chuck bumps into corners and the chuck surface are has a very aggressive texture that makes it very grippy and certainly helps to crank down tight. It's a very nice chuck as far as plastich chucks are concerned, the only thing that could make it better would be a metal chuck however considering this is Ryobi, I wouldn't expect it on their tools, not unless they charge more for it which is contrary to their budget motto. The torque collar is also nice, it too is all plastic but even the more premium drills use plastic torque collars nowadays and Ryobi's is just as nice and is easy to rotate and has nice clicks as well. It doesn't get tigher and harder to turn like on some other collars. The tool itself has all plastic casing with nice rubber overmolding and a nice ergonomic handle. The exposed gearbox case is plastic which is the norm on entry budget level brands so no surprise here.
A couple of things are a bit different on this Ryobi than their other cordless tools. The LED light is on the bottom which is good placement for less intrusive shadows and it has a handy 10 second afterglow, but they left out their common magtray feature and left out the belt clip. I will admit the magnetic tray does come in handy but we can do without however it's too bad they didn't include a belt clip as that is a must on cordless drills and comes in real handy when going up ladders and often when you need both hands but don't want to bend down to set the tool down temporarily. It comes with a screw hole on both sides to accept a belt clip but none was included. Why Ryobi, why?
Bundled Kit Battery
Along with the new Ryobi 18V One+ HP compact brushless power tools, Ryobi also introduced new more "compact" compact 1.5 ah batteries. These are the new more compact batteries you can expect to receive if you purchase this drill driver as a kit.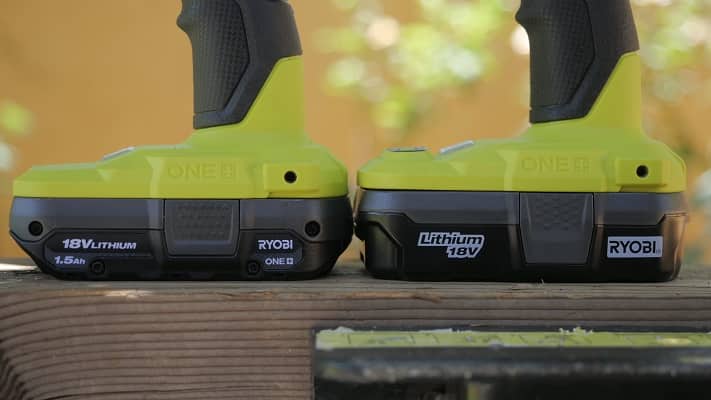 As you can see in the above image, you'll see the new slimmed down more compact battery on the left and a standard compact battery on the right.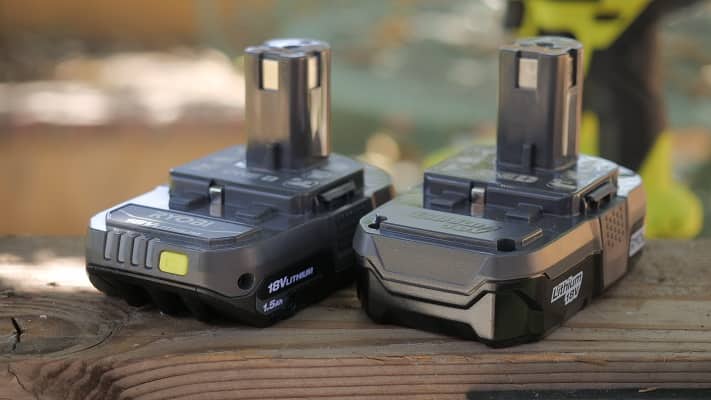 They are a little bit shorter in height and while the front to back length is about the same, the bottom front and back of the battery has been tapered for an even more compact appearance. Although as seen in the first above image, the difference isn't that big but I do commend Ryobi for making it as compact as possible even if only by a little bit. The new compact 1.5 ah battery also features a battery fuel gauge, and while fuel gauges are new to Ryobi batteries, they did make it larger for better visibility.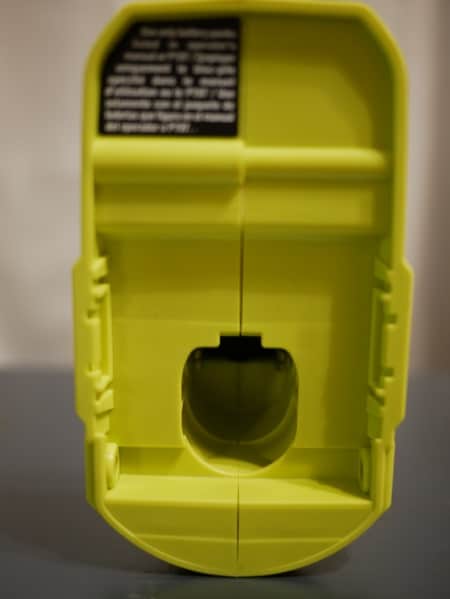 And since where talking about the battery, I took a look at the battery holder slot to see if there were any extra pin connections since Ryobi's brushless tools are said to take advantage of their Lithium+HP batteries. However when looking at the pin connections, we can see that even though this a brushless tool, only has the standard battery pins so no special connections for added communication with their top of the line batteries. This doesn't surprise me since if you buy this with a kit, it comes with the new 1.5ah compact batteries that are NOT Lithium+ HP, their just standard Lithium labeled batteries. If this new brushless power tool had the proper connections for the Lithium+ HP batteries, then it would be bundled with them in a kit but they are not.
Performance
The theme of Ryobi's new One+ HP compact brushless series tools is compact and high performance. Ryobi states this drill puts out 400 in-lbs of torque so as with all my reviews I tested it out to see how powerful it is. In testing I'd say it's about as powerful as a tool with 350 in-lbs of torque. In fact it's equally as powerful than the Milwaukee M12 Fuel Gen 2 hammer drill mentioned above, no more or less powerful. It can handle Irwin Speedbor Max bits as large as 5/8″ on speed two without stopping and anything larger than that and you'll have to go to speed one. It can drill with a Irwin Speedbor Max 1-1/4″ drill bit on speed one of course but not without the trying it's hardest to push through. It's very similar in performance to the Makita 18V black sub compact drill which is rated at 350 in-lbs however the Makita is just a bit more powerful in real world use, especially at high speed two with larger bits.
I'd say it's like having the Milwaukee M12 Fuel hammer drill in the Ryobi 18V lineup as the M12 Fuel is very powerful for it's small size and the Ryobi is even smaller! So the Ryobi packs a strong punch for it's puny size.
I also tried the drill with the included compact battery and a Lithium+ HP 3.0 ah battery to see if the larger battery would give it better performance and it does not. The larger battery only adds more runtime and gets exhausted less quickly with heavier use since more cells spread the load and they get tired less quickly which decreases performance quickly.
I also was curious at how the Ryobi's torque collar torque modes operated, whether it was using a mechanical or electronic clutch. Since the performance is identical to the M12 Fuel and the M12 Fuel Gen 2 has an electronic clutch, I was curious to see how much in shared in common with the M12 Fuel. However the Ryobi is sporting the tried and true mechanical clutch. Nothing wrong with that since they are very dependable, it's just not cutting edge tech.
Conclusion
The Ryobi 18V One+ HP compact brushless drill is tiny and I believe that is it's main selling point. If you need a small and lightweight drill with capable performance, this is it. It's not stronger than other drills in it's class but it's identical in performance to sister brands Milwaukee M12 Fuel Gen 2 hammer drill but in a smaller package. This is a great thing considering the M12 Fuel is very powerful for it's puny size. It doesn't have the extra battery pin connections to take advantage of the Lithium+ HP batteries so don't expect better performance with those. I think it's a great little drill that packs a punch for it's small size, I just wish Ryobi would have included a belt clip.
It's small size and low weight make it a welcome tool for those working for long periods of time with their drill, those working overhead often, those that need to travel light and small, and it's small size and weight also make it beginner friendly and those sensitive to heavier tools.
brushless motor
30% more compact 20% lighter
6.4″ length
1/2″ ratcheting chuck
1700 rpm
2.1 lbs weight (probably without battery)
400 in-lbs torque
1/2″ spade bit 111 holes drilled with one battery pack
PSBCK01K $179 2 tool kit with impact driver, $129 2 battery kit PSBDD01k


DISCLOSURE:
We are a participant in The Home Depot Affiliate Program, an affiliate advertising program designed to provide a means for us to earn fees by linking to homedepot.com. Tool Craze does not sell this product or any product on the Tool Craze website. Tool Craze does not handle the sale of any item in any way. If you purchase something through a post on the Tool Craze site, Tool Craze may get a small share of the sale. Please refer to the About section for more info.