Ryobi is now entering the pool market with a new cordless 18V underwater stick vacuum P3500 and a floating speaker / light show P3520 more on that model below. These products were spotted on the Ryobi USA website thanks to reader Aaron.
Ryobi 18V Underwater Stick Vacuum P3500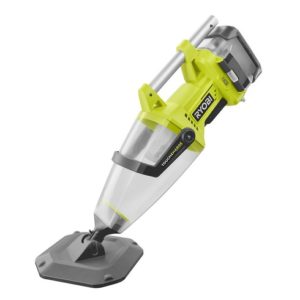 Ryobi already has a few cordless 18V stick vacs under their belt but the new P3500 underwater stick vac is just that, an underwater model. This means that it's completely submersible underwater for underwater cleaning. It doesn't look much different from the usual stick vac with a dust buster style design except everything is sealed and water tight as to not damage the internal electrical components. Even the battery compartment is completely sealed with a battery compartment housing. Although it is a stick vacuum, you have to provide your own "stick" to make it a stick vac and use a pool pole. It is said to be compatible with most common pool poles.
The biggest difference from a normal stick vac is the suction end which the underwater model has a large flat and wide nozzle for cleaning up pool floors and walls and it makes it easier with 4 built in rollers on the flat nozzle to help it roll as you vacuum. The canister is completely see through so you can see how full it is and just like their other Ryobi cordless dust buster style vacs and stick vacs, the underwater model also uses a cradle charger to charge the battery when the tool is docked. Ryobi is also using new tech as the charger is a wireless charger, that means no physical electrical contacts but instead is using a conductive electrical technology used in wireless chargers such as those for cells phones and similar to Bosch's wireless charger. But the wireless charger is only compatible with the underwater stick vac itself so don't expect it to wirelessly charge your Ryobi 18V batteries by placing them on the cradle.
What's also interesting is that it has up 50 minutes of runtime with the included 2.0 ah battery. We just learned recently of the new compact 2.0 ah battery and here's another tool that comes bundled with it and not just outdoor power tools.
I also want to mention that this is only showing up on the Ryobi website at the moment and not at the Home Depot website. So I cannot tell you how much it will retail for or when it will come out, but expect it to be out soon.
18V
3 liters canister capacity
7 lbs weight
run time over 50 minutes with 2.0 battery
Ryobi 18V Floating Speaker / Light Show P3520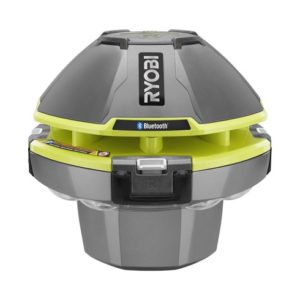 If you have a pool and like to host parties you might be interested in the the Ryobi Floating Speaker & Light Show P3520. This nifty bluetooth speaker floats on the water and also has 12 multicolor LED lights that project a light show in your pool floor. Ryobi says that the light show changes with the sound of your music which sounds fun. The speaker can blast music 360 degrees so everyone can hear the music from any direction.
It has a flip resistant design and the battery compartment is fully sealed so it doesn't get wet. You can control sound volume and the light show settings with onboard controls.
This floating speaker also isn't listed on the HD site yet which means I cannot tell you how much it will retail for or when it will be available but it should also be available sometime soon.
18V
bluetooh connectivety
360 degree speaker
flip resistant design
volume and light show onboard controls
12 multicolor LED's
4 lbs weight
DISCLOSURE:
Tool Craze does not sell this product or any product on the Tool Craze website. Tool Craze does not handle the sale of any item in any way. If you purchase something through a post on the Tool Craze site, Tool Craze may get a small share of the sale. Please refer to the About section for more info.