May 24, 2017
Comments Off

on More Ryobi 18V tools announced – Score Wireless Speaker System – Battery Powered Cooling Cooler – Security Camera & Inflator Accessory for the Garage Door Opener
I got some great news directly from Ryobi that they just came out with a few more cool cordless tools including a crazy new wireless speaker system called the Score wireless speaker system, they came out with a new battery powered cooler and came out with 2 new accessories for their Garage Door Opener unit which include a security camera and an inflator unit! Even if you already have a Security camera system installed in your home, this product can help you keep your garage extra protected while also acting as a garage door opener unit.
Ryobi Score Wireless Speaker System Review
What makes the Score speaker system unique is the problem it solves. With wireless bluetooth speakers, you can usually only connect one at a time so you're basically limited to one speaker or bluetooth radio unit. One speaker alone can't cover a wide area with sound as would multiple speakers. The Score wireless speaker system features the ability to pair multiple speakers together – up to 5 at a time!
The way it works is that you have a primary speaker P760 which can connect to your phone or any audio device via bluetooth, direct via aux cord or it can play over the air radio from it's built in tuner. Then you can add additional speakers to it such as the secondary speakers P761 which piggy back off the main speaker but they do it wirelessly. The great thing about them is that they pair with each other automatically, there is literally nothing you need to do to pair them other than turn them on.
You need to have a primary speaker to use the system as the primary speaker is the one that connects to the radio or to audio devices, without the primary speaker you have no Score system. You can buy additional secondary speakers to add to the primary speaker and you can also combine primary speakers with the main primary speaker.
They can be powered with Ryobi 18V batteries making them completely cordless speakers, but if you don't have any batteries to start with, don't sweat it as Ryobi's got your back and includes an ac power adapter with each speaker to plug it into the grid. You can buy them as a SCORE WIRELESS SPEAKER SET P765 which includes one primary speaker and one secondary speaker and you can also buy additional single secondary speakers to add to your set as you please. The speakers don't come cheap as they are $199 for the primary and secondary speaker set, and $99 for a secondary speaker. The speakers don't come with batteries but they all come with an AC adapter for each speaker to get you started.
Performance
Ryobi supplied me with a set of Score speakers, the set and one additional secondary speaker for a total of 3 speakers. They paired automatically out of the box. I had my wife unbox them and without reading the manual they all paired with each other which I though was impressive since that takes out the hassle of pairing. Pairing with my cell phone was easy and my phone recognized the primary speaker right away, all I had to do was select it from the menu and connect.
The sound quality is good, not great but good enough for most people. I did like that I was able to place all three in my backyard in different locations so when I walked away from one speaker, I entered the sound range of another speaker which gave me music everywhere I walked to. I thought this was great and the main reason why you'd want to buy into the system in the first place. I wouldn't get them for their sound quality but the ability to pair multiple speakers is a good selling point.
Thoughts on price
The price point is a bit high in my opinion. Sure I didn't pay for them since Ryobi supplied them for testing but I still think they are pushing the price a bit. I think $199 would be a hard pill to swallow to jump into a 2 speaker set and not including a charger and at least two batteries. They do include plug in adapters but still. The secondary speaker is also pushing the price at $99 for one speaker and no battery and no charger. The Score speaker system can connect up to 5 speakers and at $99 each, that would run you $500!! Yikes!
If you don't mind the price I find them to be a neat little system and I like the fact that they have area filling sound when paired with multiple speakers. The easy to pair design makes them extremely user friendly, even your grandma that dreads technology will be able to pair them to each other.
Hybrid: 18V ONE+ battery or AC Power Adaptor
Tool Weight: 1.7 lbs.
Range: Up to 150 Ft. between each speaker
FEATURES:
Wireless speaker system that can connect up to 5 speakers instantly using SKAA technology
Hybrid power that works with any Ryobi ONE+ 18-Volt battery or the included AC power adaptor
Up to 150 ft. of SKAA range between each speaker
High quality driver and passive radiator for clear, robust sound
Independent volume control for each speaker
Includes: P761 secondary speaker, 1 AC power adaptor, and an operators manual
Ryobi 18V Cooling Cooler P3370 Preview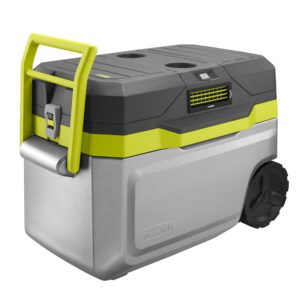 They didn't just stop with a new wireless speaker system, they also came out with a new battery powered 18V cooling cooler. This cooler is unique in that it can act as a 50 quart cooler, or can double as an air cooling unit. The cordless convenience makes this an awesome option for keeping cool on the jobsite or at any outside event. Two on board compartments are included on the lid, one to cover and protect the battery and the other compartment is used for storage. The 18-Volt ONE+ Cooling Cooler is sold as a kit with the P102 battery and P119 charger. Best of all, like every 18-Volt ONE+ blue or green tool, this cooler works with any 18-Volt ONE+ battery. Upgrade to LITHIUM+ batteries for better performance.
The cooling cooler comes out in June 2017 and is priced at $199 and includes a P102 battery and P119 charger. You'll be able to expect up to 4 hours of runtime with the included battery.
SPECIFICATIONS:
Battery: 18V
Product Weight: 35 lbs.
Product Depth: 18″
Product Height: 20″
Product Width: 30″
Total Capacity: 50 qt.
FEATURES:
True 50 qt. capacity
Over 4 hours of runtime on the included P102 battery
On-board storage compartment for phone, keys, etc.
Handle and wheels for easy transport
Fits tall items including two liter bottles
Includes: P102 Battery and P119 Charger
WARRANTY: 3 Years
LAUNCH DATE: June 2017
RETAIL: $199.00, exclusively sold at The Home Depot
Ryobi Security Camera & Inflator Accessory for the Garage Door Opener Preview
Last but not least is the news of 2 new accessories for the Ryobi Garage Door Opener – a new camera add on accessory and a new inflator accessory. Both units attach directly to the Ryobi Garage Door Opener to any of it's empty slots.
The camera provides live view monitoring of your garage area with up to 720p resolution. Access and view your camera remotely with the Ryobi garage door opener app and you can even record footage with a micro SD card. The inflator accessory provides a 25 foot cord to pump air in to your vehicles tires. It basically offers the same benefits of a compressor for pumping air minus the tank. It has a max output of 150 psi.
Security Camera Accessory GDM610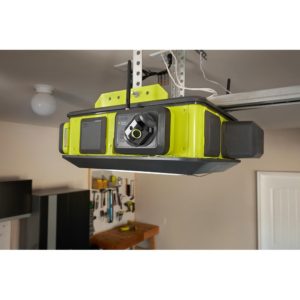 Get more out of your garage with the Ryobi Garage Door Opener System. Introducing the Garage Security Camera Accessory. This unit is compatible with the Ryobi Ultra-Quiet Garage Door Opener (GD200A). Use the Ryobi Garage Door Opener App to monitor your garage 24/7. With 720p imaging you will receive clear, quality video and night vision allows you to monitor your garage at any time of day. You can also save any video on a storage card or storage cloud so you can always go back and reference it when needed. This security camera can detect movement and will alert you via the smartphone app when there is movement in your garage.
FEATURES:
Record video directly to storage cloud or micro SD card
Up to 720p imaging
Features a two-way communication from your phone to the security camera accessory
Automatically turns on when movement is detected
Features high resolution night vision
Easy installation, simply attach to your Ryobi Garage Door Opener
Compatible with Ryobi Garage Door Opener
Ryobi Garage Door App for personalized settings
WARRANTY: 3 Years
LAUNCH DATE: June 2017
RETAIL: $99, exclusively sold at The Home Depot®
High Power Inflator Acessory GDM800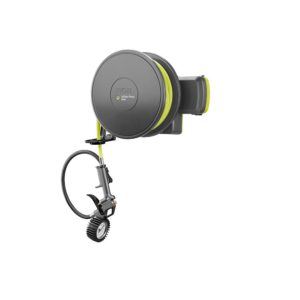 Get more out of your garage with the Ryobi Garage Door Opener System. Introducing the High Power Inflator Accessory. This unit is compatible with the Ryobi Ultra-Quiet Garage Door Opener (GD200A). The inflator has up to 150PSI and a 25-foot hose so it is designed to quickly inflate car and bike tires of all sizes. The display gauge makes it easy to accurately measure how much air is in your tire.
SPECIFICATIONS:
Volt: 120 V AC
Length: 25 FT.
Operating Range: 0-145 PSI
FEATURES:
High performing inflator with up to 150PSI
Display gauge for monitoring tire pressure in real time
Ergonomic handle
Clip on nozzle for ease of use
25 FT auto-retracting hose to reach any spot effortlessly
Easy installation, simply attach to your Ryobi garage door opener
(model#GD200A)
WARRANTY: 3 Years
LAUNCH DATE: May 2017
RETAIL: $89, exclusively sold at The Home Depot