Ego has now come out with a new 21″ LM2142SP Self Propelled dual port Mower With Peak Power that can use two batteries together for increased runtime and efficient power draw.
Disclosure: This is tool news. Tool Craze cannot guarantee the accuracy of the information of any tool listed in this article. Manufacturer marketing claims may not always meet expectations. Tool Craze is not responsible if products do not live up to claimed expectations. Please do your full research before buying any products. Tool Craze is an Amazon Associate. Also an affiliate with the Home Depot, Acme Tools, Ohio Power Tool, Tool Nut. As well as an affiliate with Lowe's, Ebay, and Walmart and places affiliate links to these retailers. If you purchase through a link on this site, we may get a share of the sale.
Ego 21″ LM2142SP Self Propelled Dual Port Mower With Peak Power – Features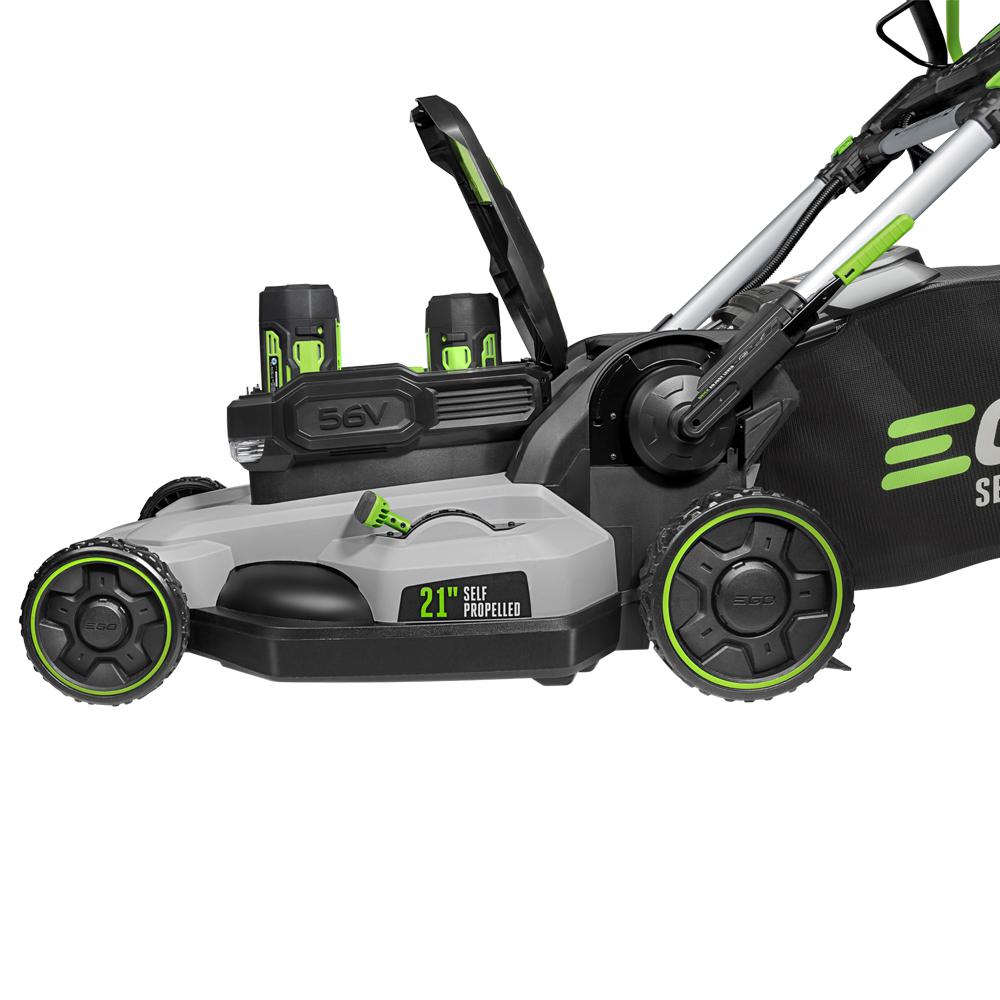 Up until now all of Ego's mowers have used a single battery and I thought this was great because when paired with their 5.0 and 7.5 ah batteries, the runtime was more than enough. At least for me it was. When battery powered mowers started gaining traction, many of them had dual battery compartments. This was because runtime wasn't very good in the early days and the second battery slot didn't have an electronic connection but was there as storage so you had the second battery on hand when the first gave out. This meant easy on the spot battery changes without having to go back to your garage and retrieve the second battery. Honestly I liked Ego's approach of one battery being enough however they've probably saw a market for homeowners that needed more runtime than what they currently offered with one on-board battery.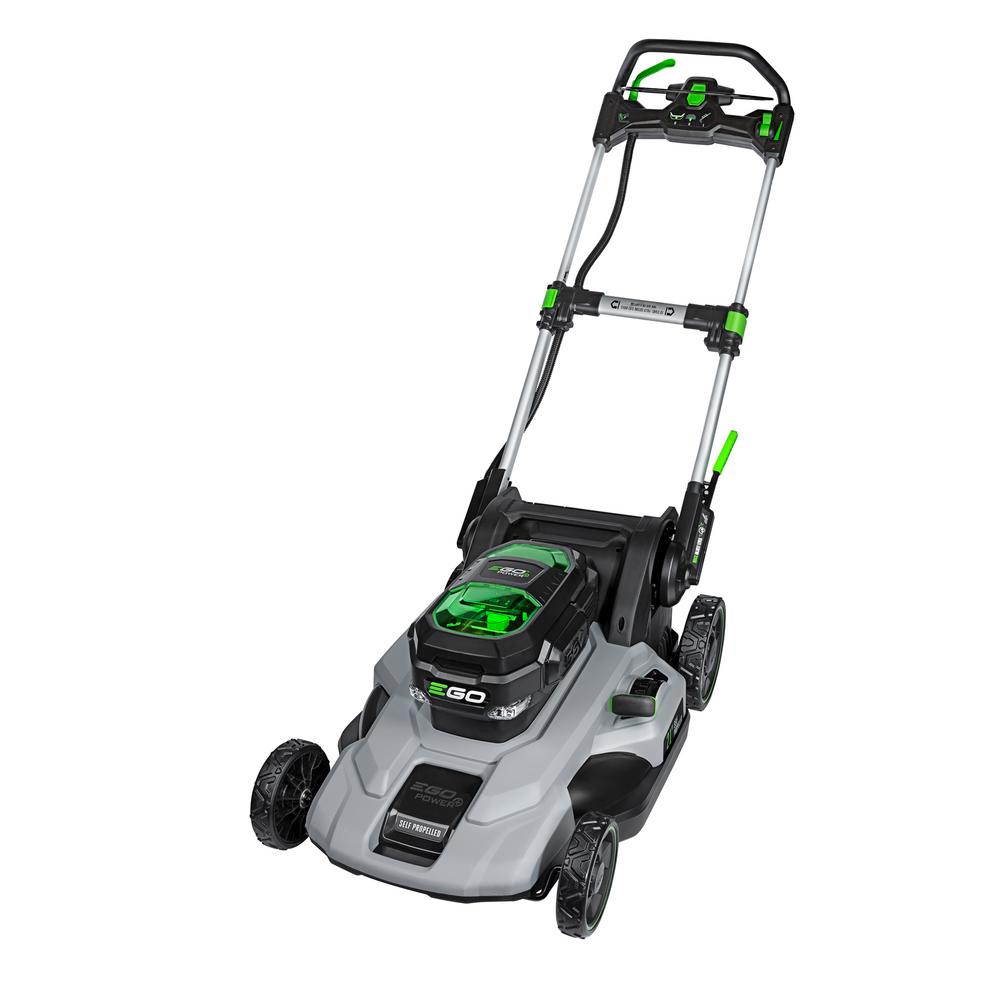 The latest Ego 21″ self propelled dual port mower houses and can use two batteries together at the same time so no need for swapping batteries in the yard. Only one battery is needed to operate while the second battery extends runtime. According to Ego, it will draw power from both batteries if two are inserted rather than switching to the other when one runs out. The mower itself looks very similar to Ego's first 21″ self propelled mower, which is the one I currently use however the biggest change seems to be the double battery slot on the motor mount and a reference to something called Peak Power technology. They don't go over what this means exactly but it's probably a marketing term for it's variable speed speed motor that runs at peak performance for each situation. I expect it to operate much like the first Ego 21″ self propelled mower where it uses only the needed amount of torque and speed to cut grass so it's optimized for runtime. Basically it runs at minimum speed and ramps up when more torque is needed. I wonder if this is the same exact system that's used in the first 21″ self propelled mower but just given a fancy new marketing slogan to make it seem like something "NEW" and "BETTER" or if it's an actual improvement?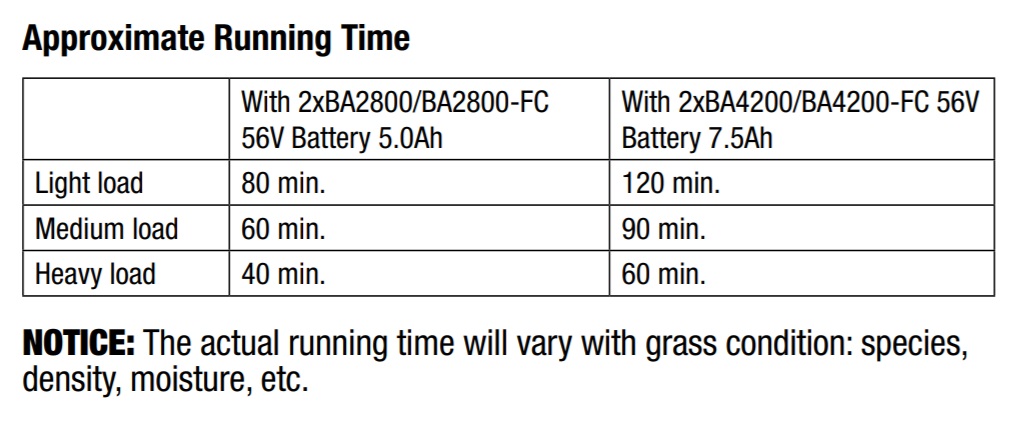 According to the Ego power plus website, this new mower has a runtime up to 90 minutes however that conflicts with what their manual says which states up to 120 minutes with two 7.5 ah batteries (not included) or up to 80 minutes with two 5.0 ah batteries (included). Of course these runtimes are with light loads and you can expect less runtime with heavy loads of up to 40 minutes with two 5.0's or up to 60 minutes with two 7.5's.
Other features include 6 position deck height adjustment, dual head lights, variable speed self propelled and can bag, mulch and side discharge.
The new mower comes as a kit with two 5.0 ah batteries and their fast charger for $749 as a kit. I would have preferred if they included a dual charger but seeing as they don't have any and because it only requires one battery to operate, it shouldn't be too big of a deal.
A big thanks to Frank Williams for sharing!
21 self-propelled mower
Features PeakPower technology
Includes (2) 5.0Ah batteries and charger
Variable speed control
6-position deck height adjustment
Compatible with any EGO 56-Volt battery
Folds easily for compact storage
LED headlights
5-year limited warranty


DISCLOSURE:
Tool Craze does not sell this product or any product on the Tool Craze website. We do not handle the sale of any item in any way. Please refer to the About section for more info.

You may also like:
Ego Power Head System – Multi Head 56V Outdoor Power Tool System
Ego Commercial Series – New Battery Powered Outdoor Power Equipment For Pro's