Recently announced is the new Klein Tools type 2 safety helmet in vented and unvented variants. Let's check them out below.
Disclosure: This is tool news. Tool Craze cannot guarantee the accuracy of the information of any tool listed in this article. Manufacturer marketing claims may not always meet expectations. Tool Craze is not responsible if products do not live up to claimed expectations. Please do your full research before buying any products. Tool Craze is an Amazon Associate. Also an affiliate with the Home Depot, Acme Tools, Ohio Power Tool, Tool Nut. As well as an affiliate with Lowe's, Ebay, and Walmart and places affiliate links to these retailers. If you purchase through a link on this site, we may get a share of the sale.
Klein Tools Type 2 Safety Helmet – Features
These Type 2 helmets don't protect you from Diabeetus but they do protect your noggin from top, back, front, and side impact. Tested to the latest ANSI Z89.1-2014 (R2019) Type-2, EN397*, and EN12492* standards.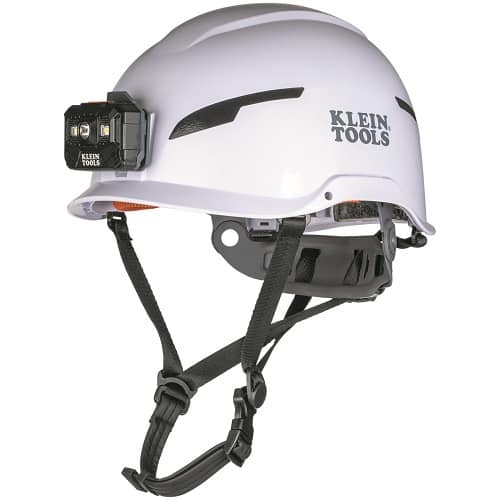 These new safety helmets come in Class E non-vented models which are tested for up to 20kV of electrical protection. Class C vented models are available with adjustable vents that can be opened and closed.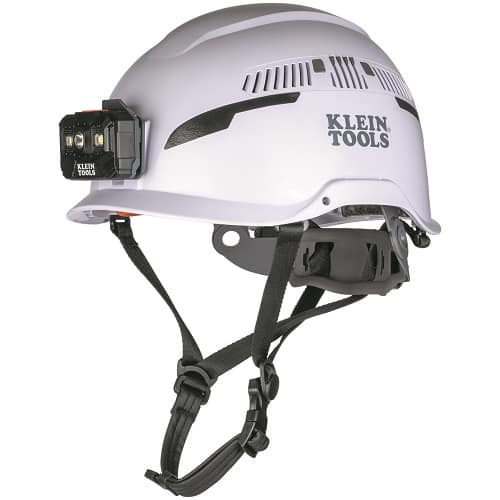 The both feature a compact lightweight design good for at height and confined spaces. The brim is very short, and while not best for offering sun protection, it does provide better visibility. Especially when looking up.
Being a Klein safety helmet, it is compatible with their accessories with mounts in the front and back. The side's also allow placement of attachments like face shields and earmuffs.
The 6 point suspension offers a secure fit and stability while allowing air circulation. With sweat-wicking breathable material padding on the sweatband and top pad. The ratchet knob is large making it easy to operate even with gloves on.
The chin strap is made of leather and designed with comfort and a secure fit. It's also detachable.
Klein Tools Type 2 Safety Helmet
Compact, lightweight design for at-height and confined space applications
Tested to the latest ANSI Z89.1-2014 (R2019) Type-2, EN397*, and EN12492* standards for top, front/back and side impact, penetration and deformation (*Selected clauses; see instructions for details)

CLASS E, Non-vented models are tested up to 20kV of electrical protection
CLASS C, Vented models have large adjustable vents that can be opened & closed

Low profile bill for unobstructed visibility, especially when looking up
Patented accessory mounts on front and back ensure Klein accessories attach securely and precisely with no straps needed
Universal side slots allow attachment like face shields & hearing protection (earmuffs)
6-point suspension offers enhanced stability and secure fit, along with an open-frame design for optimal air circulation
Sweatband & Top Pad made of sweat-wicking, breathable padding that is machine washable
Large ratchet knob for easy one-handed adjustment – even with gloves on
Detachable 4-point leather-bound chin strap for long term comfort and secure fit
Optional Clear and Tinted Visors directly attach to helmet for convenient low profile eye protection


Free 2 day shipping – Try Amazon Prime 30-Day Free Trial

DISCLOSURE:
Tool Craze does not sell this product or any product on the Tool Craze website. We do not handle the sale of any item in any way. Please refer to the About section for more info.

You may also like: