Announced is the new Milwaukee M18 FUEL 5 CFM Vacuum Pump 2941-21. Milwaukee cuts the cord for HVAC techs so they don't need to hunt for cords. Let's check out their new M18 vacuum pump below.
Disclosure: This is tool news. Tool Craze cannot guarantee the accuracy of the information of any tool listed in this article. Manufacturer marketing claims may not always meet expectations. Tool Craze is not responsible if products do not live up to claimed expectations. Please do your full research before buying any products. Tool Craze is an Amazon Associate. Also an affiliate with the Home Depot, Acme Tools, Ohio Power Tool, Tool Nut. As well as an affiliate with Lowe's, Ebay, and Walmart and places affiliate links to these retailers. If you purchase through a link on this site, we may get a share of the sale.
Milwaukee M18 FUEL 5 CFM Vacuum Pump 2941-21 – Features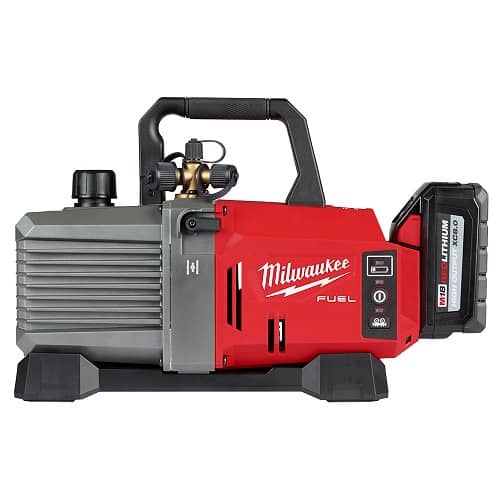 Milwaukee's M18 Fuel 5 CFM vacuum pump is battery powered. This means you don't have to hunt for outlets and use extension cords or deal with generators. Just cordless convenience. Yet Milwaukee was able to give the same performance as a corded vac pump. They say it's just as fast.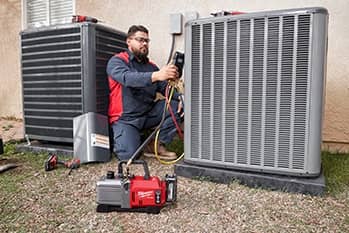 This vacuum pump is designed for residential and light commercial technicians to help with the evacuation stage of HVAC installations and repairs. For flow restricted manifold setups, Milwaukee says their Vacuum pump is designed with an industry first manifold mode. This mode is said to maximize speed and runtime. This model offers up to 90 minutes of runtime while the default mode offers up to 60 minutes (for evacuations using direct connections and large 1/2″ hoses). This runtime is based on the included 8.0ah battery. Of course, you're able to get even longer runtime with a larger capacity battery or less runtime when used with a smaller capacity battery.
It is thoughtfully designed featuring an isolation ball valve to isolate the pump for easy battery changes. Also an internal check valve to help protect the system vacuum when the pump isn't running. And also a gas ballast valve which extends oil life and reduces the frequency of oil changes. Other features include a large oil port and angled oil drain pan for easy oil changes without a funnel. It also features easily replaceable parts to extend the use of the pump in the long term with quick on the field repairs according to Milwaukee.
Milwaukee M18 FUEL 5 CFM Vacuum Pump 2941-21 – Pricing & Availability
It will be available in June 2023 as a kit for $849.99
Milwaukee M18 FUEL 5 CFM Vacuum Pump 2941-21
Port Compatibility: 1/2″ port, 1/4″ port and 3/8" port
Weight: 19lbs (Tool Only)
Warranty: 2 year tool, 3 year battery
Isolating Ball Valve: Yes
Internal Check Valve: Yes
A2L System Compatible: Yes, See Manual
Ultimate Vacuum: 25 microns
Pump Type: Two-Stage Rotary Vane
Kit Includes: (1) M18 FUEL™ 5 CFM Vacuum Pump, (1) M18™ REDLITHIUM™ HIGH OUTPUT™ XC 8.0 Battery, (1) M18™ and M12™ Rapid Charger


DISCLOSURE:
Tool Craze does not sell this product or any product on the Tool Craze website. We do not handle the sale of any item in any way. Please refer to the About section for more info.
If you like this article, check out these other articles below:
New Milwaukee M18 (Gen 4) & M12 (Gen 3) Fuel Drills And Impacts