I found a deal on the Ego Power+ 650 CFM blower kit with 4.0ah battery for only $189.99 and free shipping.
Disclosure: This is a tool deal. Tool Craze cannot guarantee the accuracy of the information of any tool listed in this article. The price reflected in this article was true at the time of writing. Prices are subject to change at any moment by the seller. We are not responsible if prices go up. Manufacturer marketing claims may not always meet expectations. Tool Craze is not responsible if products do not live up to claimed expectations. Please do your full research before buying any products. Tool Craze is an Amazon Associate. Also an affiliate with the Home Depot, Acme Tools, Ohio Power Tool, Tool Nut. As well as an affiliate with Lowe's, Ebay, and Walmart and places affiliate links to these retailers. If you purchase through a link on this site, we may get a share of the sale.

Deal – Ego Power+ 650 CFM Blower w/ 4.0ah Battery Kit Only $189.99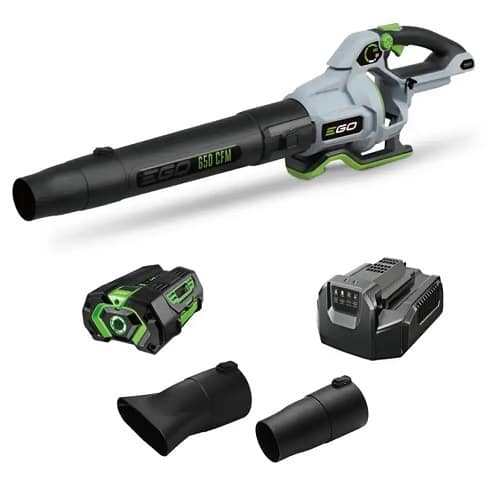 This deal is shipped and sold new by OhioPowerTool. This blower is not Ego's most powerful cordless blower but it is near the top of their lineup in terms of performance. It features a strong brushless motor that puts out a max 650 CFM at 180 MPH! Those are very strong stats for a battery powered blower.
For $189.99 it comes as a kit with 4.0ah battery and standard charger. The included charger will charge the battery in about 80 minutes.
This deal is so good that the battery alone is worth more separately than this whole kit. So it's like buying the 4.0ah battery at a discounted price and getting a blower and charger thrown in for free.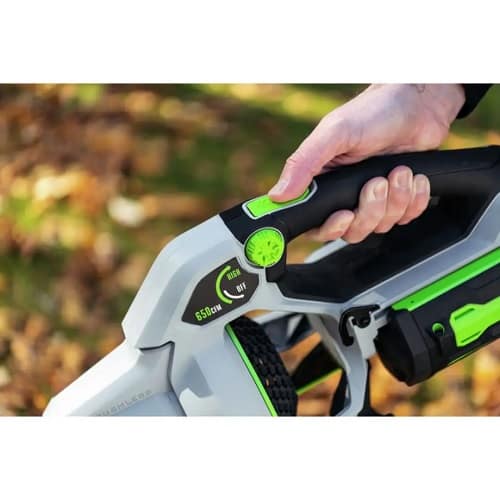 The blower features a trigger along with a variable speed dial. The variable speed dial will allow you to choose 225-465 CFM of regular operating range. There is a turbo button that unleashes the full 650 CFM performance.
Deal – Ego Power+ 650 CFM Blower w/ 4.0ah Battery Kit Only $189.99 – Runtime
You can get up to 70 minutes of runtime although not mentioned is if this is at full power or mid power. Turbo mode gets you up to 12 minutes while the lowest setting gets you up to 160 minutes of runtime.
Turbo Button delivers a staggering 650 CFM
Up to 70-minutes of run time: 12-minutes on Turbo; 160 minutes on low with 4.0Ah Battery
High-Efficiency Brushless Motor
Ergonomic design for superb balance and user comfort
80-minute charge time when used with the recommended 4.0Ah ARC Lithium battery and Power+ Standard Charger


DISCLOSURE:
Tool Craze does not sell this product or any product on the Tool Craze website. We do not handle the sale of any item in any way. Please refer to the About section for more info.

You may also like:
New Ego 21″ LM2142SP Self Propelled Dual Port Mower With Peak Power Can Use Two Batteries Together
Ego Commercial Series – New Battery Powered Outdoor Power Equipment For Pro's