I recently had a Dewalt 60V Flexvolt battery go bad on me and luckily for me, it was still within it's warranty period so I was able to send it in for warranty repair service. This article goes over my experience with Dewalt's warranty service from start to finish and is my honest review.

As you read my experience with Dewalt's warranty service, keep in mind that they were unaware that they were dealing with Tool Craze. From the start when I contacted them, I never told them who I was nor tell them that I was going to document my experience on the Tool Craze blog for everyone to see. This was so that I  would get the same exact treatment as everyone else, no better, no worse. I didn't want any special treatment. From their perspective, Dewalt was dealing with the average Joe.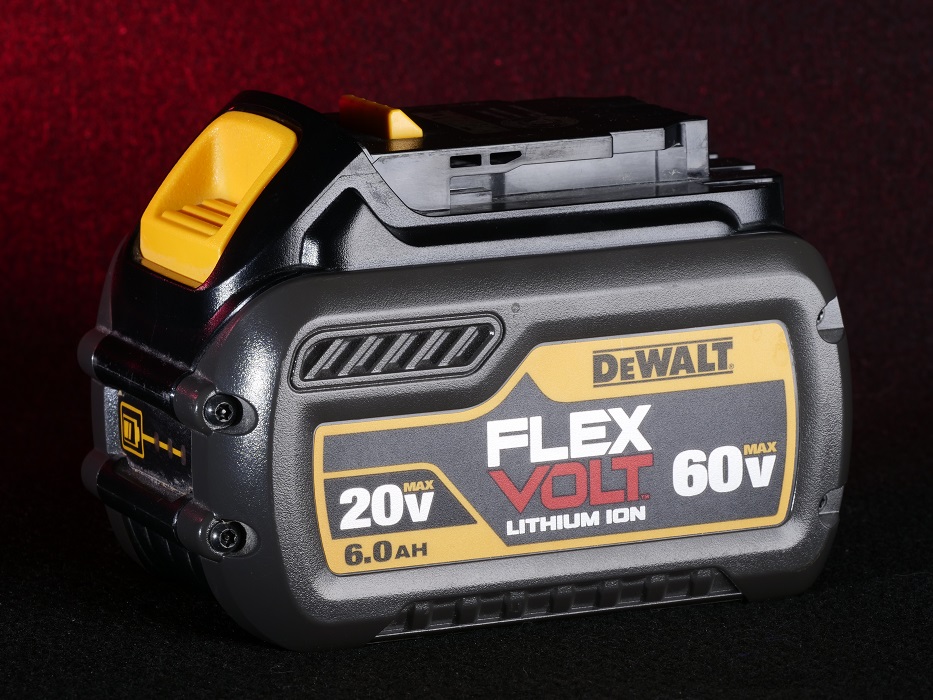 To start us off, I want to explain what was wrong with my Dewalt Flexvolt battery. It simply wouldn't charge. It would show that it was charging but a couple of minutes later the charger would show that it was done charging yet the batteries fuel gauge still showed 1 bar. I have several chargers and all did the same thing and would work perfectly fine with my other batteries so I was able to single out this battery as being faulty.
I called the Dewalt warranty phone number 1-800-4DEWALT (1-800-433-9258) to start the warranty process. The man I spoke to was friendly and asked the usual questions such as what was wrong with the item and asks for info such as model number and product date code and my address. They use the date code to see when the item was manufactured and they use this info in case you don't have your order receipt. However I did have my original receipt so they go by that date instead since items are obviously sold at a later date than they were made.
I was hoping that Dewalt would be able to send me a box and prepaid shipping label so I could send off the faulty battery to them however that was not my experience. While they did get my location info, they use that info to determine the nearest service location. My closest service location was 16 miles away and according to Google Maps was roughly 27 minutes away. I was upset that they simply couldn't offer any means to ship the battery to them at no cost to me. I know 16 miles isn't too far away however with my busy schedule it was very hard to make time to make the drive.
I tried convincing the rep if they could just email me a prepaid shipping label and I box the item myself however he wouldn't budge. He told me that they only offer shipping services back to them ONLY if the user is located too far from a service center. Again, I was upset that I had to take time out of my busy schedule and take it to the service myself and waste time and gas however I had no other choice.
Another thing I wanted to mention was that the warranty call center doesn't guarantee they'll honor the warranty. They leave that decision up to the physical service center to make sure the product failure was due to a defect or other factors like user error, user breaking the product or the item breaking from normal use. So I was also upset because not only did I have to drive down to their local service center, warranty coverage wasn't even guaranteed. At this point I didn't know if I would drive all the way down there just to find out if they would accept or refuse warranty.
The rep did open up a case number so I could share with the local service center and also provided the service centers phone number and address.
It took me a few weeks later to find time from my busy schedule and finally drive down to the service center.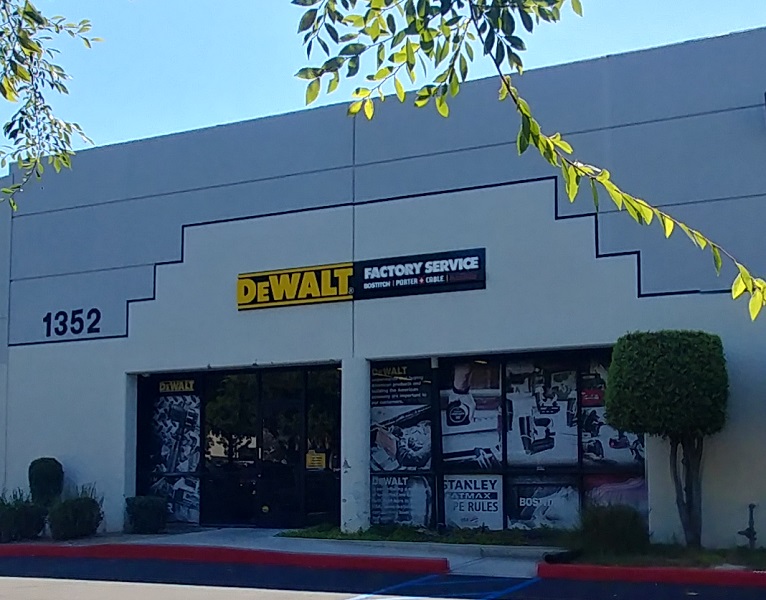 The location was a very nice warehouse style building in an office park. The interior of the building was nicely arranged and set up like a retail store with many Dewalt products on display. I was attended by a friendly young woman and I proceeded to explain what was wrong with my battery and showed her a copy of my original order invoice. This showed her that it was still under warranty and she proceeded to run a couple of tests on the battery. After a few minutes she came back and told me they would honor the warranty and take the battery so they could send to another location. I asked her if I would be getting the same battery back after it's been fixed or if I would get a replacement refurbished battery. She told me they would send me a new battery and not my old one or a refurb. The new one would come in a couple weeks and be shipped to the service center and that they would call me after it arrived so I could pick up. I asked her if they are shipping the battery, why not ship it straight to me instead of getting shipped to the service center. This would save me the hassle of having to drive back down there since their location wasn't exactly down the street from where I live. She told me not to worry since that they offer the ability to ship directly to me at no cost after they receive the battery. I couldn't argue with that so I was on my way back home. So far so good.
15 days later I received a phone call from my local Dewalt service center and they had left me a voicemail notifying me that my Dewalt Flexvolt battery had arrived and was ready for pickup or to ship out to me. I called them back and they took my address info so they could ship out to me. It was a Thursday that day and they said it would arrive the following Monday or that weekend. Sure enough my battery arrived the next day on Friday which was extremely quick.
The battery arrived in new condition just like service rep had explained and even had the terminal cap and sticker that holds it in place. It didn't arrive in a retail package, but was by itself with no documentation or anything. Just safely padded in the shipping box. The only thing I noticed on the battery was that they used something like a wood burning tool or soldering iron or other similar tool to melt and hand etch a date on the plastic. The date was from 2016 and happened to be the same exact date of my original order invoice from the first battery. Using the same tool, they also scribbled out the new batteries date code. I'm not sure why they did this and frankly makes the battery look like it's been mutilated a bit. Maybe I'm over exaggerating here but I don't like any markings on any of my belongings whether they be tools, electronics, furniture or anything else.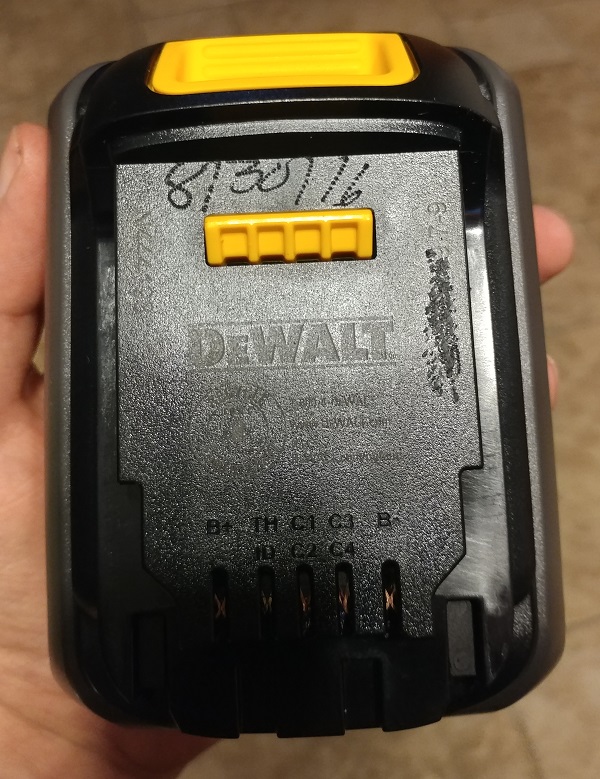 Conclusion:
Dewalt does honor their warranty and they don't make you jump any hoops to get it. In my experience, they don't send you your old item back or a someone elses refurb, they send you back a new unit albeit with a few odd markings. Overall, Dewalt's warranty service was very smooth and everyone I spoke to along the way was friendly and helpful. My only gripe was that if you are close enough to the closest local service center, they make you drive to said service center. If I could change one thing from their warranty experience, it would be to offer free shipping labels to send your product back to them without any driving on our part. But at least they offered to ship the replacement item to me at no cost. Otherwise it was a smooth, easy and pleasant warranty experience. Thank you Dewalt.
DISCLOSURE:
Tool Craze does not sell this product or any product on the Tool Craze website. Tool Craze does not handle the sale of any item in any way. If you purchase something through a post on the Tool Craze site, Tool Craze may get a small share of the sale. Please refer to the About section for more info.