Announced today is a new Ryobi 40V HP brushless 20″ chainsaw. This is their largest battery powered chainsaw to date. Let's check it out.
Disclosure: This is tool news. Tool Craze cannot guarantee the accuracy of the information of any tool listed in this article. Manufacturer marketing claims may not always meet expectations. Tool Craze is not responsible if products do not live up to claimed expectations. Please do your full research before buying any products. Tool Craze is an Amazon Associate. Also an affiliate with the Home Depot, Acme Tools, Ohio Power Tool, Tool Nut. As well as an affiliate with Lowe's, Ebay, and Walmart and places affiliate links to these retailers. If you purchase through a link on this site, we may get a share of the sale.
Ryobi 40V HP Brushless 20″ Chainsaw – Features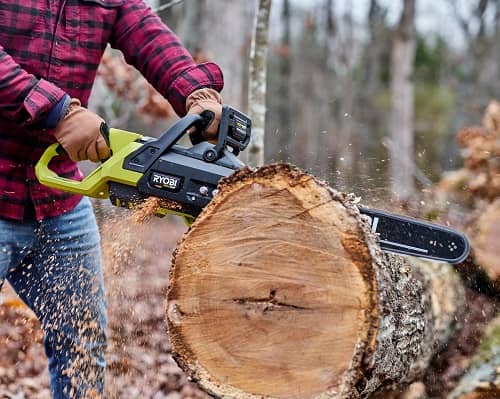 Prior to this model, their largest battery chainsaw was the 18 inch model. This bad boy uses a brushless motor to drive a 20 inch bar and chain. It is powered by their 40V batteries. Even though it's battery powered, it is said to have the performance of a 50cc gas engine. It's rated to cut up to 36 inch logs with its 20″ bar and chain. At least two passes are needed to cut a log that thick of course.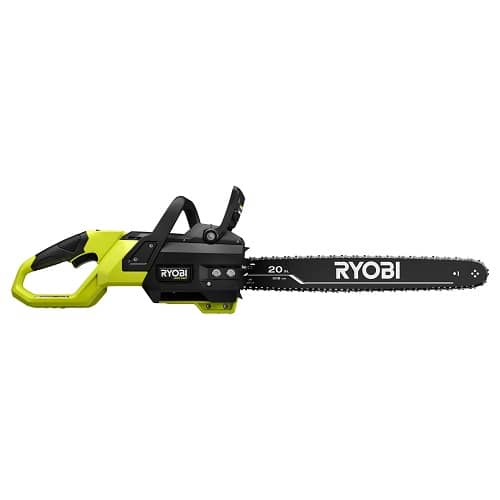 Features include a dual stud chain tensioning design which requires tools to adjust and replace chain. It has onboard storage for the combination wrench. The bucking spikes are metal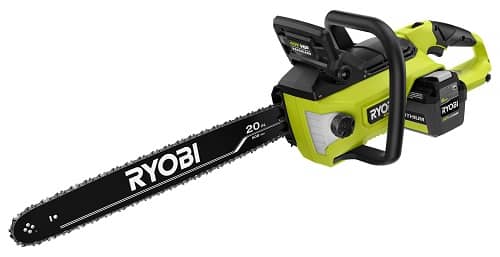 It has an automatic oiler with oil tank on left side.
Ryobi 40V HP Brushless 20″ Chainsaw – Runtime
It is said to be able to cut up to  200 cuts into 4×4 yellow pine with an 8ah battery.
Ryobi 40V HP Brushless 20″ Chainsaw – Price & Availability
It will be available in May 2023 for $379 for the RY405011BTL baretool and $479 for the kit RY405110. The kit comes with an 8ah battery, rapid charger, and carrying case.
40V HP Technology delivers the power equivalency of a 50cc gas engine with increased torque for gas performance
Up to 200 cuts per charge with 40V 8Ah battery* *Performance based on 4×4 yellow pine, non-pressure treated
20″ bar & chain for 36″ diameter log cut capacity
Automatic oiler for convenient chain lubrication and longer chain life
Chain brake
Metal bucking spikes for increased leverage while cutting
Tooled chain tensioning for easy adjustment
On-board tool storage
Soft grip handle for user comfort
Part of the RYOBI™ 40V System of Over 85 Cordless Products
5-year tool warranty, 3-year battery warranty
RY405011BTL Includes: 40V HP Brushless 20″ Chainsaw, Scabbard, Combination Wrench, Carrying Case, and Operator's Manual
RY405110 Includes: 40V HP Brushless 20″ Chainsaw, 40V 8Ah Lithium Battery, 40V Rapid Charger, Scabbard, Combination Wrench, Carrying Case, and Operator's Manuals
This tool will be available in both a tool-only and kit configuration exclusively at The Home Depot and HomeDepot.com


DISCLOSURE:
We are a participant in The Home Depot Affiliate Program. It is an affiliate advertising program designed to provide a means for us to earn fees by linking to homedepot.com. Tool Craze does not sell this product or any product on the Tool Craze website. We do not handle the sale of any item in any way. Please refer to the About section for more info.
You may also like
Milwaukee M12 Fuel Hatchet 6" Pruning Saw Is A 12V Chainsaw! 2527-21 2527-20
Ryobi 80V HP Brushless Whisper Series 30″ Cross Cut Self Propelled Lawn Mower
4 New Makita 18V X2 36V Power Tools – Mowers & Dust Extractors